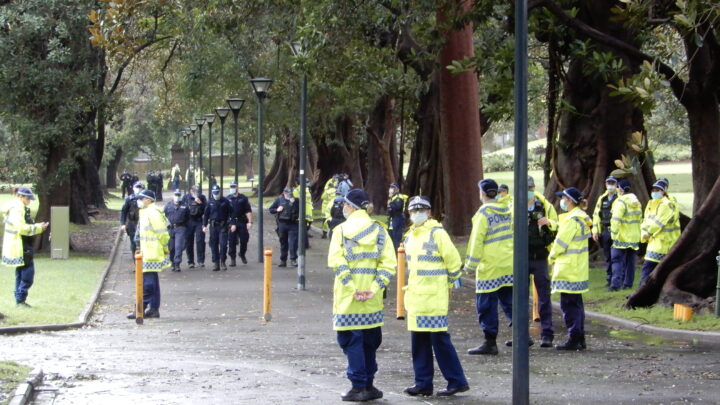 The NSW police presence at the Domain-Djarrbarrgalli late on Tuesday morning was a bit over the top to say the least. There were large numbers of officers milling about, chatting to one another, dressed in blue uniforms and yellow raincoats, awaiting the Black Lives Matter rally.
Prior to the arrival of the Dungay family, there were only a few supporters peppered around the park, with the largest group standing together being no more than four people. But this was enough for officers to warn them over a megaphone that they were violating a public health order.
Then the relatives of David Dungay Junior and their allies marched through the centre of the centuries-old Gadigal meeting ground, where they were met by a throng of reporters that gathered around Paul Silva, who's become one of the main public faces of the local BLM campaign of late.
And as Silva finished his statement to the press, rally organiser Padraic Gibson – the man NSW police commissioner Mick Fuller took to the Supreme Court to have the protest banned – said he was going up to speak to the NSW police about what was happening with the peaceful demonstration.
But, as Gibson approached the mass of officers, he was promptly taken into custody, before police seemed to randomly pick off three more "public enemies", who weren't doing a hell of a lot of anything else besides calling for an end to police brutality towards First Nations people.
Justice for David
Silva explained that a COVID-19 protection team that rally organisers had set up to distribute masks and hand sanitiser had been broken up by police. "That shows that NSW police and the NSW government do not care about the current pandemic," he told reporters in the park.
"Although they will use it as an excuse to stop First Nations people from demanding justice for David Dungay Junior and for systematic change within the justice system," Silva continued.
"It needs to happen, and it needs to happen now."
Tuesday's I Can't Breath – Black Lives Matter rally was organised by the Justice for David Dungay Junior campaign, which is calling for the corrective services officers involved in the death in custody of David Dungay – a 26-year-old Dunghutti man – to be held to account.
In December 2015, immediate action team officers stormed a cell where Dungay was being detained in the hospital wing of Long Bay prison, because the diabetic wouldn't stop eating some biscuits. He was then dragged into another cell, where officers held him face down in the prone position.
Dungay called out that he couldn't breathe twelve times as officers pushed down on his back. One of them went as far as to tell him that if he could speak, he could breathe – which isn't actually the case. And then the officers had a nurse injected him with a strong sedative and he became lifeless.
"We are out here today to demand that all staff involved with David Dungay Junior's murder to be stood down and be investigated by SafeWork NSW," said Silva, Dungay's nephew.
It's just not football
"If you don't immediately disburse from the Domain, you will be detained and legal action will be taken against you," said a NSW police officer over a megaphone. "You must immediately disburse from the Domain. You are breaching a public health order."
The officer was referring to Public Health (COVID-19 Restrictions on Gathering and Movement) Order (No 4) 2020. And specifically, section 18, which stipulates that "a person must not participate in an outdoor public gathering of more than 20 people".
So, NSW police assert that more than 20 people in an outdoor area can be classed as a group and therefore, a public health risk, even if they're socially distanced from each other, not actually forming cohesive groups of twenty people, or ten for that matter.
Gibson found that out the hard way as when he went to speak to some officers, he was instantly swept off his feet and dragged over to a police van. He was then parked inside it, while another 20-odd officers formed barricades with their bodies out the front of the vehicle.
Moments later, a man holding an Aboriginal flag had become the next violator of the public health order, as he was dragged off. Then Bundjalung activist Vanessa Turnbull-Roberts, who'd been obviously standing by herself with a megaphone, was the next to fall short of the NSW police gathering of way over a healthy amount.
And the final victim in the park fiasco was a middle aged woman, who could be heard to remark, as she was led off to the slaughter, that she'd only been pointing out to officers that they had no justification for detaining the woman with the megaphone.
For their troubles, the public health violators all copped a $1,000 fine each.
An invitation to parliament
"We knew it was going to happen," said Elizabeth Jarrett, cousin of David Dungay. "The police got the greenlight from the Supreme Court to come in and bust us up. It didn't make my family feel any more threatened than what we do any other day, being a Dungay family member."
Following the incident in the park, the Gumbaynggirr Dunghutti Bundjalung woman told Sydney Criminal Lawyers that the Dungay family were then off to NSW parliament that afternoon to meet with Greens MLC David Shoebridge and present him with a petition.
Containing close to 100,000 signatures, the petition calls on the NSW Director of Public Prosecutions and SafeWork NSW to reopen the investigation into David Dungay Junior's death and consider laying criminal charges against those involved in his killing.
"We are used to this every day in our home community of Kempsey," Ms Jarrett said in relation to the police intimidation tactics in the park. "They come to our door and intimidate our family on a regular basis."
"Today, in Sydney, we had other allies out with us, and they witnessed what we go through. So, in a way, it's a win."
Receive all of our articles weekly