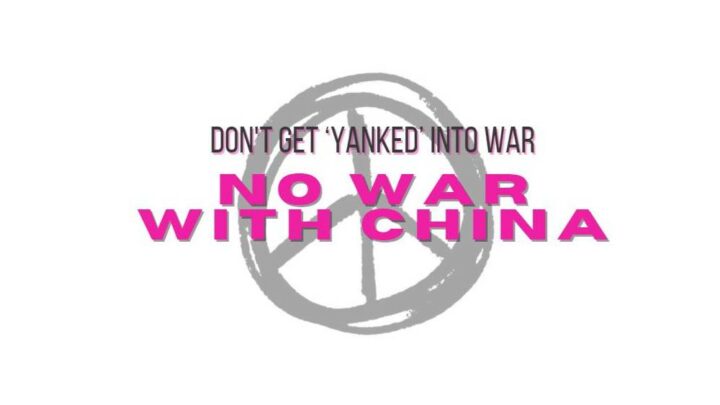 The pace at which war with China talk has been emerging from Canberra of late is alarming. Last year there were rumblings coming from PM Scott Morrison around sophisticated cyberattacks, but since Peter Dutton took on the role of defence minister in March, it's risen distinctly.
At the beginning of May, Dutton announced that our nation is on a war footing, as technically we're already engaged in "grey zone" warfare with Beijing. While last week, he signalled that more US troops could be rotating through Australia in relation to potential conflict with China.
Dutton's former right-hand-man home affairs secretary Mike Pezzullo suggested in April that the drums of war are banging. While current assistant defence minister Andrew Hastie has long been stocking the flames with China.
Spreading to Europe
It's well understood that Canberra is taking its cue in provoking China from the United States. And Washington's influence in this regard has now spread across to the continent of Europe with the North Atlantic Treaty Organisation singling out Beijing for special mention this week.
NATO leaders released a joint statement on Monday, in which they suggested that "China's stated ambitions and assertive behaviour present systemic challenges to the rules-based international order and to areas relevant to" the North Atlantic Alliance.
The statement further warned that "China is rapidly expanding its nuclear arsenal with more warheads and a larger number of sophisticated delivery systems to establish a nuclear triad". Although, critics suggest there's no evidence behind this arms race rhetoric.
Morrison's war powers
As the coming war with China talk grows, it's perhaps a good time to reflect on the fact that unlike other comparable western democracies, the decision as to whether our nation goes to war rests with the executive branch of government, and doesn't it get put to parliament.
Known as war powers, the decision to enter into a foreign conflict is made by the National Security Committee of Cabinet, which currently consists of Scott Morrison, Michael McCormack, Josh Frydenberg, Marise Payne, Peter Dutton, Simon Birmingham, Karen Andrews and Michaelia Cash.
And considering such a decision to enter into war would be instigated by Washington – and a number of key players on the security committee have been pushing this agenda – it's highly likely that if the vote was put today, we'd be at war with China tomorrow.
"Don't get yanked into war"
The Sydney Stop the War Coalition and a long list of other concerned organisations are hosting the No War With China rally at Sydney Town Hall on the 4 July, aiming to raise public awareness to Canberra's rising war rhetoric.
Sydney Criminal Lawyers spoke to Sydney Peace and Justice Coalition spokesperson Peter Murphy about the growing posturing against China, the fact that the mainstream media isn't providing the full picture, and why the decision to go to war should be made by the whole of parliament.
Firstly, at an Australian Strategic Policy conference last week, newly minted Australian defence minister Peter Dutton stated that Australia is contemplating having more US troops rotating through the Northern Territory, as well as US warships operating out of a Perth naval base.
The minister said this is in relation to potential conflict with China. It's not the first time he's appeared in the press discussing a coming war with Beijing.
Peter, why has the minister been picking up his war rhetoric over recent weeks?
We've got an election looming and there are several voices, more or less coordinated, bringing public attention to some kind of alleged threat from China to Australia.
This will take the public's focus off a lot of the other problems the government is having with the pandemic and the economy.
There's a base motivation behind this, and it's very dangerous that it's happening.
The current US marine rotation through Darwin was a decision by Australia to keep more US troops in the Asia Pacific region at the end of Obama's presidency.
It may very well be that Australia is having some kind of debate with the US military about the deployment of their forces.
A coalition of concerned groups are holding the No War With China rally on 4 July in Sydney. The protest image features the catchphrase, "Don't get yanked into war."
Can you speak on the implications of that statement?
It's serendipitous that 4 July is coming up. But the real message we've got there is that if Australia goes into a war with China, it will be doing it because it's what the United States is pushing us to do.
It's not as if Australia by itself would ever initiate military conflict with China. It will only be happening – if it does – because the United States wants it to happen.
That's why we're saying, Let's not get yanked into a war like that.
Unfortunately, Australia has had this experience before, especially with Vietnam and also with the invasion of Iraq.
That this process is wrong is something we want to refresh in the public mind and draw people's attention to.
Overnight, NATO leaders singled out China as posing a threat to international order, due to its nuclear ambitions and assertive military behaviour.
What are your thoughts on this development?
Again, this is something that is driven by the United States, and to some extent the UK. NATO is the North Atlantic Treaty Organisation, and the Atlantic Ocean extends all the way to China.
This is just another platform for the US military to develop an anti-China policy.
Again, it is really a base type of maneuverer going on here. There is no real reason for European powers to decide that they have to have military conflict with China.
There is no information to justify the assertion that there is some kind nuclear arms race with China. In fact, the information to hand is that China has a very stable nuclear arsenal.
Of course, we want everyone to get rid of their nuclear weapons. But there is no expansion of China's nuclear arsenal taking place according to the information publicly available.
So, again, it is a false statement coming from NATO. It's disinformation that the public should be wary of.
As the war talk mounts, the Coalition continues to cite the wrongs that Beijing has carried out against Australia. There are alleged cyberattacks, as well as $20 billion in tariffs that China placed on Australian imports last year.
In your understanding, has Beijing been singling out our nation for special treatment? How much provocation is coming from China?
Just a note on some of your statements, the $20 billion is widely inaccurate. Australia's total exports to China is about $150 billion per year. And Australia's total imports from China is about $80 billion per year.
The tariffs were placed on barley and wine exports from Australia. There was about $2 billion worth of barley, and the wine exports were $325 million.
So, we're talking about really small amounts of exports. It is important to the exporters impacted, but in terms of the overall impact on the Australian economy, it's very tiny. So, we should keep that in perspective.
Another reality is that Australia is suffering claims of dumping from China. That's where the barley and the wine come in.
However, before that, Australia had already taken out seventeen anti-dumping claims on China, which are also in with the World Trade Organisation.
Australia has been more aggressive against Chinese exporters by a long shot compared to Chinese claims against Australian exporters.
Our public is not getting a balanced picture through our media, and the reason for that is a very well organised and high-pressured PR campaign coming from organisations like the Australian Strategic Policy Institute and also the government itself.
So, has Beijing been singling us out for special treatment? I think so. No one else has been getting this.
But you've also asked how much provocation is coming from China. But it's China that would be saying a lot of the provocation is coming from Australia.
The really big things have been the decision in 2018 to ban Huawei from the 5G network in Australia. Then there were the foreign interference laws that were passed at that time in the parliament.
There was the recent decision to cancel a very vague agreement between Victoria and China around being consulted about possible projects involving China's Belt and Road Initiative.
There have also been a lot of statements in parliament over the last three years from Andrew Hastie, who is now a junior minister.
Those statements would be taken as very hostile in China, as he was virtually saying it's a Nazi-style government and it's going to invade Australia.
But the Chinese government we have before us today comes from an anti-Nazi tradition. And there's no evidence that China has any capacity to invade Australia at all.
There is a luridness in the public debate driven by certain figures. So, the way this is working is China is getting these messages from Australia and all it is really seeing is a puppet of the United States.
It sees a ventriloquist doll, as the real message is coming from the United States via Australia and they're getting more and more annoyed, because for a very long time Australia has had a very stable and calm relationship with China.
The Labor government of the 1990s and the Howard government took different ways of dealing with China, but they had a reasonable dialogue with Beijing, whatever the problems were.
But now we're in a period where there is no dialogue with China, except this sort of shouting and threatening.
And lastly, right now, the decision on whether our nation enters into a conflict with China or any other country rests in the hands of the National Security Committee of Cabinet, which is made up of eight Coalition ministers.
Peter, should this be of concern for the Australian public?
We've seen what type of decisions have been made by this type of structure in terms of Iraq and Afghanistan.
I mentioned Iraq before because it was a catastrophic initiative that was taken back then. And that catastrophe continues to unfold – it is certainly not over yet.
There is a strong perception in the public mind that the Iraq decision was completely foolish and mistaken. People feel vindicated in that.
But now, as Australia is pulling its troops out of Afghanistan – because the United States is finally doing that – people are rightly saying, "What was that all for?"
That military intervention was almost 20 years long, but what was it for?
These decisions should be made through a much larger process. As you know, there was no danger that Iraq or Afghanistan were going to attack Australia. So, there was no reason to rush into war with them.
With these decisions, it's often only the prime minister who makes the call. We saw during Tony Abbott's prime ministership that he sought to send troops to the Ukraine, but, thankfully, this little structure, along with the military chiefs, convinced him to pull back from that.
We need a far more democratic process for a very serious thing like initiating military contact.
I can't emphasise enough that it's absolutely bizarre to be talking like this, as Australia has no conflict of that sort of nature with China.
Since World War II, the world has had a mechanism to deal with conflict between states, and that is the United Nations and its Security Council.
That is where we should be pushing our politicians to look. That is where the discussion needs to be happening.
There would be a far better outcome for the international community from that process, rather than yet another "Coalition of the Willing" led by the United States with loyal little ally Australia going into some kind of nuclear war with China, which would be globally devastating.
I hope we can get a bigger discussion around this in Australia. I hope our 4 July rally is the start of a new phase of this discussion, which, up until now, has been muted and confined to academic and professional circles.
We desperately need more public engagement in this type of decision-making.
The No War With China rally is taking place at 2 pm on Sunday 4 July at Sydney Town Hall. The rally is being hosted by a number of organisations including the Sydney Stop the War Coalition.
Receive all of our articles weekly