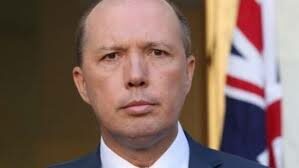 The newly minted Australian defence minister has further turned up the volume on the war with China rhetoric.
This time Peter Dutton's backing a plan to rotate larger numbers of US troops through the Northern Territory, as well as for Washington's naval vessels to commence operating out of a base in Perth.
These proposals are still in the development stage, but the minister made clear last Thursday that the reason for such measures is the rising potential for conflict with China.
So, the early spruiking of these arrangements is likely to once again be to alert the public that our nation is now on a war footing.
In addressing a 10 June Australian Strategic Policy Institute conference in Canberra, Dutton suggested that "the prospect of military conflict" in the Indo-Pacific "is less remote than in the past" due to build-up in the region.
The minister further noted that our nation doesn't have historical military ties with China, like it does with the US and the UK.
And while we want "a productive relationship with China", Dutton further suggested Beijing has been interfering in "our electoral process", along with "processes of democracy".
Gunning for them
The talk of the coming war with China is nothing new. However, over recent months, the rhetoric has been picking up.
Home Affairs secretary Mike Pezzullo asserted in April that the "drums of war" are beating, while PM Scott Morrison has warned of a "new and less benign strategic era".
Diplomatic tensions have been rising since April last year, when the PM took the lead in calling for an independent inquiry into the outbreak of COVID-19, which originated in China. And in retaliation for this slight, Beijing placed more than $20 billion in tariffs on Australian imports entering its country.
Dutton suggested to the press in early May that Australia is already engaged in "grey zone" warfare with China. The minister elaborated that this is a type of non-traditional conflict that includes cyberattacks, which, he added, are the primary reason for gearing up for a pending war.
According to Dutton, while grey zone warfare results in "no casualties on the battlefield", "there are companies and victims every day". And this is behind Australia's recent beefing up of weapons capabilities, with $270 billion earmarked last June for such expansion over the next decade.
In dangerous hands
While Dutton has been making clear that China is not a traditional ally, Morrison has been shoring up Japan's support for what the Australian government claims is the economic coercion that Beijing has been placing upon it.
Perhaps the most disturbing aspect to this growing war with China talk is that a small cabal of Coalition ministers have the authority to make a decision on whether Australia enters into such a conflict, while the rest of parliament, or, indeed, the general public, have no say in the matter.
Known as war powers, the decision on whether to go to war is made by the National Security Committee of Cabinet, which is currently made up of Scott Morrison, Michael McCormack, Josh Frydenberg, Marise Payne, Peter Dutton, Simon Birmingham, Karen Andrews and Michaelia Cash.
These eight ministers alone are empowered with the decision as to whether our country's sons and daughters are sent out to risk their lives in battle. And while Labor has vowed to inquire into changing this situation if elected, that could be too late as the war with China posturing grows.
Receive all of our articles weekly