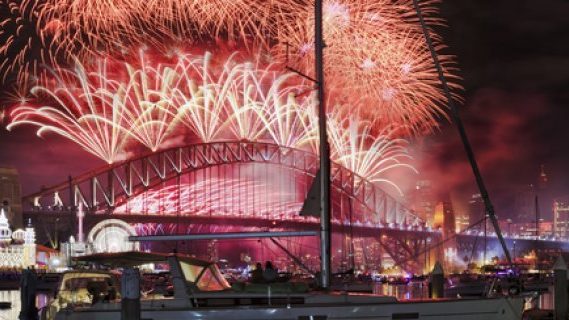 40-year old Damian O'Neil was arrested at Sydney Airport after disembarking a flight from London to Sydney.
He was charged with 'sending documents containing threats to kill or or inflict grievous bodily harm' under section 31 of the Crimes Act 1900 (NSW) after police received a tip that he was posting online material which threatened to kill or injure members of the public during Sydney's New Year's Eve celebrations.
Search warrants were executed at Mr O'Neill's home in Chippendale and at a western Sydney storage facility, during which police seized documents and computer hard drives.
He was formally refused bail in Parramatta Bails Court on 30th December 2016.
His legal aid lawyer has foreshadowed a further application for bail when his matter comes before Central Local Court on 10 January 2017.
Deputy Police Commissioner Catherine Burn has reassured the public that there is no longer a threat to the public.
"Investigations into this matter so far indicate this was an isolated incident, she said.
"As a consequence, we are confident that there are no current or specific threats to New Year's Eve and, while we ask people to remain vigilant, people should enjoy the celebrations.
"The community should also be reassured that we will take swift action to ensure the ongoing safety of the public."
She said an extra 2,000 extra police officers will be on duty tonight to ensure public safety.
Nature of the charge
Section 31 of the NSW Crimes Act prescribes a maximum penalty of 10 years' imprisonment for anyone who:
"intentionally or recklessly, and knowing its contents, sends or delivers, or directly or indirectly causes to be received, any document threatening to kill or inflict bodily harm on any person".
But given the nature of the allegations, it is unclear why police did not charge Mr O'Neill with the far more serious offence of 'planning, or preparing for, an act of terrorism' under section 101.6 of the Criminal Code Act (Cth), which comes with a maximum penalty of life imprisonment. In that event, police could certainly have pressed less-serious 'back-up' charges.
Indeed, 'planning / preparing for an act of terrorism' has been the charge preferred by police for a number of previous incidents involving online material making indiscriminate death or assault threats against members of the public.
Differential treatment
Mr O'Neill's case once again raises questions about whether police are taking into account the suspect's religion and/or race when determining charges.
In that regard, we previously reported on the case of 31-year-old Phillip Galea, a member of right-wing anti-Islam group Reclaim Australia.
The group made headlines after organising a series of protests designed to 'defeat or destroy the multicultural aspect of Australia', preaching hatred against Muslims in particular.
Police executed a search warrant at Galea's Melbourne home just days before he planned to attend a protest. They found Galea in possession of five tasers, a jar of mercury, bomb-making guides and a manual about how to make explosives and illicit drugs.
Despite the enormous amount of evidence to indicate the planning of an act of terrorism, Galea was charged with just two relatively minor offences: 'possession of a prohibited weapon' and 'possession of a precursor substance'; both of which remained in the Local Court.
Galea pleaded guilty to both charges and the sentencing magistrate noted that the weapons were likely to be used 'for an aggressive attack on others in the community', and that the mercury was 'capable of being used for the most sinister purpose.'
Galea was sentenced to just one month in prison and given a $5,000 fine.
By contrast
In a case that bears striking similarities to Galea's, a teenager faced the Victorian Supreme Court after a police raided his home and found bomb-making guides and parts capable of making explosives.
But the case differed from Galea's in three important respects:
Firstly, he was a Muslim person of 'Middle Eastern appearance' – not Caucasian like Galea.
Secondly, he was still a child (17-years-old) while Galea was a 31-year-old adult.
Lastly, and perhaps most importantly, police charged the teen with 'planning / preparing for an act of terrorism'.
In other cases, Muslims charged with 'preparing for a terrorist act' have remained in custody for years awaiting their trial while the prosecution repeatedly delays the service of evidence.
Yet another example
The way allegations against Muslims are handled by police, the media and the courts can also be contrasted with the case of Daniel Fing, a 30-year-old Caucasian man whose Brisbane home was found filled with explosives in 2014.
Police searched Mr Fing's home and located 22 litres of the liquid explosive TATP – the very same substance used by those behind the London bombings. Maps of 'targets' in Sydney and Newcastle were also found.
Mr Fing has an extensive criminal history and had previously served time in prison for blowing up his ex-girlfriend's car.
Despite all of this, Fing's story did not make front page news, and it was days before police even bothered to interview him. It is still unclear which, if any, charges were laid against him.
These cases suggest that while Muslims are routinely charged with serious terrorism offences for allegedly planning acts of terrorism, non-Muslims are often treated very differently.
Receive all of our articles weekly