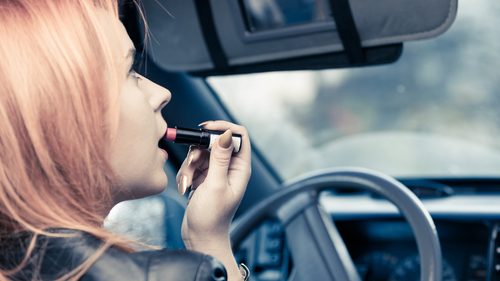 Last month, the New South Wales government announced it would be trialling high-tech cameras capable of detecting illegal mobile phone use from as far away as a kilometre, and issuing fines without drivers being aware.
The crackdown came after two police officers were injured when a van crashed into an RBT site earlier this year. As a result of the collision, one officer had his foot and part of his lower leg amputated and another suffered a broken leg. The driver walked away unharmed. He admitted that he had been looking at his phone before the accident.
Texting, reading and even using drugs
With a trial of new technology currently underway in NSW, cameras introduced to detect drivers illegally using their mobile phones have also captured motorists in 80-to-100km/h speed zones texting with both hands, eating, reading and using illegal drugs.
Drivers were also snapped with both hands off the wheel and in the air, with pets in their laps or unrestrained, doing their makeup, and reaching for objects.
But the endemic illegal use of mobile phones while driving is what police and road safety advocates are the most concerned about.
One Task – one of several companies that has installed the state-of-the-art cameras, has shared disturbing snaps of drivers, and says it estimates that between 5 and 7 per cent of drivers in every city use phones while driving at high speeds.
The company's footage also showed 4 per cent to 6.2 per cent of P-Plate drivers illegally using phones while driving.
Under NSW road rules, learner and P1 drivers are strictly prohibited from using phones while driving. The penalty is four demerit points. For Learners, this means facing at least a three-month licence suspension in NSW.
In NSW between 2012 to 2017, 184 crashes were reported to have involved illegal mobile phone use. They are said to have resulted in seven deaths and 105 injuries.
Indeed, research suggests that if you text while driving, your risk of a collision during the act increases 23-fold – simply because you've taken your eyes (and your mind) off the road for too long.
National issue
The Western Australian government has trialled 'texting bays' in an effort to get drivers to pull over and use their phones safely.
Meanwhile in Queensland, a recent survey suggested that 70 per cent of respondents had admitted to learning how to cover a mobile with their hands in order to avoid police detection.
And in Victoria, the state's Transport Accident Commission hired an Academy Award-winning filmmaker to expose the reality of mobile phone use. The documentary involved cameras being installed into the cars of five young people (with their permission) over a ten-day period. Each considered themselves a good driver who obeyed the road rules, but the results told a different story. All drivers repeatedly looked down at their phones, text messaged, and one even took selfies while driving.
And it's not just young drivers who are engaging in the behaviour. In 2016, NSW police fined 900 P-Platers compared with more than 38,000 fully-licensed drivers.
Government says fines are the way to go
Despite illegal texting being endemic and perhaps a cultural problem, the NSW government continues to argue that fines and loss of demerits points are a good deterrent.
It recently passed a raft of changes to road legislation, enabling greater surveillance ostensibly to detect and deter drivers.
The government says the new technology, when fully implemented, will be far more effective than police at detecting and fining culprits.
One Task estimates if there are 100,000 people crossing the Harbour Bridge, it would be possible to catch 500 in breach of the law.
Currently, NSW police fine about 109 people a day for the illegal use of mobile phones, but new technology could catch that many in less than an hour.
Illegally using a mobile phone while driving in New South Wales currently attracts a $330 fine ($433 in a school zone) and four demerit points, with double demerits during holiday periods.
Receive all of our articles weekly