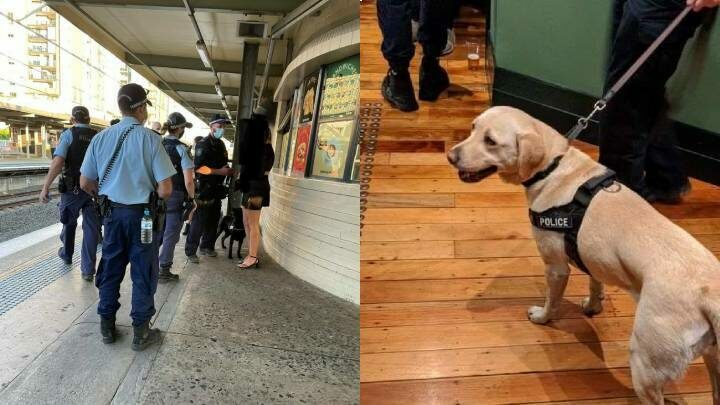 Scrolling through the Sniff Off Facebook page, it's clear from recent posts warning as to the whereabouts of NSW police officers deployed with accompanying drug detecting labradors that this antiquated law enforcement practice is back in full swing.
A joint venture between the NSW Young Greens and now Australian Greens Senator David Shoebridge, Sniff Off is calling for the end of the warrantless use of sniffer dogs in public by the NSW Police Force. The campaign has been posting warnings about drug dog operations since late 2014.
During the pandemic, NSW police gave its sniffer dog operations a hiatus as the streets were empty. Yet, nowadays, officers are back to staking out trains stations with the canines and running them through a sizable number of crowded bars.
Subjecting civilians to a passing search, however, not only turns being out in public into a threatening environment where officers accompanied by dogs are pitted against us, but when something's detected it's usually a small amount of cannabis, which is now a legal act in the capital.
An antiquated practice
These days, seeing a sniffer dog at a train station is a regular part of life in NSW. But this wasn't always the case. The warrantless use of sniffer dogs in the community commenced following the 2000 Sydney Olympics and laws clarifying and expanding their use were passed in 2001.
In 2006, the NSW Ombudsman released a report into state police use of drug dogs, which found that 74 percent of searches following a dog indication result in nothing being found, while 84 percent of the time when something is found, it's cannabis, overwhelmingly in a small amount.
Numerous reports show that this set of circumstances has hardly changed over the sixteen years since. Yet, what has is that officers are now demanding that those indicated who don't appear to have anything on them after a pat down search, are now being asked to strip off.
Another key shift is that the community is calling for the legalisation of cannabis, as well as the decriminalisation of the personal possession of illicit substances, which basically signals that the public doesn't approve of armed officers harassing civilians over small amounts of illegal drugs.
Time to ditch the dogs
The ACT legalised the personal possession, use and cultivation of cannabis on 31 January 2020. And the territory government has just indicated it will be decriminalising the personal possession and use of the most popularly used illicit substances in Canberra.
These drug law reforms are in line with a general global trend towards treating the use of psychoactive drugs as a health issue, rather than a crime.
But NSW police and the Perrottet government are continuing to allow officers to subject young people to searches over small amounts of what is legal in a jurisdiction that sits in the middle of this state, and this is often to the point of traumatising them by insisting they take their clothes off.
Indeed, the state Liberal Nationals government has refused to adequately respond to its own inquiry into the drug ice, which takes the progressive line on drug law reform. Although, it did rule out five recommendations immediately, which included decriminalisation and ditching the drug dogs.
Not only are drug dogs unnecessarily used to hound citizens over searches resulting in nothing two-thirds to three-quarters of the time, or else uncovering small amounts of cannabis, but, as the coroner has found, their presence at events encourages dangerous drug-taking that leads to deaths.
Images from Sniff Off
Receive all of our articles weekly