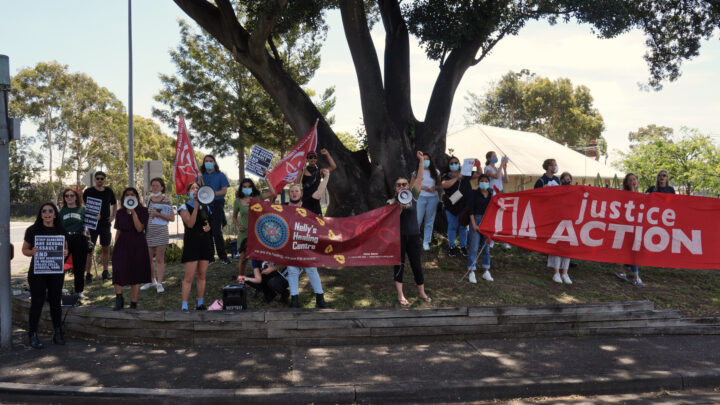 As she stood at the entrance to Silverwater Correctional Centre on Thursday, Kat Armstrong said that it was within that very facility that she, as an inmate, was subjected to serious degradation under the guise of routine procedure that, as so often happens, transgressed legal protocols.
The practising lawyer recalled that after refusing a strip search, six officers – including four men – entered the room, held her down and wrenched her clothes off. And as she lay naked on the floor, the guards repeatedly demanded she remove her tampon, but again she refused.
"I'm a victim and survivor of child sexual abuse and it felt exactly like the violation I suffered as a nine-year-old child all over again," Armstrong said, adding that due to her refusal, she was taken into a CCTV monitored cell and left naked, with no tampon or pad to "bleed over the floor".
"The police strip searching and the custodial strip searching is sanctioned by the state to purposefully degrade us, humiliate us and to have a power over us to ensure that we never ever forget that we are criminalised," she explained over the loudspeaker.
These days a practising lawyer, Armstrong was addressing the Stop Strip Searches in Prisons rally out the front of the western Sydney correctional facility on 19 November, which was organised by the newly-formed Ban Strip Searches in NSW Coalition.
Same procedure, blinkered empathy
Australians were rightly shocked by the recent strip search incident in Qatar that saw women dragged off a plane at Doha airport, taken to an ambulance and strip searched in an attempt to locate a woman who had given birth to and abandoned a baby in an airport bathroom.
Labor shadow minister Joel Fitzgibbon described it as an act of "state-sanctioned sexual assault". However, the federal MP failed to mention that this same invasive procedure is being perpetrated upon women prisoners on a routine basis throughout this nation's correctional facilities.
Released last month, the NSW Inspector of Custodial Services report into Sydney's Mary Wade Correctional Centre revealed that women are being strip searched on a routine basis: after contact and non-contact visits, on re-entering the facility, as well as on other random occasions.
No one has any idea how often women at Mary Wade are being subjected to this degrading treatment. Strip searches are only recorded when contraband is found. Over 2018-19, no illicit items were uncovered, so no record was kept. It appears women are being traumatised simply to deter.
From lived experience
"When you're a child and you've suffered abuse and you walk into this place and people strip search you, you're being raped. You're being abused all over again," Nelly's Healing Centre chief executive Helen Eason made clear.
The overwhelming majority of women in prison have suffered some form of abuse in the past. That entails anywhere from 70 to up to 90 percent of women inside. And strip searches continue to be carried out while they're known to traumatise their victims and re-traumatise survivors of abuse.
"I am an Aboriginal woman. It's time for you to stop abusing us. Enough is enough. There are other alternatives," Eason continued. "Think about your mother, your grandmother, your sister or your aunty: would you like her clothes to be stripped from her? I don't think you would."
First Nations women are the fastest growing group in prison. Between 1991 and 2017, their numbers inside increased by 250 percent.
A Gomeroi and Biripi woman, Eason utilises her lived experience at Nelly's to provide culturally appropriate techniques to heal Aboriginal women who've been traumatised inside.
Akin to sexual assault
"Let's make this clear, what's happening inside this prison at the moment is sexual assault," said Justice Action coordinator Brett Collins. "If you do that every day to people, what you do is you degrade them. You make them feel as though they're nothing."
According to Collins, such is the culture in Australian gaols that prison guards actually take pleasure in forcing inmates to disrobe in front of them. And he added that this invasive procedure constitutes "unnecessary suffering", which is a breach of human rights under the OPCAT.
The Optional Protocol to the Convention Against Torture (OPCAT) is a United Nations system, which sees independent oversight bodies inspecting places of detention, with a view to preventing human rights abuses before they occur.
Australia is about to introduce OPCAT inspections nationwide.
Macquarie University Women's Collective president Harpreet Kaur Dhillon called out the demands of the new campaign over the loudspeaker. Along with ending the strip searching of women prisoners, these include the roll out of body scanners at all NSW correctional facilities.
Indeed, situated near Grafton, the state's newly-opened privately operated mega-prison Clarence Correctional Centre is equipped with body scanners that can detect contraband goods that have been ingested or hidden in body cavities, making strip searches completely redundant.
Compensating those harmed
To coincide with the Silverwater action, NSW Greens MLC David Shoebridge moved a motion in state parliament recognising that "the Ban Strip Searches in NSW Coalition will be staging a protest at Silverwater Correctional Centre against the strip searching of women prisoners".
The Greens justice spokesperson also called on the government to meet the campaign demands, including that correctional facilities apologise to and compensate women who've been traumatised via this procedure on the inside.
Socialist Alliance member Rachel Evans told protesters about being hauled into a police station with a fellow agitator following a protest in late 2017. Officers didn't say why they were being detained, but they were taken off and strip searched, and then simply let go without charge.
NSW police has since officially apologised to the pair for the unwarranted ordeal.
"So, what we have is Liberal and Labor state governments overseeing the sexual assault of millions of prisons, visitors and young people in the streets. That is what we have," Evans concluded.
"There does need to be some truth-telling and reconciliation in this country. Truth-telling needs justice. And that justice looks like banning strip searches and compensating victims."
Receive all of our articles weekly