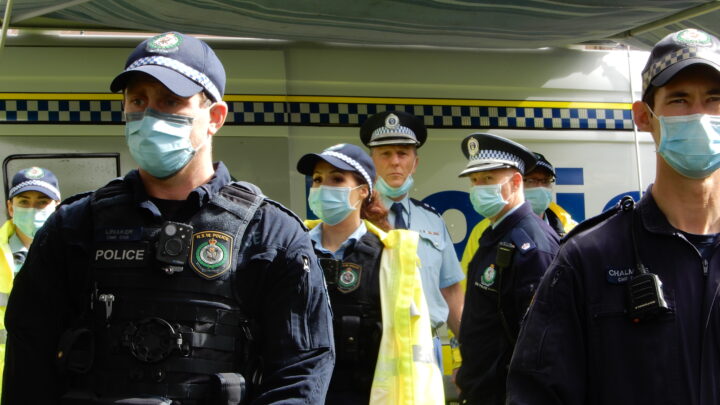 Residents in the South-West and Western suburbs of Sydney have been uploading footage to social media in numbers which suggests that the heavy-handed police sweeps of those areas to enforce COVID restrictions are a far cry from the relatively 'soft' approach to the residents of the wealthy Eastern Suburbs and Northern Beaches.
Now, recently released data obtained under freedom of information laws by NCA NewsWire appears to lend support to the assertions regarding differential treatment.
The data shows that New South Wales police officers were handing out far more COVID fines in Western Sydney than in the Eastern suburbs, even prior to the latest lockdown.
The breakdown of fines by suburb
The figures are a snapshot between June 25 2021 – when three Eastern Suburbs LGAs went into lockdown – and July 8 2021, the day before NSW police launched its high visibility, heavily-armed sweeps in Sydney's South-West, during which police issued 251 penalty infringement notices.
In the Western suburbs, 572 Penalty Infringement Notices (PINs) were issued.
People in Sydney City itself received the most fines at 119, followed by Parramatta with 79 fines, Fairfield with 75, Liverpool 73, and Blacktown 71.
Only seven fines were issued by authorities overseeing the jurisdiction of Bondi.
On July 7, authorities announced that the LGAs of Fairfield, Canterbury-Bankstown and Liverpool had been identified as major COVID hot spots.
The very next day, mounted police, the dog unit, traffic and highway patrol officers, PolAir, traffic police and general duties officers were all being sent to Fairfield, Canterbury-Bankstown and Liverpool LGAs in droves.
A tale of two cities in lockdown
Much has been debated and reported about Sydney's COVID-divide and a lot of criticism has been levelled at both New South Wales Police and State Premier Gladys Berejiklian for the authoritarian approach to enforcing public health directions in the South-West of the city.
Police have defended their policing strategy, strongly denying racism or discrimination.
However,  there is no denying that several research studies, a number of academics, video footage uploaded to social media, and in particular, the Royal Commission into Indigenous Deaths in Custody have all clearly identified racism in police forces across the nation.
Other news stories, incidents and reviews have found that in some commands there is also rife sexism, bullying, bigotry and homophobia.
Let's not forget that around this same time last year thousands of people took to the streets in support of the Black Lives Matter movement, to highlight the injustices that Indigenous Australians have suffered at the hands of the Australian criminal justice system. More than 400 Aboriginal people have died in custody since 1991.
It was also around  this time last year that NSW Police were heavily condemned for their heavy-handed approach during the first months of the pandemic. This time around, Police have added military personnel to their arsenal. In the coming days, the police presence in Sydney will be complemented by 300 military personnel who have spent the weekend in special  training before being dispatched to assist with "door knocking".
Adding military to the COVID arsenal
While this has been described as both "extreme" and a "concerning use" of the defence force in a liberal democracy, it is in part, symptomatic of the fact that in April last year NSW Police Chief Mick Fuller was appointed state emergency controller – a position that put him in charge of the entire pandemic operation.
While police may have a role in assisting the battle against COVID-19, it is, in fact, a health crisis and as such, should arguably have health professionals up front and in charge.
But the current situation, including the idea that we can "arrest and fine our way out of a pandemic"  shows no signs of changing, despite the fact it's not particularly successful. Delta shows no signs of abating, despite lockdowns and authoritarian policing. Case numbers have now reached an "all time high".
While ordinary Australians are trying desperately to voice their dissatisfaction at our leaders for not finding solutions and alternatives that don't involve limiting personal freedoms and shutting down business, their voices are going unheard.
Big corporations have, by and large, benefited significantly from Government financial assistance to date, and unlike small business, they tend to have plenty of financial cushioning anyway, so it's unlikely they will raise their voices, until they start to really feel the pinch.
Ordinary Australians continue to pay a very heavy price
In the meantime, as is becoming crystal clear, ordinary Australians are paying a very heavy price on behalf of Governments who cannot seem to find suitable strategies beyond the idea of blanket rules and regulations accompanied by authoritarian policing.
The question also has to be asked whether the original aim of saving the stressed NSW Health System which would not cope with thousands of residents in intensive care, requiring  ventilators, is still the priority behind Government COVID policies.
It could be argued that the billions of dollars worth of public funds that have been poured into saving the ailing economy and the millions spent on policing perhaps could have instead been directed to actually making significant improvements to the health system, for the general betterment of society overall.
Receive all of our articles weekly
Author
Sydney Criminal Lawyers
Sydney Criminal Lawyers®
is Australia's Leading Criminal Defence firm, Delivering Outstanding Results in all Criminal and Traffic Law cases. Going to Court? Call (02) 9261 8881 for a Free Consultation.