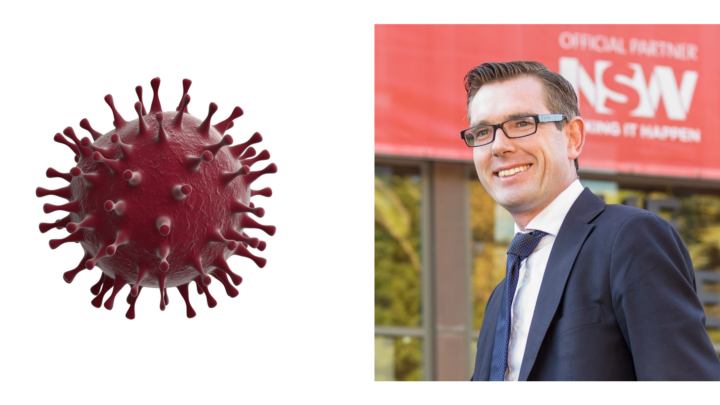 In mid-December 2021, around the time that unvaccinated people in New South Wales were finally allowed to mix and mingle in society along with the rest of the vaccinated population, Premier Domenic Perrottet made bold statements to the media about 'learning to live with Covid' and people needing to take 'individual responsibility for their own health' . 
It signalled a move away from 18 or so months of strict health rules, heavy policing, high numbers of arrests and fines, vaccination mandates, lockdowns and curfews, all of which have been akin to a totalitarian regime, implemented under the guise of "stopping the spread."  
Straight into 'free fall'. 
And while that sounded sensible and was welcomed with open arms by the majority of people in New South Wales, it would seem, in hindsight, that the foundations were not quite in place (despite the health modelling and the experience of other countries to go on) for coping with the realities of such a scenario. 
With 94% of the adult population double-dose vaccinated, New South Wales Heath removed the necessity for QR check-ins. It quietly shut down a significant number of testing sites across the state and sent a letter to GPs advising of a move towards managing Covid in the community, putting suburban medical centres at the heart of patient care, rather than hospitals. 
GP practices were generally perplexed. Many have said they were given no warning of the change, and as a result, are not well enough equipped or resourced to deal with an upsurge in demand they are experiencing. 
What we've seen since then is a massive rise in Covid case numbers. Currently, there are almost 50,000 cases recorded across the state and 16 deaths. Hospitalisations by comparison, and those requiring ventilators remain low, which can possibly be attributed to the success of vaccinations (which lessen the severity of the virus if contracted).
But many people are scratching their heads wondering if all we've endured in the past two years, along with the deep social divisions, the financial duress, the shadow pandemics in mental health and domestic violence, was really worth it. 
Why not let the virus run rampant months ago and avoid economic and social devastation? 
New restrictions now in place 
Since announcing the easing of restrictions prior to Christmas, the Premier has had to backtrack on a number of them. QR check-ins and masks indoors in public places have been reinstated. 
Physical distancing requirements are in force in shops, pubs and cafes and restaurants. 
On 8th January, singing and dancing in public places was banned for the foreseeable future. Non-urgent elective surgery has been put on pause amid forecasts that Covid patients could require about 6,000 hospital beds by the end of January. 
Confusion and chaos 
All of this feels like 'cha cha' progress – a jump forward, two steps sideways, and one step backwards. And while it's easy to be an armchair critic (there is no guidebook for the political management of Covid) it's inherently frustrating because essentially we're not really moving forward. 
Current staff shortages across a number of industries (health, as well as trucking, logistics, hospitality and retail to name a few) are compounded by people now on sick leave. Nurses say they're not coping with the strain. 
Low-post Christmas stock and panic buying to some degree have led to extremely limited supplies of basic groceries in many areas. 
Businesses, only just starting to return to work after the holiday break, are starting the calendar year short-staffed, navigating the risks of Covid in the workplace and how to deal with servicing customers and clients amid the massive outbreaks.
There is a general sense of confusion. For businesses, it is no longer simply a case of refusing entry, service or employment to unvaccinated customers, (although many still have this policy in place) because even the vaccinated are getting sick and transmitting the virus. 
Learning from past mistakes
To that end, we should also ask whether or not our leaders have learned anything from the past two years. The rollout of boosters has been heavily criticised for being too slow, and for creating uncertainty with the changing advice around the duration of time required between second and third vaccinations. 
The failure to secure enough rapid-antigen tests prior to moving to a 'home-based' testing regime is also a problem. As a result, many people with Covid are not being diagnosed quickly, and therefore not isolating sooner, and the virus keeps transmitting at alarming rates. 
Parents too, report that they can't get their kids vaccinated because either medical centres are booked out, or vaccinations are not available. 
We still have Australians unable to easily and freely cross internal state borders and vastly different state and territory rules remain in play. 
Prime Minister Scott Morrison has stated in the past few days that he is "not looking back". Avoiding analysis and reflection could be a big mistake right now because clearly the pandemic is not over. 
It may be changing in nature, but there is still merit in understanding what improvements can be made on past management tactics so that we can move forward with confidence.  
It's also time we considered a national approach instead of continuing along with state-and territory-based management which has only served to create a dysfunctional federation and has in many ways weakened the authority and importance of the Federal Government at a time when it has been needed the most. 
Receive all of our articles weekly