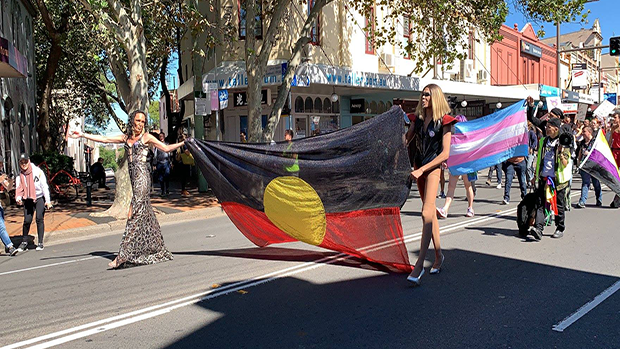 A January 2019 ruling of the Japanese Supreme Court in the case of a 43-year-old transgender man who challenged having to undergo sterilisation in order to gain legal recognition of his gender sparked international condemnation, as it was found the requirement stood.
Australia is a nation that is able to stand tall, as transgender people no longer have to undergo sterilising medical procedures when applying for a passport under their true gender identity, as the Rudd government removed the requirement back in August 2013.
However, in NSW, things aren't so proud, as this state is one of a few jurisdictions in the country that still requires transgender people to undergo gender reassignment surgery (GRS) prior to changing the stated sex on their birth certificate.
Now, some trans people want surgery, and it's important that it's available. But, others don't want to have the procedure. And there are also those who aren't able to undergo it, because it can prove potentially life-threatening.
And transgender people who either don't want it or can't have it are left with no option but to have their primary form of ID state a different gender to how they present, which can prove difficult at times it's required, as well as lead to discrimination.
A matter of choice
"This is based on an outdated and discriminatory view of trans people," a spokesperson for Trans Action Warrang (TAW) told Sydney Criminal Lawyers, "that somehow their gender is only valid through gender reassignment surgery."
"Trans people should have bodily autonomy to choose to express themselves however they want, and whether or not they want any medical intervention and to what degree they want it," they continued.
The Transgender (Anti-Discrimination and Other Acts Amendment) Act 1996 (NSW) was a ground breaking piece of legislation in terms of outlawing discrimination and vilification based on transgender grounds, as well as providing for a change of sex on birth certificates.
But, the gender reassignment surgery requirement within the Birth Deaths and Marriages change of sex regulations no longer sit right in 2020. Indeed, the TAW spokesperson points out that it "promotes a binary view of gender and to a degree politically excludes non-binary people".
They went onto emphasis that for those who want the surgery and go ahead with it, it's "an incredibly affirming, meaningful, and gender-euphoric experience", and this should be acknowledged as the case.
But, conversely, if trans people have to "sterilise themselves to change their birth certificate, this requires them to have less choice around their reproductive capacities," the TAW spokesperson went on, adding that keeping those options open then leaves them with problematic identification.
Unnecessary harms
For people who don't have primary identity documents that fail to match how they present, it mightn't be immediately apparent why this may prove complicated, but for transgender people who have to deal with this situation, the issues are reoccurring.
"By disallowing those who choose not to undergo gender reassignment surgery the ability to change their birth certificate," the TAW spokesperson explained, "it risks outing them as trans in a number of places in which birth certificates are required as ID points".
Trans Health ​Australia coordinator Melody Moore explained in a 2014 article that "there's a level of ambiguity that starts to affect things with respect to legal issues, when it comes to settlements, contracts, agreements, or partnerships and so on".
And whilst discrimination against transgender people was outlawed in this state in 1996, it's well documented that it can still occur when applying for accommodation, seeking health services, or in dealing with the police, and identification documents that don't add up can exacerbate this.
The way of the tide
The 2006 Yogyakarta Principles – along with its 2017 supplement – are the preeminent documents on human rights in relation to sexual orientation and gender identity. The initial document was launched as a global charter at the UN Human Rights Council in March 2007.
The third Yogyakarta principle stipulates that "no one shall be forced to undergo medical procedures, including sex reassignment surgery, sterilisation or hormonal therapy, as a requirement for legal recognition of their gender identity".
After the Commonwealth, the ACT was the first jurisdiction in Australia to fall into line with this principle in 2014. South Australia was the first state to do so in 2016. And since then, the Northern Territory, Tasmania and Victoria have all followed suit.
So, right now, it's just NSW and Queensland that continue to specifically require GRS in order to change birth certificates. While the law in WA stipulates that to make the document alteration an individual either requires surgery or hormone therapy.
It's time to make the change
The conservative estimate is that 0.5 percent of people are transgender. And throughout history there have been societies that have readily acknowledged trans people. However, there are also societies that have tried to erase their identity.
Tasmania passed laws last April that make the recording of gender on birth certificates optional. Although, the TAW spokesperson maintains that the requirement should be completely thrown out.
"The policing of gender and sex through identification documents broadly should be abolished," they made clear. "It shouldn't matter what our gender is if we are crossing a border, applying for a school, a house, a job or a service."
They added that it's about time that NSW lawmakers make the required change to the laws, not only to bring the jurisdiction in line with the rest of the country, but primarily, to improve the lives and choices of thousands of trans people who live here.
"The places where it may matter – for example in medical records – have no reason to be public facing and are the business of a trans person and their chosen medical practitioners," the spokesperson said.
"For Trans Action Warrang, this is a broad fight that begins at the grassroots through community groups and taking it to the streets," they concluded.
Photos supplied by Trans Action Warrang
Receive all of our articles weekly