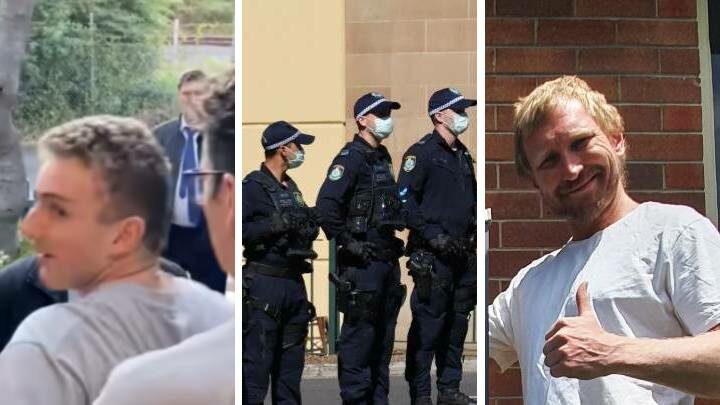 A successful motion was passed in state parliament on 24 November, which requires the NSW Police Force, the minister for police, and the LECC to hand over any documentation relating to the wrongful arrest of Luke Brett Moore on 25 February this year.
Moore was arrested after he called Newtown Police Station to discuss strip search policy. However, the constable on the other end later fabricated a version of events that cast the caller as having threatened the commissioner's life, despite him stating that he was recording the conversation.
The motion was brought by One Nation MLC Rod Roberts, who exercised standing order 52 to see the documents produced. The former police officer said he knew of a practice, whilst on the force, of loading up a suspect with false accusations, although he never partook in it.
The member outlined that Constable Daniel Keneally had completed a formal statement a few hours after he'd spoken to Moore. And this saw the Fixated Persons Investigation Unit arrest him on the following day, which then led to 21 nights inside the South Coast Correctional Centre.
However, Moore's wrongful arrest is not the first time the actions of the Fixated Persons Unit have come into question this year, as it seems to be a rather handy tool to apply when authorities have a score to settle.
A fabricated story
Moore advised Sydney Criminal Lawyers back in September that following his call to Newtown police, the constable he spoke to then lied in making an official statement that outlined he'd rung up and threatened to kill police, and that he said he would "follow a particular officer home".
"It was complete garbage," explained Moore. "Nothing of this type was said on the phone."
"The next day, my home was raided by the Fixated Persons Unit and the officers confiscated my phone," he added. "I told them I had the conversation recorded on it that would prove the officer's statement was false. But they wouldn't give me access to it."
On the day following his arrest, Nowra Local Court refused to grant the law graduate bail. And the man who lives on the NSW South Coast was held in custody until 26 February.
Indeed, Moore is adamant that his custody period – 21 days – was spent in solitary confinement.
The UN Standard Minimum Rules for the Treatment of Prisoners classes anything beyond 15 days inside a cell alone for up to 22 hours a day as prolonged solitary confinement. And it recommends the practice be prohibited as it amounts to torture.
And, as it dawned upon police that there was a recording on Moore's device that refuted the constable's claims, he subsequently was released on bail.
Crimes out of nowhere
NSW Greens justice spokesperson David Shoebridge rose to support the motion. He explained that it wasn't until the "day before the trial, when Constable Keneally would have been tested in court on oath for his fabricated statement", that the charges were dropped.
"They withdrew the charges, walked away and hoped that it could all be swept under the carpet," the Greens MLC made clear.
According to Shoebridge, the fabricated story led to Moore being charged with false crimes, while the magistrate said he'd threatened the lives of the commissioner and another officer, and due to the serious nature of the offences, the court refused bail.
Moore was charged with two counts of using a carriage service to menace harass or cause offence, contrary section 474.17 of the Criminal Code (Cth), as well as one count of using a carriage service to threaten to kill, which is contained under section 474.15.
Together these three charges carry a maximum sentence of 16 years imprisonment.
The Greens member further set out that he was aware that Moore "has a colourful history" with the NSW Police Force, as back in 2010-11, the South Coast man was able to withdraw over $2 million out of his bank account, which wasn't his, and he spent it.
But, after being imprisoned over this matter, Moore was released on appeal, to the embarrassment of police.
Obsession and future crime
If ever there is a time to review the actions of the Fixated Persons Investigation Unit and the actions of NSW police, you would think that this would be it," Shoebridge continued.
The Fixated Persons Investigation Unit commenced operations on 1 May 2017. Commissioner Fuller cited the 2014 Lindt Café siege as an example of what sort of situation it could prevent. The unit targets "lone wolf actors" who threaten public officials but don't quite fit the label of terrorist.
The special unit is embedded within the NSW Police Counter Terrorism and Special Tactics Command, and its charge is to proactively locate people vulnerable to becoming obsessed with public figures prior to their causing any actual harm.
On establishing the unit, NSW police was aware of up to 50 people in the community who may have warranted being classified as a fixated person, and by October 2017, six people had been charged in relation to its investigations.
Yet, Moore's case is not the first time that the operations of the fixated unit have been questioned in regard to their validity.
When satire becomes terror
Friendlyjordies producer Kristo Langker was arrested at his family home on 4 June by the Fixated Persons Investigation Unit, in a rather abrupt manner. The 21-year-old political satirist was supposedly fixated upon then NSW deputy premier John Barilaro.
Two incidents led to this assumption. The first entailed Langker and Friendlyjordies presenter Jordan Shanks approaching Barilaro in a university bar. The pair were dressed as a Super Mario character and his lawyer, and they demanded to know why the politician was threatening to sue Shanks.
This incident was filmed, and so too was the second, which involved Langker spotting Barilaro on the side of the road by chance and approaching him to ask the same question as the first time they met.
And that afternoon, the producer was arrested and taken down to the station.
Although, in September, it was heard in budget estimates that the unit had failed to follow correct procedures when arresting Langker, as the terrorism intelligence unit had not assessed him as a fixated person prior to his arrest, and nor had NSW Health completed its required assessment.
"I don't think appropriate processes were properly followed," NSW Joint Counter Terrorism Team assistant commissioner Mark Walton told the hearing, "because there was a conduit of contact between the deputy premier's office and the Fixated Persons Unit – there was some contact made."
Langker now faces two counts of stalking. And he'll be back in court over these charges next May.
But, taken together, both the Moore and Langker cases suggest that the Fixated Persons Unit might be regarded as something of a team of detectives being used to settle vendettas.
Receive all of our articles weekly