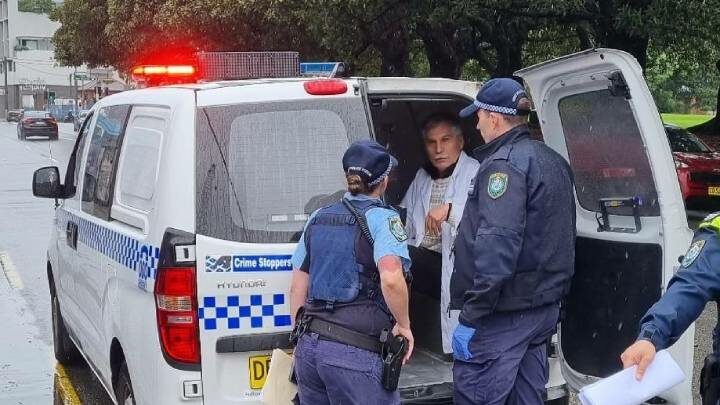 There's something happening here, and what it is, well, it's exactly clear. The global climate systems are beginning to collapse before our eyes. The cause is humanity's fossil fuel use. And yet, in a nation like Australia, the so-called leaders are refusing to take any action to prevent the crisis.
The major parties aren't acting because they're captured by the fossil fuel industry, meaning they rely on its donations, plus it's their members' future employer post-politics.
So, when you see those ministers talking about their children being their most important priority, they mean besides profiteering.
But it's not only minister's children who are facing a dire future. It's the entire planet. And that's why committed climate defenders are out staging disruptive protests in an effort to broaden public understanding, so the necessary changes are taken to curb what's already underway.
Of late, climate groups Fireproof Australia and Blockade Australia have been going hard in getting the message across. And the Perrottet government did the only thing it knows how to do, enact heavier penalties. So, NSW now has some of the most draconian anti-protest laws on the planet.
Indeed, as climate scientist Dr Martin Wolterding stood before a magistrate on 7 April charged under the new laws, the 78-year-old mentioned he has a 5-month-old grandchild, and he likened his not attempting to provoke the authorities into climate action as a form of criminal negligence.
The government's death drive
"The government's decision to utterly ignore the looming threat of economic collapse as the effects of climate change continue rolling over our country and around the world, simply defies belief," said Wolterding, a member of international climate group Scientist Rebellion (SR).
"It is irrational and irresponsible to the point of insanity," the environmental scientist of 55 years told Sydney Criminal Lawyers. "Like a man refusing to leave his burning house, it defies even the instinct to survive."
As a member of SR, Wolterding took part in a Fireproof Australia nonviolent direct action that entailed protesters blocking the City West Link Road in Lilyfield on 6 April. And in response, NSW police sent in their newly formed Strike Force Guard, which specifically targets climate activists.
Wolterding was then arrested and taken down to the Glebe lockup to be held for 24 hours, before appearing at Newtown Local Court the following day. The magistrate found the university lecturer of 40 years guilty on two counts and placed him on a community correction order (CCO).
"Those of us who understand the situation, who cannot close our eyes and won't be distracted by trivial, mundane issues are treated as criminals or terrorists," Wolterding added. "We are given the choice of being silent or suffering from a rapidly escalating series of harsh retributions."
All pay for minister's inconvenience
In response to the recent onslaught of climate nonviolent direction actions being taken across Sydney, the Perrottet government passed a number of amendments creating anti-protest laws with such steep penalties they basically ban any form of protest the government doesn't approve of.
NSW roads minister Natalie Ward commenced publicly calling for stricter penalties in relation to protests after a 14 March Fireproof Australia nonviolent direct action brought morning peak hour traffic on the Spit Bridge to a standstill and the Liberal politician was subsequently late for work.
"These protests are a real issue, not a trite or three minute matter," the roads minister said, obviously not having quite gauged the extent of the inconvenience that the megafires and floods of recent years that her party has failed to take action on have caused those affected.
Wolterding was charged with disrupting or obstructing traffic on a road, contrary to section 144G of the Roads Act 1993 (NSW), which is a new law created on 1 April by amending a pre-existing law, which carries maximum penalties of up to 2 years imprisonment and/or a fine of $22,000.
"I'm afraid of how harshly my government might treat me for taking action," Wolterding said, in relation to the new offence sanctions he'll now be facing. "But I understand the climate and biodiversity crises to be objective facts. So, I will not allow my fear of punishment to stop me."
Strike Force Blah
But this wasn't the end of the saga for Wolterding. An old friend of his met him after his Local Court hearing and they both went to file an appeal of the outcome. Then, as it just happened to be pelting down with rain in Sydney, the doctor rushed over to his friend's van, got in and they drove away.
It wasn't for some minutes later into the drive before Wolterding heard a voice from behind and turned to see fellow arrestee Jay Larbalestier sitting in the back of the van.
While Wolterding had been unaware of Larbalestier's presence up until this point, somehow Strike Force Guard was well aware of it, as by the time the van reached Glebe, it was pulled over.
And despite NSW law stipulating that after an appeal is filed any penalty under contention is stayed, meaning it's delayed until after the challenge, the officers arrested the pair again and took them back to the cop shop to charge them with breaching their CCO. And Wolterding was then free to go.
A carbon state
The last three years of the Morrison government have been a time of multiple crises. It saw the end of the south eastern drought, the fires that burnt 20 percent of forest to the ground, the onset of the pandemic and now the ongoing unprecedented rainfalls and floods.
As Wolterding puts it, the climate crisis, which arguably played a factor in all of these crises, is "an apolitical problem" and he's reluctant to politicise it. But he then adds that the Liberal Nationals coalition has definitely turned Australia into "a carbon state".
So, he, like so many more, is pointing to the need to turn away from the traditional party candidates in the upcoming election, and to vote for politicians that are serious about making a rapid transition away from fossil fuels and towards renewables.
"I refuse to consider that it might already be too late. I choose instead to believe that if all of us act decisively now, we can indeed turn this crisis around and preserve some liveable future for generations to come," Wolterding said in conclusion.
"I am morally compelled to act. If I were to step back and be silent in this, the most critical period in human history, it would, in my opinion, be cowardice." 
Receive all of our articles weekly