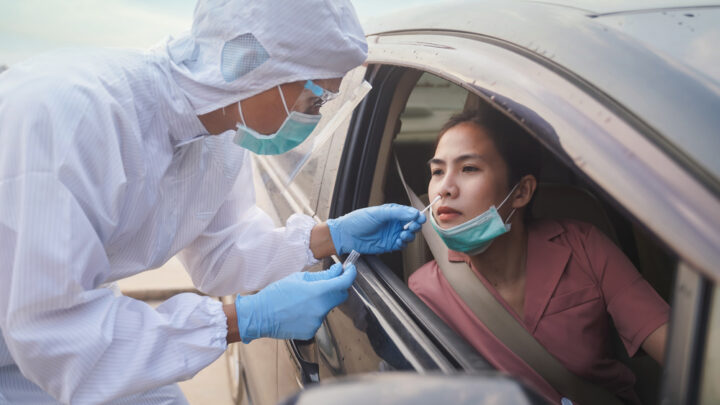 In a year when we all need compassion more than anything else, police around Australia have shown very little of it.
No one is suggesting they haven't had a challenging time enforcing ever-changing pandemic-related health regulations, but New South Wales police officers have been accused of engaging in 'cruel' behaviour and 'pure revenue raising' for fining drivers who allegedly used their phones while waiting for hours to be tested for COVID-19 at mobile clinics.
Fines issued to a number of drivers
People waited several hours at some clinics, and police were dishing out $349 fines and five demerit points for people using their phones.
Meanwhile, the government is calling on people with even the mildest symptoms to get tested, along with anyone who visited venues that have been identified as hosting contagious patrons so that Sydney's latest outbreak can be brought under control as quickly as possible.
An estimated 38,000 people in the past 24 hours alone have been compliant in getting tested with clinics all over Sydney inundated, resulting in long queues and waiting times.
The state of emergency has given police unprecedented powers during the COVID-19 crisis, and Bondi Police have faced serious community backlash for dishing out penalties.
New South Wales Police have confirmed that a number of infringements were issued, and has said these are being reviewed.
It is illegal to hold and use a mobile phone at any time while driving and, in NSW, comes with a $349 fine and five demerit points. This increases to 10 demerit points during double demerit periods.
However, as many point out, this is time for understanding and compassion and Police could have just as easily issued reminders and warnings, as opposed to fines.
Border closures
With the New South Wales cluster growing – now at around 85 cases – and many people locked out of Queensland and Victoria unable to spend long-anticipated time with family and friends over Christmas, the outbreak has been a huge emotional blow.
Most States and Territories have closed their borders to NSW, with entry not permitted to anyone from a declared hot spot. Anyone with inter-state travel plans is advised to check the requirements for the state they want to travel to.
Overnight, Queensland has reinstated border checkpoints and travellers are required to have a declaration pass. One NSW woman has already been fined over $4,000 for trying to illegally pass the border. Victoria too, now requires travellers to present a declaration at the border. Airports are putting their own plans in place to deal with arrivals and departures.
If the second wave in Melbourne provided any lessons this year, it's that governments must act swiftly, even if the decisions they make seem unfair and harsh.
Rules are still changing
At this stage, restrictions for Christmas Day travel around Sydney are still uncertain, with Premier Gladys Berejiklian saying this is an "ongoing and evolving situation and we know how contagious the virus is."
While it's little comfort to those who may have Christmas socialising plans crushed, most people in New south Wales are taking a pragmatic approach, as they have done throughout the critical lockdown periods throughout  2020. Earlier in the year there was a firm belief from experts that it was a 'sensible public' that had kept the virus under control across the state, not hardline, over-zealous policing.
For many, issues hefty fines to drivers for using their phones while waiting in long COVID-testing queues is not only inappropriate, but simply uncaring, opportunistic revenue-raising.
Receive all of our articles weekly