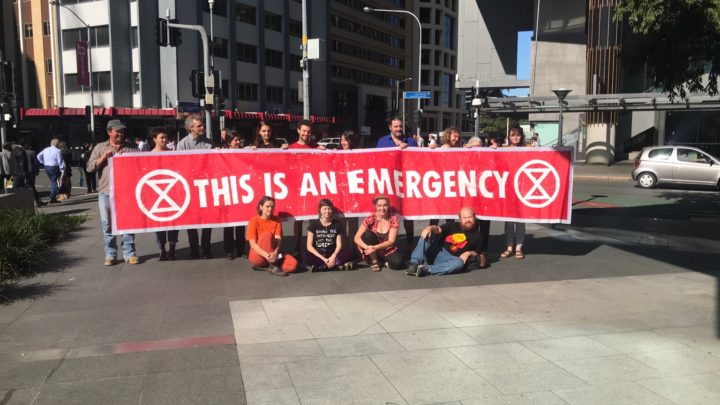 Brisbane continues to be a major flashpoint of rising Extinction Rebellion (XR) protests. Of late, some Extinction Rebellion Southeast Queensland (XR SEQ) activists have even become familiar faces in the press, due to the amount of times they've been arrested.
This ability to identify these mobilisers – who are trying to draw attention to the crisis the entire planet is in the grips of – reveals one thing: that reprimanding these concerned citizens by taking them into custody is not bringing a halt to their actions.
So, the Queensland Police Service is now employing a policy of strip searching XR protesters locked up in the Brisbane watchhouse. Indeed, towards the end of the spring Rebellion Week in early October, officers strip searched over 20 activists in the lockup, including one as young as 17.
The pretext for this change in tactics was one young activist ending up in a police cell with her phone still on her. However, those who were subsequently strip searched have questioned what officers were trying to find – if anything – after a thorough pat down search had already been applied.
And when you take into consideration the fact that the Palaszczuk government just rushed through new protest laws using false claims, the application of strip searches appears, as yet another way authorities are trying to prevent the onslaught of climate activists that's only getting stronger.
Intimidation to deter
"We're really concerned about the continuation of the abuse of police powers. We know that this is something that happens a lot to criminalised people," XR SEQ spokesperson Emma Dorge said. "It can be likened to sexual assault by the state."
"It's a concerning overreach of their powers, especially when we see this being done to 17-year-olds in the watchhouse," she told Sydney Criminal Lawyers. "And it's being done with no real basis."
Ms Dorge explained that she was the activist who ended up in the Brisbane Roma Street watchhouse in possession of her smartphone. And in finding herself with it on her, she proceeded to livestream from the cell to a private Facebook page.
Following on from that, officers began strip searching Extinction Rebellion mobilisers over the following days. This invasive practice is known to, not only intimidate subjects, but it can also traumatise them, as well as make survivors of past sexual assault relive those experiences.
"Police always use the powers they have over people as a form of punishment," Ms Dorge emphasised. "They are using these strip searches, and other methods of harassing people, as their own form of deterrent."
Mounting anti-protest laws
Queensland parliament passed the Summary Offences and Other Legislation Amendment Bill 2019 on 24 October. The swag of new anti-protest laws was tabled in direct response to XR actions, and the premier fast-tracked its passage following Rebellion Week in early October.
There's been controversy around the Palaszczuk government's claim that the laws were needed due to lock-on devices being used at actions. The government has asserted – citing no real evidence – that protesters are booby trapping locking devices to hinder and harm emergency services staff.
During his explanatory speech on the bill, Queensland police minister Mark Ryan claimed a "small cohort" of protesters "incorporate inherently dangerous items into these devices". And he listed "glass, metal or aerosol or butane cartridges", as being used to "exacerbate" the dangers.
The legislation enhanced police powers so they can search people suspected of being in possession of a "dangerous attachment device". And obstructing transport with such a device can now lead to up to two years imprisonment, while hindering a business via one can lead to up to one year inside.
The false pretences used to introduce the bill were concerning, Ms Dorge explained. And she added the laws haven't "stopped people who need to use these devices to participate in peaceful protest to ensure that we have a chance at a safe climate future".
The extraordinary emergency
Ms Dorge is amongst a group of XR activists who pleaded not guilty to traffic offences following their arrest on 6 August. They're set to argue the extraordinary emergency defence, when they appear in Brisbane's Magistrates Court on 4 December.
Set out in section 25 of the Criminal Code 1999 (Qld), the extraordinary emergency defence provides that "a person is not criminally responsible for an act or omission done or made under such circumstances of sudden or extraordinary emergency" if it's a reasonable response.
And 23-year-old Dorge and her fellow activists are set to argue that the findings of the IPCC – which state that governments must significantly curb greenhouse gas emissions by 2030 or else the earth is facing climate and ecological collapse – warrant breaking the law to effect change.
A similar defence – the defence of necessity – has been successfully argued in the UK in regard to actions on a number of occasions. It saw the Kingsnorth Six protesters set free in 2008, after damaging a coal-fired power station, while a couple of XR activists were acquitted this year.
No turning back
As far as XR SEQ activists are concerned, this crackdown by authorities isn't going to prevent them from taking to the streets. "We're in a rebellion against the government," Ms Dorge made clear. "And we're not stopping until all of our four demands have been met."
Their demands are zero emissions by 2025, preserving biodiversity by ending land clearing and enacting legal rights for nature, as well as calling on government to tell the truth about climate, and decolonisation: replacing oppressive structures to bring about true participatory democracy.
Dorge is proof that sanctions against climate activists aren't doing anything to halt the movement. Following her August arrest, she was taken into custody on 7 October for causing further disruptions and again two days later for breaching a bail condition, which banned her from Brisbane CBD.
"I'm definitely not going to stop until our demands are met, and we see some action on the climate crisis, because there's no future with the way the world is going," the climate activist concluded. "As I see it, there's really no option to stop."
Receive all of our articles weekly