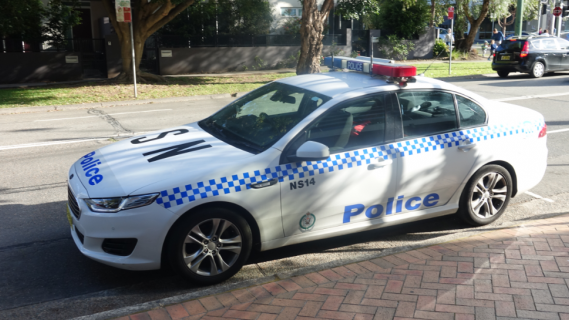 Shaun Perry stared at his estranged wife and children as he learned he would spend more than two-and-a-half years behind bars for offences including spitting in his wife's face, pulling her hair, and assaulting her with a weapon.
Perry, a former Victorian Police Officer, pleaded guilty to a total of 21 charges, which Magistrate Bob Kumar described as a "serious case of family violence".
'He should have known better'
"There is something very wrong," said Magistrate Kumar. "He should have known better."
His Honour took into account Perry's remorse and guilty plea – which spared his wife from being put through cross-examination – but nevertheless remained steadfast in his condemnation of the former officer's actions, saying he had to be held accountable:
"A term of imprisonment has to be imposed because of the seriousness of the charges," the Magistrate said.
He sentenced Perry to two years and seven months behind bars, and a two-year community correction order. 
Blaming it on the job
Perry spent almost two decades in the police force, eventually earning a position as a prosecutor in the court system. His criminal defence lawyer argued that the demands of policing created pressures which led to abuse:
"It's a tough gig and we all know that," his lawyer said. "He took it out on his family … and will kick himself for it."
The court also heard Perry suffered from a mental health condition.
Those submissions angered Perry's former partner, who pointed-out that she now suffers from post-traumatic disorder, and that "I am not beating my children up."
As His Honour handed-down the sentence, Perry's children sobbed – one had to be led from the courtroom.
Outside court, a family member said Perry had put the family through "18 years of unmitigated terror."
Family violence epidemic
The Perry case is one of countless family tragedies in Australia. It's in the spotlight because of Perry's position, and the hypocrisy of arresting, charging and prosecuting domestic violence offenders while being a perpetrator himself. However, large numbers of family violence cases go unreported and unpunished every year.
Destroy the Joint's 'Counting Dead Women' initiative says 32 Australian women have been murdered so far this year, the majority by men they knew.
Those women's stories, and others like them, are harrowing and way too frequent.
The National Research Organisation for Women's Safety released a 2015 report suggesting that one-in-four women have experienced violence from an intimate partner. The report found that at least half a million children have witnessed violence within their own families.
There's a ripple effect from this cycle of violence too – into the extended family, the circle of friends and the wider community, with an accurate number of just how many others impacted being almost impossible to calculate – not just the psychological cost, but the economic and social costs as well.
Responsible reporting
A recent study by Out Watch and Australia's National Research Organisation for Women's Safety (ANROWS) analysed analysed thousands of print, online and broadcast reports about family violence, finding that the media is still reporting family violence with a bias towards victim blaming.
This is a concern, considering the way domestic violence is reported can impact how we view the issue as a society. It can also perpetuate unhelpful stereotypes, and fail to address the problem we face as a society. The media has a responsibility to report domestic violence accurately, and sensitively too.
The ANROWS study found that fifteen per cent of incident-based reporting offered "excuses for the perpetrator", like "he was drinking", "using drugs" or "lost control", and that only a handful of reports (4.3 per cent) offered information about how to get help by directing the audience to a dedicated service.
Much of the reporting implied the victim was in some way responsible for the violence inflicted, such as 'she was drinking/flirting/went home with the perpetrator/was out alone/they were arguing/she didn't report previous incidents/did not leave.
While the researchers have acknowledged that the media has improved, there is still some way to go.
An entrenched social problem
Regrettably, family violence has become an entrenched social problem in Australia.
Whether we like to admit it or not, in many areas of Australia – particularly isolated and remote communities – violence, especially violence against women and children, is systemic and generational.
This is not a simple issue to solve. If we are serious about combating it, holding the media to task is one thing. However, part of the solution needs to come from the justice system, through which we can impose and enforce appropriate penalties on those who inflict family violence – irrespective of whether they are male or female – and establish safe and supportive systems in which victims can feel confident of bringing their perpetrators to account, as well as rehabilitation programs for offenders who want to address anger issues.
By the same token, we must ensure that appropriate protections and safeguards are put into place to ensure that those unfairly accused of family violence do not suffer the consequences, and that anyone who makes a makes a baseless complaint is appropriately brought to account.
Receive all of our articles weekly