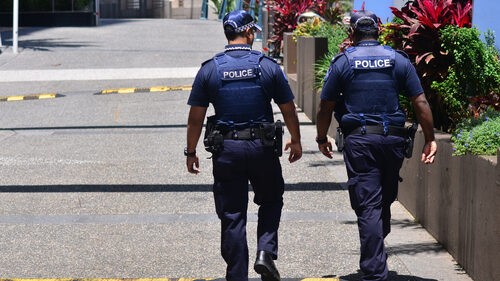 The Ethical Standards Command and the Crime and Corruption Commission is investigating the shooting of a young man by Queensland Police.
Twenty-two-year old Raghe Mohamed Abdi was walking along the Logan motorway, last Thursday morning. Police had been called to the scene because he was apparently posing a hazard to motorists. Police say that when they approached him, he "immediately confronted" officers, threatening them with a knife. He was shot several times by police and died a short time later.
'Terrorism event'
Queensland Police have since said Mr Abdi has been identified as being "directly linked" to the double murder of an elderly couple, and have called the incident a "terrorism event."
But Mr Abdi's family has been left with more questions than answers.
The bodies of elderly couple Maurice and Zoe Antill, both in their mid-80s, were found at a house in the southern Brisbane suburb of Parkinson on Thursday afternoon, after a random welfare check by police.
The time of the couple's death has not been released, but Police say forensic examinations revealed the connection between the young man they shot on Thursday morning and the homicide scene. It's unclear how Raghe Abdi knew the couple, if at all, except that they lived in the same neighbourhood.
Known to the AFP
Australian Federal Police say that Raghe Mohamed Abdi was stopped from leaving Brisbane for Somalia in 2019 and was arrested on suspicion of an attempted foreign incursion. He had drawn attention from police for his support of the Islamic State.
While he was not charged with terrorism offences, he spent nearly a year behind bars, and was on bail for attempting to pervert the course of justice and refusing to hand over the passcode to his mobile phone when suspected of a Commonwealth offence. He had been fitted with a GPS tracking device, which he allegedly removed the night before the incident on Thursday morning, triggering a police alert.
Mohamed Abdi, Raghe's father, said the tracking device had put tremendous strain on his son – that he felt isolated and stigmatised; that he felt he could not play sport, and was missing out on job opportunities because of the conditions he was under. Mr Abdi senior also said that he had told police on several occasions that his son needed mental health help.
Raghe's father has branded police 'trigger happy' is demanding more evidence about their son's alleged link to terrorism. He believes that dashcam footage handed over to police contradicts some of the police statements.
Friends, and relatives have disputed the police version of events on social media, along with the assertion of 'terrorism links'. They also say that he was not holding a weapon, but a water bottle.
Police killings in Australia
Global statistics published in 2019 rank Australia at number three behind the US and Canada when it comes to police shooting civilians.
According to the data, it's about 8.5 civilians per 10 million people and, given it is extremely rare for members of our public to carry firearms, there are concerns about police powers in Australia which enable them to shoot to kill in an ever-broadening range of circumstances.
Under what circumstances can police use lethal force?
In the late 1990s, tasers were introduced in order to provide police with a weapon that could be used to stop an offender without killing them.
But police also routinely carry guns and are empowered to kill if other options are not available, and are empowered to do so pre-emptively where terrorism is suspected, even if no person is imminently under threat. This, of course, raises concerns that police are able remain unaccountable if they claim a person was suspected of terrorism and killed pre-emptively.
There have long been concerns surrounding the 'militarisation' of the Australian police force, which has led to policies which allow officers to routinely carry guns, along with the adequacy of the training officers undertake to use these in the line of duty.
When someone dies at the hands of police, a coronial inquest into the death is standard procedure. If the shooting is considered to be inappropriate or negligent or improper, the officer who fired the shots can then be criminally prosecuted, or face other disciplinary action.
Receive all of our articles weekly