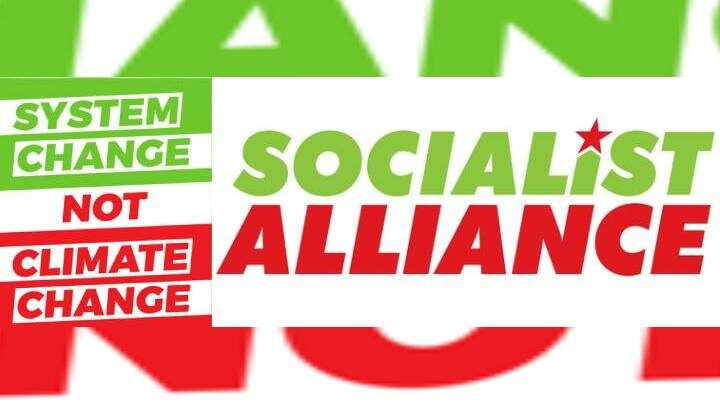 The government can't control the rain. But what it can do – and what it has been doing – is contribute to its severity.
Indeed, the intensity of the climate-driven floods that have just swept through the east coast can be directly linked to decades of neoliberal policies prioritising profit over planet.
While it was the Hawke-Keating Labor government of the 1980s that began embracing policies based upon the myth that the free market can provide for all, it's been successive Coalition governments that have honed these strategies to the point that the social has almost disappeared.
Four decades of the neoliberal agenda has led us to the point we're currently in, with multiple catastrophes – one after the other and overlapping – and elected officials actively ignoring the fallout, as the causes turn them and their corporate cronies a sizable profit.
As the PM himself has pointed out, God has chosen Scott Morrison to lead us to this brink-of-hell moment, where neither he, nor any of his fellow politicians, "hold a hose, mate", which is code for we are no longer providing for the majority, so take some "personal responsibility".
The green left
The Socialist Alliance (SA) are running candidates in most states around the nation. And as experts are predicting, minor party and independent MPs are likely to hold great sway in the 47th Parliament of Australia.
And SA are keen to bring the social back to politics.
What that means is establishing a government that would be able to provide for people during crises, like the COVID-19 pandemic, the floods, the megafires and the drought. And not only would it have the capacity to do so, but it would also proactively spring into action.
Whilst the Coalition has been dismantling government to the point that its only function is to pass laws that facilitate favourable market conditions to bolster the profits of corporates, the true left side of politics wants to deliver policies that foster societal wealth and wellbeing.
Socialist Alliance is an ecosocialist party, which means it also has a keen interest in prioritising the health of the planet. It seeks to see policies passed that would see a swift transition to renewable energy to the benefit of people and planet, rather than the Palmers and the Reinhardts.
System change not climate change
"The twin crises of COVID-19 and climate breakdown expose an Australian government prioritising the interests of billionaires over the lives of people and our planet," the Socialist Alliance states in its media release announcing its election candidates, four of whom are running in NSW.
Andrew Chuter is running for the NSW lower house seat of Sydney, while Paula Sanchez is heading up this state's Senate ticket, along with fellow candidates Rachel Evans and Niko Leka.
Sydney Criminal Lawyers spoke to all four NSW Socialist Alliance candidates about the state of play under the Morrison government, how corporates have stolen more than $4 trillion from workers since the mid-70s, and why our nation needs a bill upholding rights at the federal level.
So, the coming election is a pivotal one. While all national votes are significant, the last three years under Morrison have been particularly fraught both due to matters handled by the government and those outside of its immediate grasp.
So, I'll put this first question to you Rachel, what would you highlight as the most significant incidents that have marked the Morrison government's term in office, and how would you rate its performance in handling them?
Rachel Evans: Morrison has been a disaster, as he presided over horrific droughts, bushfires, needless COVID-19 deaths, floods, and an increase in workloads, whilst not providing security for the vast majority of workers.
His government belittled rape crisis victim Brittany Higgins. And they've tried to discredit and demobilise Grace Tame and further feminist calls for real action against sexism, domestic violence and assault.
Under Morrison, Aboriginal deaths in custody have continued unabated and coronial inquests have delivered no justice to grieving families.
The Black Lives Matter movement was resolute in 2020. Under COVID-19 conditions, we mobilised 200,000 people across the country after George Floyd's murder. This was the largest stop deaths in custody mobilisation ever.
This played a role in forcing the government to charge the police officer who shot Kumanjayi Walker, Zachary Rolfe, with murder. He's the first killer cop to be charged with this. And he's on trial now.
However, Dunghutti teenager Jai Wright was chased to death in South Eveleigh just a few weeks ago. Almost every three weeks, a First Nations person is killed by police or prison guards.
The Morrison government also tried to pass the bigoted Religious Discrimination Bill through federal parliament. Fortunately, it failed. Transgender students and queer teachers would have borne the brunt of more bigotry if they'd managed.
All of these are significant incidents that have marked the government's term in office. Morrison has handled them in the interests of corporate profits, the Christian right, racists and bigots.
Morrison's response to COVID was a significant incident. They let the market dictate their COVID-19 response. Indeed, Morrison joined Boris Johnston and Trump in the "letting it rip" herd immunity strategy at the beginning of the pandemic.
If he'd got away with letting it rip, we would have seen an even worse death rate from COVID-19 over the last few years.
But then, both political parties – Liberal and Labor – rule for the 1 percent and not the people. Both major parties privatised aged care, hospitals and pathology units over the last twenty years, and this was a disaster for rolling out adequate rapid COVID-19 care.
This led to many needless deaths. Really, it's criminal how many of our loved ones in old homes died from COVID.
While many underpaid and untested casual aged care workers passed COVID through facilities, ultimately, it was not their fault. They had to pay the rent, and, at many points of the crisis, the government wasn't compensating these frontline workers.
In Australia, there have been 5,416 COVID-19 deaths so far, with 3.3 million cases in total. Forty-eight people still die every day.
Supply chains for food to communities have broken-down under COVID and under the floods. The postal system has been disrupted in a way not seen in my lifetime.
More recently, NSW premier Perrottet and Morrison's "take off your mask and don't worry about QR codes" 2021 Omicron Christmas strategy has been horrific for the elderly and disabled community.
People in prison are rioting because conditions are appalling. People in prison are dying from COVID.
Many refugees inside detention centres and detention hotels have caught COVID. And they're still being tortured via indefinite detention by this inhumane government.
Coal and gas contracts are being signed. As of March 2021, the Australia Institute reports 23 new coal projects are proposed in NSW, with a total production capacity equivalent to 15 Adani-sized mines.
Coal seam gas company Santos has been given the go-ahead to frack the Pilliga Forest in NSW with 850 gas wells.
These are some of the most significant incidents that have marked the Morrison government's term in office. And they're at an all-time low in the polls, so the public don't appreciate their brazen disdain for people and planet.
The Socialist Alliance is an ecosocialist party, meaning it's anticapitalist, for the equal distribution of wealth and for prioritising the environment.
As you've already mentioned Rachel, Morrison's time in office has been marked by the backend of a devastating drought.
This was followed by 20 percent of mainland forest being destroyed by megafires, and now parts of the eastern seaboard – even sections of the nation's largest city Sydney – have literally been submerged by unprecedented rainfall.
But the government barely bats an eyelid about these matters. So, what's going on in this respect?
Rachel Evans: Socialist Alliance is a party for the 99 percent. Capitalism has no answer to the rampant inequality crisis and environmental destruction that gets worse every year.
In large parts of the world, it's incapable of meeting people's basic needs for shelter and livelihoods.
Morrison has made things much worse for people and the environment. He was elected in May 2019. A few months later, a severe drought in NSW saw governments make secret evacuation plans for 90 towns in the state's northwest.
Local councils in major towns – like Armidale with its 25,000 people – were making plans to leave. But then, rain came, but not enough to get the land to replenish its water holdings before the wave of heat and fires came at the end of 2019.
The NSW bushfires went from July 2019 to March 2020 and were the worst ever recorded. Twenty six people lost their lives, 2,448 homes were destroyed and 5.5 million hectares of land was burnt. Some 3 billion animals were killed or misplaced.
Indeed, because of drought, fires and deforestation, the situation is so dire that koalas are now officially listed as an endangered species in Queensland, NSW, and the Australian Capital Territory.
Australia is an international climate vandal. Indeed, the Australian Climate Council reported Australia is the world's fifth largest emitter of greenhouse gases, when you add exported coal to Australia's domestic emissions. Moreover, Australia is the world's largest exporter of coal.
Colonial settler capitalist Australia is all about digging up dirty resources on First Nations land.
Both Liberal and Labor support the coal and gas industries. Over 2020-21, the Australia Institute reported, the mineral and energy sector benefited from a record $10.3 billion in fossil fuel subsidies and a third of mining companies paid no tax.
But the world temperature is already at 1.2°C warming. The planet can't take anymore.
So, it's criminal. But it is not surprising when PM Scott Morrison pledges to cut emissions by 26 to 28 percent below 2005 levels by 2030, and to reach net zero "preferably by 2050".
So, in saying that, what does SA assert is the path ahead in terms of these mounting extreme weather events?
Rachel Evans: We ordinary people have a particular responsibility to build strong grassroots community and anti-capitalist movements, as our government has one of the worst climate records globally.
Only people power can recover communities from fires and floods. Disaster capitalism is about profiting from destruction. People power is about organising communities to respond, repair, and empower ourselves to take power away from the 1 percent.
Look at Lismore. As it's cleaning up after the horror floods, it's the community – not the government – stepping up. But if we just leave the power structures as they are, capitalism will prevail.
So, we're campaigning against the major parties – fighting for a First Nations-led community-run post-capitalist republic formerly known as "Australia".
But to achieve this, we're helping communities organise and run for office. Socialist Alliance has two local councillors and there are other socialists in local council. And socialists pack a political punch.
The path ahead to abate these weather patterns is real climate action and a planned shift to 100 percent renewable energy within the next 5 to 10 years, via public investment and emission reduction targets.
This will involve bringing the power industries under public ownership and democratic control. This is all set out in our full climate action policy.
Capitalist governments only mitigate private profits after climate disasters. Community organising and socialist governments mitigate with community and environmental interests at the fore.
Socialist Alliance states that since the mid-1970s, $4 trillion that rightfully belonged to workers has been syphoned off to the corporations. And your party is calling for a U-turn in this regard.
So, Paula, can you elaborate on what this theft entails, and how your party would turn it around?
Paula Sanchez: The wages share of national income has been steadily falling, since its high point in the mid-1970s. In 1975, wages were equivalent to more than 60 percent of gross domestic product (GDP), whereas today, they're just over 50 percent.
This share of gross domestic product has shifted to profits.
Put another way, in today's dollars more than $4 trillion has shifted from workers' pockets to corporate profits. Nearly all the gains in productivity over this period have been taken by the bosses for themselves.
This massive theft from working people into the hands of the corporate rich comes from the effective cut to real wages over time, which has accelerated under the current federal Coalition government.
It also derives from a combination of increased taxes on the community – including the GST on ordinary consumers – the steady reversal of the previous progressive tax system into one which is heavily tilted in favour of the wealthy, and systematic tax avoidance by big companies and high-income earners.
That stolen wealth could expand public healthcare, properly fund aged and disability care, reverse climate change and increase wages.
There must indeed be a political U-turn if we are to have climate justice and job-secure futures: this is what Socialist Alliance stands for.
We work to empower people, putting communities and pro-people alliances first, while opposing rich and powerful vested interests.
The U-turn could begin with a pandemic response that puts community solidarity and the common good ahead of corporate profit. Australia can afford decent incomes for all, free public services and quality ecologically-sustainable public housing.
This could all be funded by a massive increase in the taxation of billionaires and the superrich and reversals of corporate tax cuts.
Instead, the corporate sector continues to grow richer from our hard work, while workers, women, First Nations people, refugees, immigrants and low-income earners face systemic disadvantage from racism, sexism and "me first" politics.
We also need justice, jobs and fundamental redress for the ravages of land theft, massacres and ongoing genocide against First Nations people.
New pro-people, pro-environment political voices, like ours, can use parliament to push for people and the planet before profit.
There's a notorious housing crisis across this nation, which only seems to be growing. This is an issue that's of particular concern to SA.
Andrew, I know you've been campaigning to stop encroachments upon inner city Sydney public housing estates of late. So, what's driving this crisis? And what's the way out?
 Andrew Chuter: The greatest myth of the "Australian Dream" is that every family can own their own home.
Yet, by the 2016 Commonwealth Census, official home ownership, including those under mortgage, had fallen to 65 percent.
Sydney's housing has been cited as the world's second least affordable, allowing for incomes, and Melbourne has been noted as the fifth.
As for the rest of the community, 25 percent were renting from a private landlord, and only 4 percent were renting public housing from a state or territory authority.
This is because Australia's housing sector is overwhelmingly dominated by the private market. Prices have ballooned out of control, as they've been boosted by low interest rates, speculation and excessive government tax concessions, such as negative gearing and the lack of a capital gains tax on housing.
Socialist Alliance stands for a comprehensive program of government action to tackle the housing crisis, focusing on a major development of direct state involvement in providing new homes.
Specifically, we would tackle homelessness and the housing affordability crisis with a large-scale expansion in quality public housing. We say no to "privatisation by stealth", via the conversion of public housing into social housing.
We would establish a state-owned body to provide low-interest home loans and phase in return to full capital gains tax, and phase out negative gearing.
Also, we want to see private rents capped at current levels for 10 years, and that public and social housing rents are no more than 20 percent of a renter's income.
A substantial, socially and environmentally planned development of the public sector in housing will take much of the pressure out of the housing market and open the way for an easing of the price spiral for family homebuyers as well.
This development would include redesign of housing to incorporate measures to tackle climate change, such as rooftop solar for all dwellings.
Current government policies aimed at selling inner city public housing sites to buy larger parcels of land in outer suburbs are also exacerbating climate change as outer suburbs are more car-dependent.
Public housing should be well located to public transport, jobs and other amenities.
Altogether, this would make housing more affordable for all working people, and socially and ecologically responsible for the whole community and the planet
With the Russian invasion of Ukraine, war is something on everybody's mind at present. But while Putin's border build-up and subsequent invasion happened rapidly. A bigger issue for Australia has been the growing war against China rhetoric.
Since Dutton took over the defence portfolio early last year, he's been making increasingly aggressive remarks against Beijing. While Morrison trumped him in announcing the AUKUS pact last September.
And we're all well aware that we'd be following the US into a potential conflict, as Australia is so tied to US foreign policy.
So, Paula, do you see a way out of this for Australia? And if so, how do you conceive of it?
Paula Sanchez: The Morrison Coalition government is absolutely desperate to create a foreign policy diversion from their abject failures in the domestic sphere.
These include COVID problems, the crisis in health and aged-care, falling wages and insecure jobs, rampant corruption, ministerial incompetence, not to mention, the catastrophe of climate change denialism, which has exacerbated the bushfire and flood disasters.
The Morrison government is flailing around, looking for a war crisis to try to turn the upcoming poll into a khaki election.
Dutton is the warmonger-in-chief, trying to outdo his prime minister in jingoism and a push to massively increase Australia's defence spending.
Socialist Alliance is firmly opposed to the Russian invasion of Ukraine. We're calling for Russia to immediately halt the invasion and withdraw its military from Ukraine's territory and airspace.
As well, we want a return to diplomacy to de-escalate the situation and resolve the current impasse, as well as reinstating the right to democratic self-determination for the Ukrainian people.
At the same time, SA is also calling for an end to the aggressive, war-like policies of the US, the European Union and Australia. In particular, we're calling for an immediate commitment to stop the eastward expansion of NATO.
Just like AUKUS, ANZUS and the Quad, NATO should be scrapped. And all countries need to sign the Treaty on the Prohibition of Nuclear Weapons.
Meanwhile, the Morrison government has stepped up its new Cold War on China, through anti-China rhetoric and by signing up last year to the AUKUS military alliance, which is essentially aimed at China.
Even the PM's announcement on March 7 that nuclear submarines would be stationed on Australia's east coast is an escalation of this war propaganda.
Unfortunately, the Labor opposition has overwhelmingly supported the government's anti-China line. This makes it even more essential for socialists to campaign strongly against Australia's anti-China policies, which have, if anything, been even more aggressive than the US government's attacks.
While opposing the Beijing government's suppression of human rights of minorities in China, Socialist Alliance totally rejects Australia's and the US's aggression against China.
We call for an end to ANZUS and the closure of all US military bases in this country. Australia should immediately withdraw from AUKUS and reject all plans to obtain nuclear submarines.
Australia should cut military spending by at least 50 percent and use these funds for social and environmental programs at home and for increased overseas aid abroad.
In general, Australia's foreign policy decisions should be based, not on support for the US and western war drive, but on support for global justice, human rights and climate action.
And lastly, I'll put this one to you Niko. The Socialist Alliance platform is comprehensive. If SA candidates take out seats in federal parliament, what are some of the other issues that will be key priorities?
Niko Leka: We place great value on working with communities, trade unions and social movements because popular mobilisation is the key driver of progressive social change.
Direct involvement in struggle changes people's ideas about what is possible, while creating, expanding and strengthening the grassroots organisations that can make change a reality.
We've discussed the actions we would take on climate change. We also want to stop pork barrelling and profiteering, fix the housing crisis and end the insanity of hyper-militarism.
If we were to win some seats, we would in addition to those actions take an educational approach to a plethora of issues.
The most pressing of these is to implement all the recommendations of the Royal Commission into Aboriginal Deaths in Custody, abolish compulsory income management, and negotiate treaties to respect First Nations sovereignty and land rights.
The other most pressing issue is institute community-based assessment of asylum seeker claims, and immediately end offshore detention and mandatory detention.
There is much to do regarding civil and workers' rights. We would adopt a bill of rights including guarantees for freedom of speech, assembly and religion. We would recognise workers' rights to strike and organise in law, including solidarity actions.
With social rights we would begin by lifting all welfare payments above the poverty line and indexing them to maintain real value.
The NDIS is a profiteering disaster. We would reorganise the NDIS with governance provided by a board with the majority members being people with disability.
The intent is to make the NDIS fully transparent and accountable. People with disability and their organisations must be the central decision-makers in shaping its design, implementation and monitoring.
There are also actions to undertake that focus on women's rights, LGBTIQ+ rights, and the rights of youth and children.
It's worth noting that when the Australian Constitution was established, many said it was the freest constitution in the world.
By free, they meant the government and those who had its ear, were free. There were precious few rights granted to citizens. That has to change.
There are two other priorities: free education, and free healthcare, including dental care. That would be the start of a healthy society.
Receive all of our articles weekly