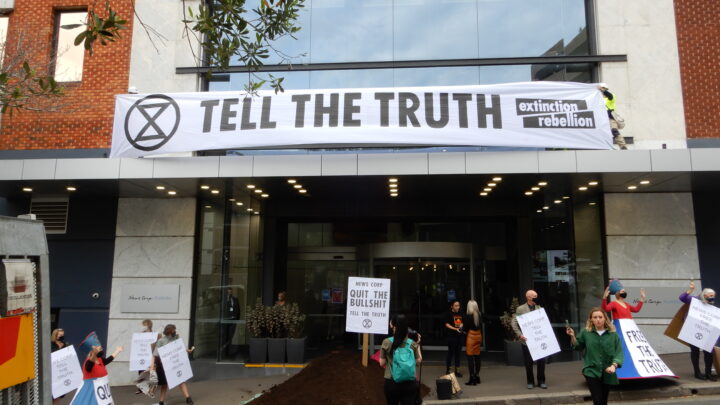 "We are here as Extinction Rebellion asking and demanding that News Corp quits the bullshit and tells the truth," said XR Sydney spokesperson Larissa Payne out the front of the News Corp offices in Surry Hills at around 8.30 am on Friday morning.
The climate activist just happened to be standing next to a sizable mound of bullshit that had recently been dumped on the media giant's doorstop, as part of a surprise nonviolent direct action that was carried out early on 4 September.
Members of Extinction Rebellion (XR) were out in force calling on Murdoch's media machine to halt its promotion of a decades-long campaign that involves spreading lies and disinformation to hide the fact that the planet is now in the midst of an ever-worsening climate and ecological crisis.
Australia became ground zero for the climate emergency last summer when 20 percent of mainland forest burnt to the ground. And a recent Greenpeace investigation outlines that a push to minimise the role of changing climate in the fires was heavily aided by the reporting of News Corp.
The Sydney XR action was no lone cry in the wilderness. Rather it was part of a global day of action targeting the media giant over its placing of profit above the lives of future generations. And the campaign against climate denying News Corp will be sustained until Rupert gives up fibbing.
Lord of the lies
"News Corp lies. News Corp denies. They platform denialists, disseminate fake news and function as a mouthpiece for the fossil fuel industry," Payne said before a crowd of COVID-19 prevention compliant protesters, who were socially distanced on Holt Street.
"This creates a cesspool of misinformation in the public sphere, manufacturing consent for the mining industry, and governments captured by fossil fuel interests despite the majority of Australians wanting meaningful action on climate."
As examples of how in the midst of the unprecedented last bushfire season News Corp propagated lies, Payne recalled how Murdoch ran report after report trying to cast the blame for the fires upon arsonists and The Greens.
The May-released Greenpeace Dirty Power Burnt Country report sets out that News Corp outlets produced 75 percent of all articles that denied the influence that changing climate had on the bushfires, while only accounting for 46 percent of articles on the fires and climate over that period.
The report authors further outline that News Corp's reporting became so compromised over last summer that a series of internal whistleblowers spoke out against the media corporation, and this included Rupert Murdoch's own son, James.
A state of climate chaos
"Year after year, we see the lies being told by the likes of News Corp, wanting to promote fossil fuels, pretending that nuclear is the answer, fighting against renewables, fighting against our future," said NSW Greens MLC David Shoebridge.
And this state is in dire need of some true-telling at present, as the Berejiklian government has indicated that it's considering lifting a three decades-old ban on uranium mining, while in February, it cut a deal with the Morrison government involving a drastic increase in gas extraction.
Shoebridge told Sydney Criminal Lawyers last week that the NSW Liberals and Nationals are continuing to "pour public money and support behind coal seam gas" and now they're opening debate on uranium, which is further distraction from a just transition towards renewable energy.
The NSW Greens energy spokesperson added that studies outlining how this state could transition to 100 percent renewables have been around for years. And while his party is advocating for such a change, many other politicians are too scared to stand up against the fossil fuel agenda.
"Few in government or in parliament are willing to come out and call it out, because they know the power of News Corp," Shoebridge said on Friday morning, while above him on the building awning, two XR activists held up a banner that read "Tell the Truth".
"They are frightened of the front page of the Daily Telegraph," the Greens member continued. "They are frightened of the attack from a media organisation that's literally fighting against our future."
A cooking planet
By all scientific accounts, the future for the human race is pretty bleak. A  2018 IPCC report sets out that the Earth has already warmed by 1°C above pre-industrial levels, and it's likely to increase to 1.5°C sometime between 2030 and 2052. And this will bring about devastating consequences.
The IPCC report is no deviation from other scientific studies either. Indeed, climate activists say it's conservative in its estimates.
And the catastrophic climate events that scientists are warning about are already upon us. No one in their right mind believes that last year's bushfire season was simply a one-off anomaly unrelated to the warming planet.
Even the PM, when he's having a quiet moment to himself, must be aware that something's up.
Spokesperson for CASES (Climate Action Sydney Eastern Suburbs) Ian Rose pointed out at the protest that when it became apparent in the 1970s that chlorofluorocarbons (CFCs) were destroying the ozone, they were banned.
Yet, the same can't be said about the 70s acknowledgement that the planet is warming, and it's being driven by fossil fuels.
"The war profiteers and their media mouthpieces saw a profit to be made from the Earth's destruction and have been sowing the seeds of doubt about the reality of global warming ever since," Rose made clear.
Dissent will not be silenced
It was not long after the Extinction Rebellion dumped a pile of bullshit at News Corp's front door that NSW police officers arrived on the scene.
One officer commanded the crowd to disburse under the government's new ban on protests, which is concealed in its pandemic public health order.
Section 18 of the Public Health (COVID-19 Restrictions on Gathering and Movement) Order (No 4) 2020 stipulates that public gatherings of more than 20 people are banned. And section 3 defines a public gathering as "a meeting or assembly of persons for a common purpose".
NSW police is currently interpreting this to mean protests of more than 20 people are outlawed, even if demonstrators are socially distanced, as they're gathered "for a common purpose".
So, the enforcement of this rule is all about silencing dissent, and nothing to do with virus prevention.
However, Friday morning's action couldn't be shut down as organisers had made sure that there weren't more than 20 people gathered for a common purpose.
And XR further indicated that the protest was just the first in a series of escalating nonviolent direct actions that are coming our way.
"What do we need?" Ms Payne asked towards the end of her speech. "We need courageous truth-telling to prevent planetary collapse."
"If World War Two could dominate the front pages daily. If COVID-19 can make headlines. Where is the proportionate reportage on the climate crises: the greatest existential threat human beings have ever known?
Receive all of our articles weekly