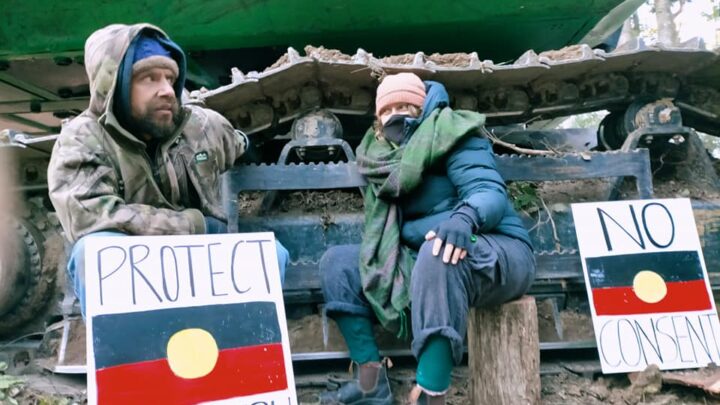 The anti-logging campaign the Gumbaynggirr Conservation Group has recently launched in northern NSW is doing exceedingly well. And the word is that the model it's using to gain all the traction may soon be mirrored across the continent.
Back in April, by cover of COVID, the construction of roads into the Nambucca State Forest commenced, with a view to opening up the area for logging.
This native forest escaped the wrath of last summer's unprecedented bushfires, but evidently not that of the Berejiklian government.
The Forestry Corporation of NSW then moved in to commence logging in May. The state-owned company has said it's only conducting "low intensity thinning" of "regrowth" forest, however local custodians, the Gumbaynggirr people, assert that this isn't the case.
But, despite loggers having moved in with machinery, the traditional owners and their allies have had them on the run. A series of lock-ons in Nambucca last week saw them scamper over to the Wild Cattle Creek State Forest this week, where further lock-ons have seen operations halted there.
Sign of the times
The Gumbaynggirr people were handed back their land through the native title process in 2014. And today, it's the native title holders and conservation organisations that have joined together to form the Gumbaynggirr Conservation Group (GCG). And it's been running quite a campaign of firsts.
NSW Forestry announced it was pausing operations in Nambucca State Forest on 5 June for five days, to allow the GCG to undertake an independent cultural heritage survey.
This was the first time logging had ever been halted since the NSW regional forestry agreement came into play 20 years ago.
And further, the Gumbaynggirr people are taking the NSW Forestry Corporation to the state Land and Environment Court, which is the first time it has been taken to court by an individual organisation in decades.
Then there's the Gumbaynggirr Conservation Group itself. Having established the Gumbaynggirr Tent Embassy in Nambucca in mid-May, the GCG is an alliance that's forging a new type of activism, which organisers maintain will soon be replicated at other sites nationwide.
From little things
GCG spokesperson Sandy Greenwood has said that if NSW Forestry isn't stopped "deeply significant cultural heritage will be desecrated, our beautiful old growth trees will be logged, rare flora will become extinct and our koalas and endangered species will literally have nowhere else to go".
An actor and playwright by trade, the Gumbaynggirr woman now has her sights set on bringing about a landmark case in the environment court that would see a "dictatorial law" that protects the Forestry Corporation from any proceedings being brought against it abolished.
Sydney Criminal Lawyers spoke to Ms Greenwood about the significance of the GCG alliance, what's at stake if the logging operations do go ahead, and how she perceives what's happening on the northern NSW coast right now as the beginning of a much greater movement.
Firstly, the Gumbaynggirr people are the custodians of the Nambucca State Forest and Wild Cattle Creek State Forest.
Your people haven't been consulted on the current logging operations in these areas, let alone given consent to them.
However, NSW Forestry Corporation has recently moved in at both locations to commence logging. Sandy, how did this all come to be?
About a year ago, the NSW government passed legislation that meant NSW Forestry Corporation doesn't need to consult with Indigenous groups.
In saying that, they did approach the Aboriginal Land Council in Nambucca Heads, because a part of Forestry Corporation appears to do proper due process and consult.
So, they came to the Aboriginal land council and tried to have a meeting with the CEO. But he said there had been five deaths in the family and they had Sorry Business, so could they come back another time. But they never did.
Then four or five months later, we all saw in the local paper that they were about to start logging. Being part of the community, I asked around if anyone knew about the logging and everyone said they had no idea.
None of the senior lore men or women had any idea that the logging was happening. And we all know that there are sacred sites and very significant cultural heritage in that forest.
So, what's the state of logging right now
They've ceased logging in the Nambucca Forest, and they've gone up to Wild Cattle Creek Forest, near Dorrigo, which is still Gumbaynggirr country.
They tried to start logging there yesterday, but they were stopped by some of our team who locked-on.
And why have they made the move?
Because we took them to court and are in ongoing court proceedings with them. We also had lock-ons. That was enough for them to get out.
If the logging does go ahead, what's at stake?
Remnants of the world's oldest continuous culture. Ancient heritage. One of the last koala habitats in the country. Rare flora. Endangered species. Song lines. Scar trees. The list goes on…
The Gumbaynggirr Tent Embassy was set up in the Nambucca State Forest in mid-May.
You've noted the significance of the alliance that has been forged between the local First Nations people and conservation groups since. Why is it so significant?
It's significant because it's the first time in history that conservation groups have had the opportunity to work with First Nations and create a powerful collective.
This is really important because we can all share our knowledge between us. We have all the arsenal. We have all the tools we need to win.
And there are huge opportunities for employment in the cultural and conservation areas if we work together to create a park.
We can save endangered species and sacred sites for the next generations.
It's really important, because we've always been divided, and that's what they thrive on – the government and the corporations.
The Gumbaynggirr people have brought proceedings against the Forestry Corporation in the NSW Land and Environment Court in regard to logging operations.
You're being represented by renowned native title lawyer Tony McAvoy.
The case is said to challenge this state's forestry laws. How are proceedings going so far? And why is the challenge so significant?
Our current hearing for an urgent interlocutory injunction has been discontinued because we had an out of court win, when we forced them to remove their machinery.
The hearing has been discontinued, as we didn't need the urgent injunction, because on the ground we made them leave with the lock-ons.
So, we discontinued that hearing, but we're still litigating against them.
We're going to commence litigation against them on Wild Cattle Creek Forest. And we're going to challenge the Forestry Act, with working towards looking at the Native Title Act and the Racial Discrimination Act.
This is the first time that anyone has taken the NSW Forestry Corporation to court. No individual organisation has tried to litigate against them for over 20 years.
This is because they have a privative clause in their Act, which means that no organisation can litigate against them.
So, we will be overriding that, as we find that it's discriminating against us as traditional owners, who have got native title rights to govern the forest, as the native title backs on into the forest.
They're breaking the law and our legal team is reassessing and coming up with a strong case in order to exemplify that.
The trees that are logged are being sent overseas to China or used to make power poles in this country.
Aren't there alternative ways that the government could move ahead with what it wants to do without destroying your people's forest?
Of course, there are multiple sustainable options and solutions that are really profitable for the next generation. You've got hempcrete blocks and bamboo.
Just look at the rest of the world, there are so many other countries taking alternative options seriously.
They do not need to be desecrating the last remnants of an ancient culture and the last home for koalas for a few logs that they're not even making a profit from.
What is happening makes absolutely no sense on any level.
NSW Greens MLC David Shoebridge joined a protest you held at the Nambucca forest on 9 June.
In a speech made later in parliament, he emphasised that your people are struggling to save country you've been the custodians of not for just 250 years, but more like 40,000 to 60,000 years.
How significant is this situation for your people?
We've been guardians of Gumbaynggirr country since time immemorial. It's not 40. It's not 60. It's an amount of time that we can't comprehend.
We're the First Peoples of the planet, really. It is not out of Africa. We've known that. But, that's alright, science will catch up.
We have a cultural obligation to protect country. The meaning of who we are and how we exist is embedded in the rock, the trees and the water.
Our ancestry and our history is so old, deep and profound that it's worth fighting for to protect the last remnants of it.
And lastly, Sandy, what's the next step in the campaign. And where do you see this all going?
Moving forward and bringing this historic alliance between conservationists and First Nations is creating a new model of how we can coexist harmoniously together, how we can share our knowledge and how we can mobilise as a people.
We can really look after each other. It's the power of the people.
So, we're going to keep building that model. We have a headquarters in Nambucca State Forest. We're going to stay there.
We're doing cultural programs every day. We're bringing a lot of First Nations custodians together. We have botanists and they're all sharing their knowledge around yarning circles. And it is also where we strategise.
This is an ongoing campaign. This is huge. This is us reclaiming and changing laws. This is the start of a huge movement that is spreading across the country.
All photos supplied by the Gumbaynggirr Conservation Group
The main photo is of lock-ons this week bringing logging to a standstill at Wild Cattle Creek State Forest
Receive all of our articles weekly