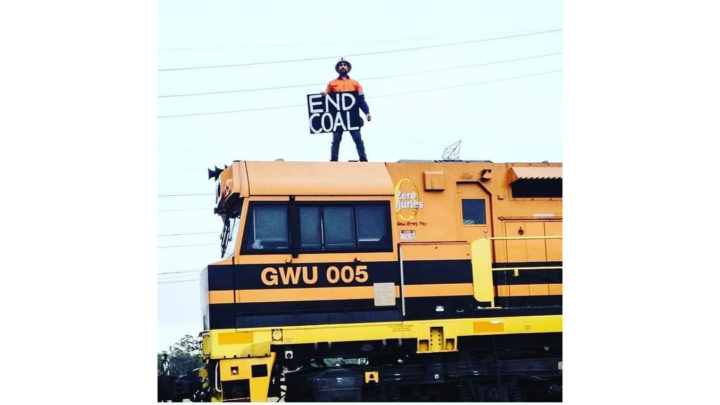 At around 6 am on 13 September last year, anti-coal protester Micah Weekes climbed on top of a 13,000 tonne freight train on Sandgate Bridge, Newcastle, with the aim of preventing it and other coal trains from making it to the largest coal port in the world.
Weekes spent around 2 hours atop the train, with much of the nonviolent direct action live streamed on social media. That's until NSW police turned up with a cherry picker to remove the activist and arrest him. And Weekes was subsequently charged with three serious offences.
The difference between Weekes' coal mining protest and others that have been increasingly appearing in the press of late, is that he's a former coal miner of 10 years, who was trying to draw attention to the devastating health effects the industry is having upon local communities.
Indeed, Weekes was dressed in his old coal mining gear as he blocked the train from moving back in 2018. And he'd been prompted to undertake the action by a recently released report from a group of local doctors regarding the coal-generated health crisis in the region.
"A massive win"
Mr Weekes eventually had his day in Newcastle Local Court on 10 December. He was found guilty of the offence of stopping a train, as well as obstructing a railway, which together carried maximum penalties of 2 years imprisonment and a $10,000 fine.
However, Magistrate Andrew Eckhold saw fit to only impose a two year good behaviour bond upon the activist and fine him $800. The magistrate also evidently complimented the defendant on the strength of his convictions.
And Weekes' pro bono legal team saw his third charge – aggravated unlawful entry on inclosed lands contained in section 4B of the Inclosed Lands Protections Act 1901 (NSW) – thrown out. At the time, this offence carried a maximum penalty of a $5,500 fine.
This anti-protest offence was created by the Baird government back in 2016. However, just last month, with the passing of the Right to Farm Bill 2019, the Berejiklian government quadrupled the maximum fine that now applies and also made those convicted of the offence liable to prison time.
Twilight of the coal industry
According to Weekes, the court outcome was a victory. He'd understood all along that he was going to be convicted of at least some of the offences, but he also understood that he was by no means guaranteed to receive what might be described as lenient punishment.
As far as the impact the protest action has made, Weekes describes it as "major". And he puts this down to, in part, his actually having been a coal miner himself. He also confided that his demonstration had "ruffled quite a few feathers" and even led to some threats.
Sydney Criminal Lawyers spoke to Mr Weekes about his court outcome, the health impact that the coal industry is having upon Central Coast communities, and why he asserts it's only a matter of time before the coal industry bites the dust.
Firstly, Mr Weekes, what would you say the purpose of the train protest action you took was? And what sort of issues were you trying to draw attention to?
The current political climate is one that reflects the interests of the coal industry. And it ignores climate scientists and medical professionals.
So, I felt I had no other option than to shutdown part of the industry in an attempt to bring the public's attention to the health and environmental issues that are facing our communities.
In regard to your protest action, last week, you were found guilty of two offences, placed on a good behaviour bond and fined. But, you consider this a victory. Can you explain why that is?
I went up against Big Coal. I was facing a maximum of two years gaol, a $10,000 fine, and even a claim of $100,000 in compensation by the coal company I targeted.
And I walked away with an $800 fine. That was due to the strength of my convictions and the argument put forward by my legal team.
The entire purpose of the process was to get these issues into the public eye and to do so using legitimate medical and scientific studies.
I feel I've done that, and I'm continuing to do so. In my opinion, that's a win.
Can I ask what sort of coal-related medical issues you've been pointing to?
Just before I got up on that train, we had a report released by 32 doctors from the Hunter Valley. They called on the NSW Department of Health, the health minister and the environment minister and said, "You've got to get out here. There is a crisis."
We've got unprecedented numbers of people attending hospitals and local doctors with cardiovascular disease, cancer and respiratory illness. And in their opinion, it's a direct result of the coal mines. And no one is doing anything about it.
These are doctors: professionals in the industry. These are people who are treating the people who live in these areas. They're telling the government that these issues are related to coal. But, they're being ignored.
One of your charges was for aggravated unlawful entry on inclosed lands. However, this charge was dropped. Why was it found not to apply in your case?
I had Nadia and Rose from Karim and Nicol Lawyers to thank for this one. They successfully argued that the Inclosed Lands Act, by definition, means land or infrastructure that's surrounded by a fence or wall or bordered by a natural feature, like a river. Some sort of recognisable boundaries.
The prosecution was not able to prove beyond reasonable doubt that the area I entered fell into this category. And they also couldn't provide evidence as to where I entered from.
So, they couldn't actually prove that this was an enclosed space – that it was inclosed land.
But, not only did you have a charge dropped, the penalties that Magistrate Eckhold imposed were quite lenient given the maximums that applied. Why do you think you got off so lightly?
The magistrate actually lives in the Hunter Valley. So, he's seen firsthand the issues that are facing the area due to extensive mining. He actually voiced his own concerns over the health impacts and pollution.
So, he understood why I was on the train. And after examining the evidence provided, he realised that I did it out of genuine concern and based on facts. He sentenced me accordingly, as far as I'm concerned.
Mr Weekes you've putting yourself on the line, trying to bring about a halt to the coal mining industry. And yet, you actually worked as a miner within it for a decade. What brought about the change for you?
I grew up in the Northern Rivers, amongst the rainforests and the beaches. So, I've got a great love for nature. But, like a lot of people in their early 20s, I headed to the city to make my fortune and I ended up in the mines.
The money was great. But, the more I saw of it, the more I came to understand the complete and utter devastation that they cause.
The industry has a lack of care for the environment or local communities. They couldn't care less about the people that work for them.
I was in a situation where they provided me with a dust mask. And we had it independently tested, and it didn't work. But, they still tried to make us go back to the same area. So, they couldn't care less.
The final thing that really sent me over the edge was I was paying massive amounts of income tax, and a lot of these companies I was working for were paying nothing.
I was getting all this coal out of the ground, and they were sending it overseas, making an absolute fortune out of it, and paying no tax. And yet, I was getting smashed by the taxman for the little wages I was earning.
You've pointed to the detrimental health outcomes the coal industry is having upon local communities.
You're calling for a just transition from fossil fuels to renewables. This aim is also held by those who are arguing against the industry from a stance more focused upon the climate crisis.
Where do you stand on climate change in this regard? And would you say the position you're coming from is any different from groups like Extinction Rebellion?
I wholeheartedly agree with the climate crisis stance many of these groups are taking. And I support them as well.
For me, however, it was more health related as I live on the Central Coast, where we have unlined dams that have been leaking heavy metal contaminants into our lakes and waterways for decades.
We've got multiple power stations burning coal, but we only have one air quality monitoring station located 20 kilometres away from the nearest power station.
And then we've got regional reports and studies pointing to places like the Central Coast having a 20 percent above average cancer rate.
That's why for me, it was more about health. But, my position is no different from any of the climate action groups: it is one and the same.
And in all honesty, you'd be hard pressed to find a group that I haven't stood with on climate and coal issues.
And lastly, despite the obvious evidence of the harms caused by the coal industry, we've got a PM who brought a chunk of coal into parliament.
The Morrison government and Queensland Labor have opened the way for the Adani coal mine, and the Berejiklian government is trying to pass laws that will make it harder to prevent new coal mines from opening based on export emissions.
Mr Weekes, how do you describe the response politicians are taking to all this? And further how do you see this playing out from here?
As far as I'm concerned, our politicians don't represent us. They may as well have the logos of the coal industry corporations sewn onto their shirts.
You've got to look at the people in politics at the moment. We've got Barnaby Joyce, who has a long association with Gina Rinehart. You've got Clive Palmer, who's estimated to be worth $4 billion and was actually a politician in our government.
And we've got an environment minister, who used to work as a lawyer for Mitsubishi Mining. An environment minister? That's like asking Ronald McDonald to be your personal trainer. It's ridiculous.
From here, the coal industry is dead. Everyone knows it's dead. This is just a last desperate attempt to make as much money as possible before the final nail goes into the coffin.
And unfortunately, our so-called elected officials are just going to be lining their own pockets on their way out.
If people want proof of this, in December 2018, you had 414 global investors worth $31 trillion dollars walk away from coal. Now, some of those investors are companies we have in this country like Australian Super, HESTA and IFM Investors.
We've had 100 financiers in the last five years who've withdrawn from thermal coal. You've got Glencore, a Hunter Valley investor, that's capping its coal production. Rio Tinto sold their last coal mine in 2018. BHP is rumoured to be walking away.
Coal is done. It's over. So, this is just the last-ditch cash grab. And they couldn't care less about the damage it's going to do to local health, communities and the environment.
Receive all of our articles weekly