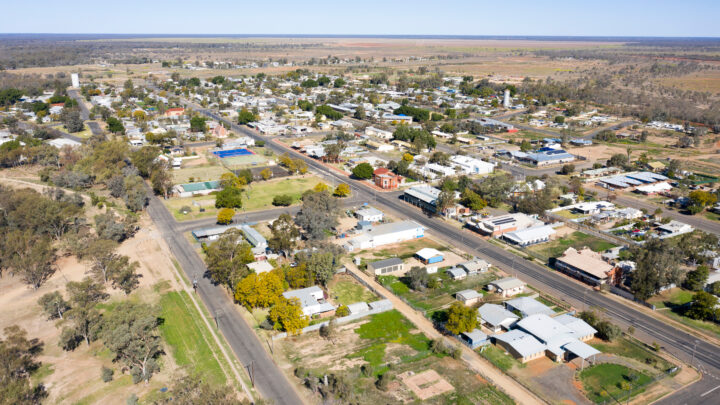 The Brewarrina First Nations People announced on 13 November that they've rejected the state and federal government sponsored model of community-led representation under the Murdi Paaki Regional Assembly (MPRA).
And instead, they'll be upholding their right to self-determination.
Citing ongoing institutionalised oppression under this regional representational framework, Brewarrina First Nations People have dissolved the Ngemba Community Working Party, claiming while it's supposed to represent their entire community, it only speaks for a few.
"The federal and state government promote the MPRA as a successful model of community-led representation," a press release reads. "This is far from the truth. Several communities have been either disengaged and/or struggling with the model. This is false promotion."
The community has also notified the state and federal government that it will no longer be operating within the Murdi Paaki footprint and has given them until 31 December to remove it from its policy and funding arrangements.
A failing system
Covering far western NSW, the Murdi Paaki Regional Assembly was established in 2013. It operates as one of ten Aboriginal regional alliances, which negotiate on behalf of Aboriginal communities in regard to the delivery of services.
According to the Aboriginal Affairs NSW website, "the Murdi Paaki Regional Assembly (MPRA) is the peak representative structure that represents the interests of Aboriginal and Torres Strait Islander people in 16 communities across western NSW."
MPRA was the first regional alliance to sign a Local Decision Making Accord with the state government in February 2015. Established in September this year, the current accord sets out the key operating principles that Brewarrina First Nations People have rejected as failing.
A shared oppression
Brewarrina was the site of the first Aboriginal mission in this state, which was established in 1886. First Nations people, who'd been forced off their land by invading settlers, were placed on the mission by the foreign government.
Today, two-thirds of the local community is made up of Aboriginal people. And this population is comprised of those from many different nations, including the Ngiyampaa, Weilwan, Murrawari, Guamu, Barranbinya, Paakantji, Gamilaroi and Ularai.
Situated on the banks of the Barwon River, Brewarrina was one of the towns worst hit by the recent state drought and water shortage crisis. The Barwon is the lifeblood of the local community, and for the first time in living memory it ran dry.
The town is also the site of the Brewarrina Fish Traps-Baiame's Ngunnhu. This system of ancient rock walls forms stone nets for catching fish along the Barwon and is dated at least 40,000 years old, making it one of, if not the, oldest humanmade structure on the planet.
Sydney Criminal Lawyers spoke to Brewarrina First Nations People spokesperson David Kirby. The Ngemba man filled us in on the reason the local community working group had to be dissolved, the town's situation following the drought, and how the community will be moving forward.
Firstly, on 29 October, Brewarrina First Nations People notified the Murdi Paaki Regional Assembly that its representative body the Ngemba Community Working Party had been dissolved.
Therefore, your community will no longer be part of the federal and state government sponsored MPRA regional representative framework.
David, what is the Murdi Paaki Regional Assembly? And why is it failing?
The Murdi Paaki Regional Assembly consulting model was put together under the old COAG trials between state and federal governments.
They're a self-regulated operating body that looks at consulting models for both state and federal government. They go into the community to deal with Aboriginal services and grassroots people.
But what we have seen during that time – and now it has come to a boiling point – is there's a disparity between Indigenous people. This is between people that consider themselves as leaders and grassroots Aboriginal people.
How that's come about is opportunistic people taking advantage of this consultative model, which was based on different types of key performance indicators or targets developed by Closing the Gap.
What that means, and what we've seen, is the Closing the Gap data that's extracted from these communities through organisations like Murdi Paaki is where it stops. The analysis of issues and what we see is going on stops there.
As far as they're concerned, dealing with five or six people from a community of about 1,000 Aboriginal people is basically them ticking the box and saying that there are areas of improvement or nothing is worse.
For us, it's a Catch 22 situation, where you're looking at a whole industry based on the oppression of our people, which attracts a lot of money and creates jobs in communities.
What we've seen is some of these services and jobs in communities aren't accountable to anybody, and the self-reporting and the data extraction from these jobs and services is non-existent.
Therefore, anything that's reported back to both state and federal governments isn't a realistic view of what's happening on the ground.
We've now got to the point in Brewarrina, where we have a very small group of people who represent a small minority of the wider community.
They've taken over our local working party, changed its name so it's identity only represents one nation and has become a mechanism of control.
The similarity that every single grassroots Aboriginal person in Brewarrina has is a shared oppression and not being listened to.
At the end of the day, they don't identify as their tribe as such. What they identify as is a group of people that have all suffered the same oppression and are dealing with the same issues.
Brewarrina First Nations People have withdrawn from this representative framework in an attempt to overturn the "institutionalised oppression that the community has been suffering".
What sort of circumstances do Brewarrina First Nations People find themselves in today? And what's the cause of it?
There has been some critical analysis and reports from government that have come out of supposed community consultation that's taken place when that community wasn't really involved.
They have taken a snapshot from a small number of people within the community, and they've used the three or four representatives from the local community working party to be able to undertake that consultation.
But not through the working party itself, through their own business entities. So, these people – the chairperson, the deputy chair and the so-called directors – have used their power and abused it by accepting this work from government through the local working party.
What that has done is that the real issues aren't captured. They're not looking at the wider community, and it isn't being heard.
So, if this is the case, we don't want it. This isn't dealing with grassroots Aboriginal issues.
So, what are the grassroots issues?
You look at health and substance abuse. Mental health is a massive issue. Substance abuse is massive. And there's the housing crisis, which adds to the other issues.
None of that is being addressed in the current model. There isn't a single Aboriginal corporation in our town at the moment that has the management of any of the Aboriginal housing.
The same people involved in the working party are the same people involved in failed Aboriginal corporations.
So, what we're seeing is the exact same thing happening over and over. Isn't that the meaning of insanity? To do the exact same thing every time and expect a different outcome.
On dissolving the NCWP, Brewarrina First Nations People have chosen to uphold their right to self-determination. So, how will your community be operating from now on?
Our community will be operating on a grassroots approach, which means Brewarrina First Nations People have formed its own committee.
This is representative of the whole town, all the tribes and all the people. It will be working with all Indigenous and non-Indigenous stakeholders and service providers in town to ensure that they're accountable to the people. That's the main thing.
And if we do that on the ground, we will see a shift.
So, that means withdrawing from Murdi Paaki. And will you be consulting with the state and federal governments?
Yes, directly. And we have made that quite clear.
Brewarrina First Nations People have called out the way that the federal and state governments are dealing with regional First Nations communities throughout western NSW.
Why is the way the government is operating in relation to First Nations communities problematic?
Firstly, it's the way that the data is collected through Closing the Gap. If you look at it from a top down approach, the way in which they're extracting that data is coming from an angle of deficit.
So, what they're looking at in terms of the health and economic outcomes is the disparity gap. So, that's based on the negative and not the positive.
What we find is that filters down. Each time Closing the Gap visits, the gap is getting wider. And that's because the government has created this massive industry.
What you see is the only ones that are benefiting from it are these small not-for-profit organisations – both Indigenous and non-Indigenous – based out of Aboriginal communities with people funnelling money from the government through these not-for-profits into their own business corporations.
That there is one of the single biggest impacts in any community. I can only speak from Brewarrina, because that's where I was born and raised, and that's the community in which I live.
However, wherever you go right across the region, right across the state line, and across the country, this is the exact same thing that's happening.
They're funnelling money through not-for-profit organisations into business entities, so that certain people can capitalise on the black industry as it's called, because that's exactly what it is.
And that's an industry that benefits from not improving grassroots issues?
Exactly.
Brewarrina was one of the regions worst hit by the recent drought and water shortage crisis. How much has this situation contributed to your community's decision to withdraw from Murdi Paaki?
What it did was it highlighted the critical issues involved in community consultation, which we have seen from different Aboriginal organisations from across the northern basin.
The government was dealing with these entities that we didn't even know existed on critical health issues related to the river, especially with our elderly.
What we have seen is a lot of the critical data and issues weren't captured because they didn't speak to grassroots people.
What happened was there were closed room discussions from government, which saw nothing on the ground being talked about. And this was one of the worst droughts. We know that from 200 years of rainfall data.
So, what we saw was this great shift away from community once again, as we knew it was building up. And it left us high and dry before the rain actually came.
What we saw were massive health issues related to the back end of the drought, which came as COVID was introduced. So, we were very lucky that it rained.
Had it not rained at the back end of February coming into March, what we would have seen was a massive western NSW health epidemic if those rivers didn't run again.
So, the water situation is okay at present?
At the moment, it is. They're talking about a wet summer. Obviously, we look forward to that. But whether or not it happens, we'll see.
And lastly, David, Brewarrina First Nations People have resolved to pursue self-determination. You've dissolved your local representative body and notified the government of this.
What's the next step for Brewarrina First Nations People from here? How will your community be moving forward?
The next step is we'll be looking at releasing information in regard to some of these issues on the ground when it comes to policy failure, not only from government, but also service providers in the community.
We also want the community to have a good understanding of where we are at now, where we need to be, and how we can learn from past mistakes.
Receive all of our articles weekly