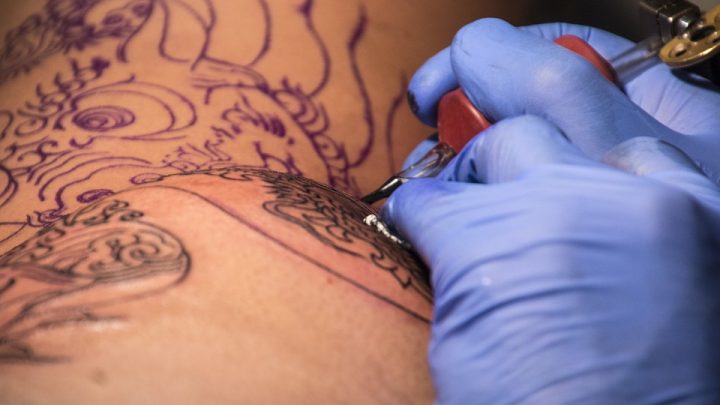 Many of us have tattoos, piercings or other forms of body art that allow us to express our personal identity and individuality.
However, some professions impose strict rules regarding personal presentation and appearance.
The New South Wales Police Force, for example, requires police officers to adhere to certain rules regarding body art and modification in order to promote the Force's professional and positive image within the wider community.
Their body art and modification policy, which applies to police officers, new recruits, administrative officers and temporary employees, prohibits tattoos or 'body modifications' on a person's face, scalp, ears, neck or hands.
'Body modifications' include bodily piercings, branding, cutting, implants and decorative dental modifications.
The policy also broadly applies to prevent individuals from having any form of body art or modification which signifies an association with a person, group or organisation whose values and activities conflict with those of the Police Force.
This applies to tattoos that indicate an affiliation with criminal groups or gangs, or which involve graphic nudity, or which show racially vilifying, homophobic or anti-religious slogans.
There have also been discussions as to whether police should be allowed to display 'sleeve' tattoos.
However, regular ear piercing is exempt from the policy, as well as minor cosmetic modifications such as eyebrow tattoos and augmentation.
The policy came into force in November last year, and required existing members of the Police Force to advise senior officers of any body art or modifications which may breach the policy, and to 'cover up' any offending body art.
These employees were also required to enter into an agreement with their Commander or Manager as to how the offending body art should be best concealed.
Cases of prohibited body art or modification are assessed on a case-by-case basis.
However, the new rules have sparked contention within the Police Force, with some questioning the necessity and rationality of the policy.
On one hand, opponents of the policy argue that having visible tattoos and piercings does not interfere with the ability to carry out police duties competently and effectively.
They have also raised concerns about the impact of the policy on those who already have tattoos but wish to pursue a career in the police force.
On the other hand, Assistant Police Commissioners Michael Corboy and Paul Carey, who penned the draft policy, argue that prominent tattoos may be seen as confronting or offensive by members of the public.
They also hold concerns that in some instances police officers may be supporting the activities of criminal organisations who run tattoo parlours.
Obviously, this would conflict with the duty of police officers to disrupt the activities of criminal gangs.
Head of police human resources, Carlene York, adds that older generations may believe that officers 'might be from a criminal background just because they've got body art.'
There may also be cross-cultural issues, with some tribal designs or lettering being offensive to members of the public.
Police Forces in some other states and territories, including South Australia, allow visible tattoos as long as they are not excessive or offensive.
The SA Force reportedly has no plans to change its current position.
On the other hand, police in Queensland have been told to cover up visible tattoos.
In Victoria, the applications of candidates who cannot effectively cover up tattoos are assessed on an individual basis.
What do you think? Do tattoos and body piercings affect the ability of police to project a 'professional image' in the community?
Or is this policy irrational and unfounded?
Visit our regularly updated Blog section for further topics on NSW criminal and traffic law.
Receive all of our articles weekly