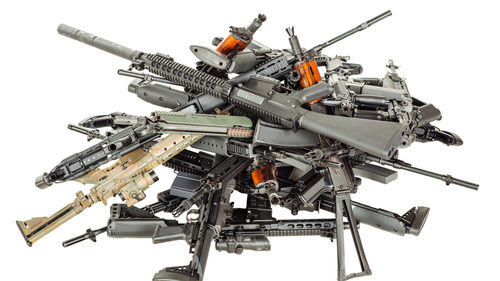 Following a mass shooting in Darwin's CBD earlier this month, a University of Sydney expert on gun violence has criticised police over their inaction when it comes to tracking shotguns, rifles and handguns in Australia.
Darwin shooting
It has been alleged that 45-year old Darwin resident Ben Hoffman shot and killed four people on 4 June 2019 using a previously registered firearm.
He was on parole when he allegedly used a pump action 12-gauge shotgun to kill four men and seriously injure a woman. He was wearing a monitoring bracelet after he was released on parole, part way through his six-year full-term prison sentence.
He has been charged with murder, recklessly endangerment and criminal damage.
Police later confirmed the firearm's serial number matched one reported to have been stolen in 1997.
Police Commissioner Reece Kershaw was unable to say how the stolen firearm came into Offman's possession.
Grey market
According to Associate Professor Philip Alpers, the gun-control legislation brought in after the Port Arthur massacre in 1996 led to a substantial 'grey market', as previously law-abiding firearm owners hid their guns or failed to declare them.
"We now have a grey market of more than 200,000 firearms of mainly long guns (shotguns and rifles) which are illegal and not necessarily being kept deliberately for crime, but just sitting in people's sheds and houses and so on, waiting to be stolen like this one in the NT," he stated.
Crime Commission and Institute of Criminology studies suggest there are more registered firearms stolen than there are illegally imported firearms, which the professor believes should be a cause for concern to police.
Individual arsenals
It has been argued that individuals who stockpile firearms  are at an increased risk of being targeted for theft.
Material obtained from the NSW Police Force under Freedom of Information legislation suggests that several private firearm owners have been stockpiling substantial arsenals of weapons; including one person in the Sydney suburb of Mosman who own 285 firearms, another in La Perouse who owns 305 guns, and one in North Sydney who owns 268 guns.
Sydney barrister Michelle Fernando has been an outspoken gun-control advocate since her father, Vincent Fernando, was murdered with a stolen handgun in 2010. "Gun crime or gun tragedies are real. And if it is an arsenal that can fall into the wrong hands, there's going to be nothing but devastation left behind," she stated.
Lobby group Gun Control Australia is calling for an immediate police gun-safe storage blitz on all licence holders who have 10 or more guns.
"All guns are required to be stored in a specific, hard-metal safe with ammunition separated," spokeswoman Sam Lee explained. "But the form only asks for the applicant to declare they can store guns safely," with no checking that applicants actually meet the requirements.
The group has called for legislation to limit the number of firearms owned by any individual to five.
Police secrecy
Mr Alpers said police forces have a culture of "entrenched secrecy" when it comes to information on firearms ownership, which makes it difficult to determine the source and legality of weapons used in violent crimes.
"[The police] would file a gun away in an evidence room as soon as the case was over and go on to the next one rather than trying to trace where the gun came from," Mr Alpers stated.
The Australian Criminal Intelligence Commission's National Firearm Trace Program (NFTP) was established in 2004 to assist police to ascertain the history of seized firearms.
According to ACIC, "Tracing by itself rarely solves a crime but it can over time accumulate data, which can identify regulatory or policy vulnerabilities".
Firearm ownership
Australians now own more firearms than before the 1996 crackdown, according to the most recent figures in 2016.
There are now more than three million firearms in Australia, according to separate government statistics. That said, per capita ownership fallen by 23% since 1996.
Last year, the government estimated that about 260,000 firearms were unlicensed or otherwise illegal, including 10,000 semi-automatic handguns.
A national amnesty targeting unregistered firearms resulted in the surrender of more than 57,000 firearms last year, with then-Law Enforcement Minister Angus Taylor saying it was a positive step towards ensuring guns don't fall into the wrong hands.
Receive all of our articles weekly