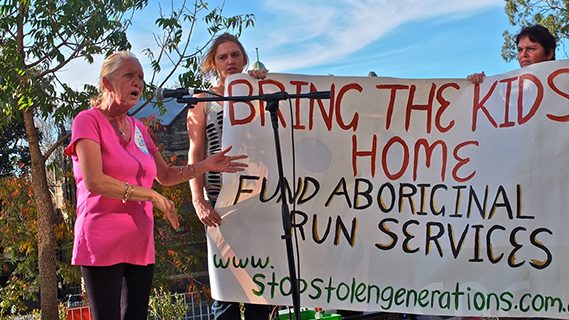 On the final sitting day of the NSW parliament last year, the state government passed laws that if they continue to remain law will mean the disproportionate number of Aboriginal children being removed from their families in this state will more than likely never go home.
The Children and Young Persons (Care and Protection) Amendment Bill 2018 made it so a decision on whether a child in out-of-home care can be restored to their family must be made within 24 months, and if they can't, they should be adopted out or placed in permanent guardianship.
Currently, First Nations children and youths account for 5 percent of the people under 18 in NSW, but at the same time they make up 37 percent of those in out-of-home care. And Aboriginal groups have long asserted that this system amounts to a continuation of the Stolen Generations.
Of course, sorry means you don't do it again. But, eleven years after then prime minister Kevin Rudd issued a formal apology for the Stolen Generations, the number of Aboriginal children forcibly removed from their families in this state has only increased.
And now these new laws are set to make it so it's near impossible to get them back. That's why Grandmothers Against Removals (GMAR) is organising a rally at Hyde Park Fountain on 13 February calling for these potentially devastating laws to be revoked.
Cultural genocide
"It's going to be devastating for those families that have got children in out-of-home care," said Aunty Hazel Collins, a founding member of GMAR. "It doesn't allow families the time frame to adequately fight through the judicial system to get their children back."
GMAR formed in 2014 to advocate for the NSW Department of Family and Community Services (FACS) to end its habit of removing First Nations children from their families. And they brought the issue to national attention with protests across the country on National Sorry Day that year.
"They're going to be adopted out. Their whole identity will be stripped," Ms Collins told Sydney Criminal Lawyers. "They're never going to be able to connect in any way to Aboriginal families, whether that be their own or extended family. It's genocide."
A "crisis driven" system
The Gomeroi woman believes the FACS system needs an overhaul as it's dysfunctional. She pointed to the damning findings of the Independent Review of Out-Of-Home Care report, which NSW family and community services minister Pru Goward stalled the release of for 18 months.
Carried out by former senior public servant David Tune, the report found the system "does not improve outcomes for children and families with complex needs". And it revealed that around 7.5 percent of Aboriginal children are in out-of-home care, while only 1 percent of non-Indigenous kids are.
And when asked why the government has implemented this "hurry up" timeframe, Aunty Hazel posited that they're propping up a demand for children available to adopt. "Whether they be Aboriginal or non-Aboriginal, they're a commodity," she explained.
A likely repeal of the laws
NSW Greens MLC David Shoebridge will take to the microphone at next Wednesday's Stop the Stolen Generations rally. And he was involved with the campaign against the laws prior to the passing of the legislation back in November.
"The campaign against the laws ended up becoming really unified. We not only had a unanimous voice from the Aboriginal community and Aboriginal organisations. We had lawyers, social service providers and the union movement coming on board," Mr Shoebridge recalled.
"And we also got Labor," he continued. "I'm confident with the commitments we got from the Labor shadow minister Tania Mihailuk that both Labor and the Greens will remain firm in our commitment to bring in legislation that will kill these laws after the state election."
On why these laws were recently enacted, Shoebridge said, "This was a vanity project by the outgoing minister Pru Goward, who was persuaded by a bunch of adoption activists that the answer for the crisis in child protection was to permanently remove children as soon as possible."
And these activists were "white middleclass reform advocates with no grasp of the collective trauma produced by Aboriginal child removals. "And they have little understanding of the structural disadvantage that often precedes child removals in this state," he remarked.
Permanent removal
The Greens justice spokesperson went on to explain that these laws have "two fundamental defects". The initial one being that for parents that have their children removed due to chronic situations – like homelessness or addiction – 24 months is too small a time frame to fix them in.
And the second major problem are the amendments that were made to section 90 of the Children and Young Persons (Care and Protection) Act 1998, which allows families to front up to court and apply for their child's care order to be revoked.
According to Shoebridge, if a family that had an issue with chronic housing found secure accommodation, they were then able to apply to the court for a section 90 and have their child returned to them.
"It's a crucial part of the system. These laws make it impossible to now bring a section 90. The barriers that they've put in place mean that section 90 applications will almost never succeed," Mr Shoebridge made clear.
"And that destroys the hope that many families have of ever seeing their kids again."
Protecting the kids
Aunty Hazel said that she's expecting a large turnout at the rally next week. "I certainly will be demanding that these forced adoption laws be abolished," she stressed. "It's wrong. These children have a right to know who they are and where they come from."
Ms Collins has had firsthand experience of the devastation the forced removal of children can have on communities. Her grandmother and aunty were removed as part of the Stolen Generations. And her grandchildren were also removed for a time under the current system.
And once these forced adoption laws are revoked, Aboriginal people should be consulted about any new legislation, Ms Collins concluded. "Because our children certainly need protection from the department that is failing them. We have to be their voice, because their voice is silenced."
Receive all of our articles weekly