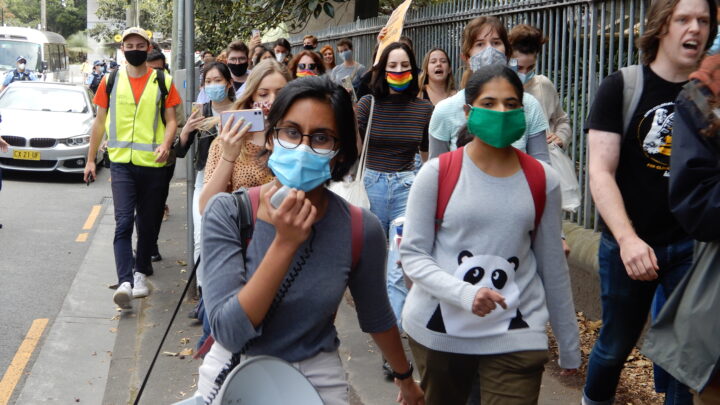 Sydney University continues to be the frontline of the battle for the right to protest, and the clash to push back attacks on higher education and critical thought.
Although the excessive policing that's causing it to be the epicentre, is spreading to other seats of learning.
The chant "no cuts, no fees, no corporate universities" summed up the purpose of the day of actions taking place at institutions nationwide. Last week, the Morrison government passed its Job-Ready Bill, which is being accompanied by inhouse austerity staff sacking measures at unis.
"Cops off campus" was an equally apt slogan for the day, as police again turned up in droves to mete out excessive counter-protest tactics. But this time officers weren't just at Sydney, as a huge procession was captured at UNSW, while others monitored a small speak out at Macquarie.
The overpolicing of small COVID safe protests has been occurring since late July. And perhaps the most absurd aspect about the escalating situation is that the NSW police response has only served to spur a more effective form of non-sanctioned protest than the usual nod-of-approval type.
A burgeoning movement
"We're continuing to protest because we haven't won yet and we won't be intimidated by state repression", said Jazzlyn Breen. "Clearly, what's happening here with about 100 cops on campus for about 100 people sitting on the grass right now is absolutely ridiculous."
The Sydney Uni Student Representative Council (SRC) education officer explained this at the main campus quadrangle right before 1 pm on 14 October. She added that university staff were then holding an outdoor seminar related to the current crisis in tertiary education on the lawn before us.
"The response to protests that question the state, business and corporations is so different to the way people can gather at football games and in shopping centres," Breen told Sydney Criminal Lawyers.
Then, a few moments later, as NSW Greens MLC David Shoebridge took the microphone to address the seminar, hundreds of student protesters converged on the lawn, coming in from separate directions and took off down an avenue, heading towards City Road.
Excessive force guaranteed
It should be remembered that NSW police turned up to apply an unofficial and arbitrarily enforced ban upon a small campus COVID safe protest in late July. And as students have successively tried to mobilise within the rules, officers have cracked down harder, resulting in new tactics being taken.
"There is no democratic society that criminalises protest," said Breen, who's a supporter of the Democracy Is Essential campaign. "Democratic society cannot exist when the state uses its forces to repress citizens that are angry about what's happening."
The masses of student demonstrators running down Eastern Avenue were greeted by a large presence of riot police at City Road, and as they spilled out onto the street, some were lifted up by officers, dragged over to the footpath and forcefully slammed onto the asphalt.
Wednesday marked the third time the student movement has applied the tactic of running from police, and each time it's proven profitable.
Protesters went on to take off across Victoria Park with riot squad officers bolting after them, and mounted police galloping across the grass. Headed off on the other side, the students made their way back through the uni, and down on to Parramatta Road.
And it was at this point, the police got heavier: officers dragged one young man along the road by his bag, they applied a wrist lock to a young woman, and they roughly threw law professor Simon Rice to the ground.
Honi Soit reports that as the crowd was dispersing, officers started handing out a currently unknown number of draconian pandemic fines.
Critical thought is under attack
The National Tertiary Education Union (NTEU) organised the Higher Education and Democratic Society: Responding to Our Current Crisis outdoor seminar on Wednesday. At all times, the teaching event was flanked by large numbers of police.
A gaggle of officers turned up and "intimidated" organisers prior to the approved event taking place. The police warned university staff members that they could not participate in outdoor assemblies of over 20 people "for a common purpose" under the current public health order.
Meanwhile the state government announced last Friday that it's permitting a lifting of restrictions on attendees at this Saturday's Randwick Spring racing carnival, which will see numbers rise from 5,000 to 11,000 people.
And it's doubtful police will hit up the organisers regarding any 20 person limit.
"We're here to protest our cause, to call out the double standards of repression," Breen said defiantly right before the protest, "and to say that we're not going anywhere, no matter how many times you fine us."
Receive all of our articles weekly