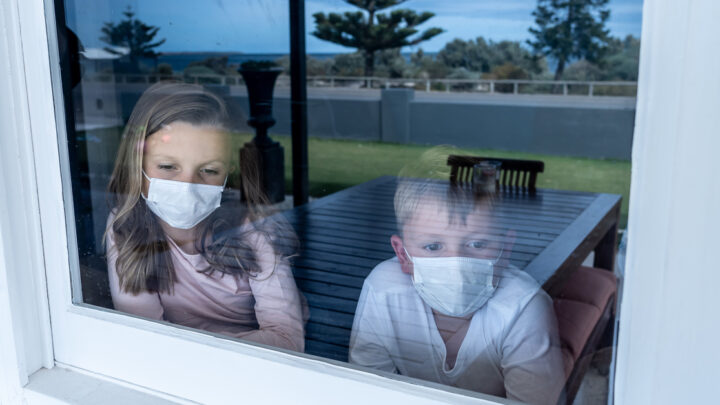 Social isolation resulting from lockdowns, a lack of hope for the future and fear of the virus are fuelling anxiety and depression among Australian children and teenagers at alarming rates.
Mental Health problems in young people
The Royal Australian and New Zealand College of Psychiatrists (RANZCP) recently reported that emergency hospital visits from children and teenagers with mental health problems has risen between 25 and 40 percent across Australia since the start of the Covid-19 pandemic, and shows no signs of abating.
The numbers are backed up by a survey of 25,000 teenagers by Mission Australia, which shows a significant rise in anxiety and depression, especially among teenage girls.
These young people are facing a myriad of problems from rising tensions in families, parents under financial pressures.
The rise in domestic violence offences during lockdowns has been so pronounced it has been called a 'shadow pandemic'.
Young people have been forced into isolation through homeschooling, and online trolling and bullying, along with other cyber crimes are on the rise.
Online offences are increasing
Trolling, cyber bullying and online sex offences have jumped by 30 per cent in the past six months, as the pandemic forces more of us to work and play and socialise online.
Nearly 12,000 URLs with offensive online content – most commonly child sexual abuse – were reported to the Office of the eSafety Commissioner this year – 30 per cent more than in the first half of 2020. Child abuse material shared online has nearly doubled since the start of the pandemic, with 21,000 notifications flagged to the Australian Centre to Counter Child Exploitation in 2020.
The Federal Parliament passed new laws against online abuse earlier this year, but will not be in effect until early 2022.
The legislation will give the eSafety Commissioner rapid website-blocking power to respond to 'crisis events', for example, the Christchurch shooting, by requesting internet service providers block access to terrorist and extreme violent content for a limited time period.
The legislation also aims to include online games such as Fortnite and Call of Duty, which will be under the same regulations set out for social media sites such as Facebook, Instagram, Twitter, forcing them to erase bullying messages to children or threats to adults within 24 hours.
Corporations who fail to comply with the laws will face fines of up to $555,000.
Adults who post "seriously harmful content'' online – such as death threats, menacing messages or revenge porn – will risk fines of up to $110,000.
Bleak future ahead
But there's a general feeling of hopelessness being reported too, particularly by older teens who've had final years of schooling, university, travel plans, apprenticeships and jobs interrupted.
This is a time these young people should be enjoying themselves, making plans, looking forward to their lives ahead. But the mental health experts say many are finding it difficult to imagine and consider a life beyond the uncertainty presented by Covid.
These are the very real side effects of extended lock downs that need to be considered beyond the economic balance sheets.
Health professionals have stated they're worried people are delaying non-urgent medical check-ups for fear of contracting Covid in public places, teachers have said that despite online learning options, student outcomes are not always what they should be. The list goes on.
In the past couple of weeks as Covid case numbers rise, it has become clear that the Berejiklian Government's lockdown strategy is not working as planned to combat the latest Delta outbreak.
Are the lockdowns actually working?
One option the NSW Government is said to be considering is keeping South-Western Sydney in lockdown because it appears to be the hotspot of the city's infections while, at the same time, opening up the remainder of Sydney in an effort to revive economic activity.
But this is likely to be met with great resistance and controversy considering the severe criticism the State Government has already faced over the its Covid-management style.
Those in Western Sydney have been very vocal about feeling repressed by what they perceive is the "authoritarian rule" of police presence on the streets.
The social evidence keeps stacking up – extended lockdowns are a big price to pay and our politicians need to find alternatives to managing the pandemic, as soon as possible.
Receive all of our articles weekly