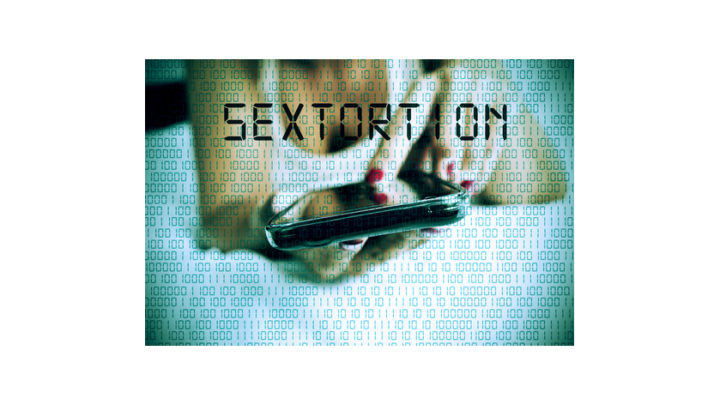 Sextortion often occurs when victims are approached on social media or dating apps, then asked to switch to more private online platforms such as instant-messaging apps like Kik or Skype, where a video call can be recorded.
Predators often then threaten to go public with intimate images or footage unless their financial demands are met.
Although it is a crime that also affects women, men tend to be the major targets of sextortion.
And with about a third of the world in lockdown under COVID-19, countries around the globe are seeing a rise in sextortion and other 'sex-based online crimes. '
COVID-19 leads to a rise in sextortion
Since we've been encouraged to stay home to flatten the curve, more people are reaching out via online platforms to connect with friends and meet new people, and this has led to an increase in cybersex crimes such as revenge porn, sextortion and distributing intimate images without consent (often involving ex-partners), as well as innocuous headshots being morphed with a pornographic body image, then circulated on social media.
There have also been reports of spyware being used to activate webcams on computers and the intimate footage used to extort those who have been filmed.
Con artists typically ask for a lump sum payment to begin with, and then keep coming back for more.
A couple of years ago a Western Australian man sent a video of himself to a woman he thought he knew and had befriended via Facebook. The woman turned out to be a scam artist who demanded $5,000. When he refused to pay, the video was sent to his girlfriend.
In another case, a 21-year-old man sent a video to a woman he had just met online and was then told the footage would be sent to his family and ex-girlfriend if he didn't transfer $1,000.
The scammers then sent a message to his mother and uncle to show they were serious about the threat.
But Police say that while some scammers will seek to destroy their victims financially and emotionally while for others it is more of a game, a thrilling way to make money  – they will often 'play' three or four victims at the same time and won't necessarily follow up on their threats if the original demand is not met, knowing that one of their victims will eventually pay up.
Of course, it is impossible to know the difference, and the consequences of such conduct can be humiliating, devastating, leading to anxiety and depression.
Of course, young people and teenagers are even more susceptible than grown adults. And because we're all globally connected online in potentially limitless ways, it can be difficult to understand how you were initially targeted, why, and where the perpetrator is from.
How to protect yourself
However, rather than feeling helpless, there are ways to protect yourself online.
Make sure that your privacy settings are up to date, and that includes making your friends' list on social media accounts private. This limits your accessibility to scammers. Always use reputable dating sites and be sure to check your account settings regularly.
If you're engaging in cyber sex or sending saucy photos, don't include your face in videos and photos. Be careful too, about exposing recognisable marks like tattoos or jewelry.
Also ensure that any photos or videos you send to someone you don't know well have a plain or banal background – without any obvious personal objects that can identify you or your location. or locations.
Above all, if you're a victim of any of these kinds of cyber crimes, approach the website or platform directly – they have laws and guidelines which they must adhere to, and they have the power to shut down a perpetrator's account which can offer you temporary protection.
You can also seek legal advice – using digital images as a way to deliberately humiliate, control or harass is a serious crime.
Cyber crimes
Image-based abuse and sextortion can which be prosecuted under a number of criminal laws – including NSW laws relating to 'revenge porn' and Federal laws which make it an offence to 'use a carriage service to cause offence or to harass or menace another person', depending the circumstances involved.
In 2017, New South Wales laws were strengthened to reflect the growing ways in which people target and abuse each other online, when the state parliament passed the Crimes Amendment (Intimate Images) Bill.
Section 91P of the Crimes Act 1900 now makes it an offence punishable by up to 3 years' imprisonment and/or a fine of $11,000 for a person to intentionally record an intimate image of another person without that other person's consent, while knowing or being reckless to the fact that the other person did not consent.
Section 91Q of the Crimes Act prescribes the same maximum penalty for anyone who intentionally distributes an intimate image of another person without that other person's consent, while knowing or being reckless to the fact that the other person did not consent.
And section 91R prescribes the same penalty for anyone who threatens to record or distribute an intimate image without consent, intending the other person to fear the threat would be carried out.
An 'intimate image' is defined by section 91N as:
an image of a person's private parts, or of a person engaged in a private act, in circumstances in which a reasonable person would reasonably expect to be afforded privacy, or
an image that has been altered to appear to show a person's private parts, or a person engaged in a private act, in circumstances in which a reasonable person would reasonably expect to be afforded privacy.
The same section defines 'private parts' as:
a person's genital area or anal area, whether bare or covered by underwear, or
the breasts of a female person, or transgender or intersex person identifying as female.
'Engaged in a private act' means:
(a) in a state of undress, or
(b) using the toilet, showering or bathing, or
(c) engaged in a sexual act of a kind not ordinarily done in public, or
(d) engaged in any other like activity.
Going to court for an intimate image-based offence?
If you have been accused of an intimate image-based offence, call Sydney Criminal Lawyers anytime on (02) 9261 8881 to arrange a free first conference with an experienced defence lawyer who will advise you of your options and the best way forward.
Receive all of our articles weekly