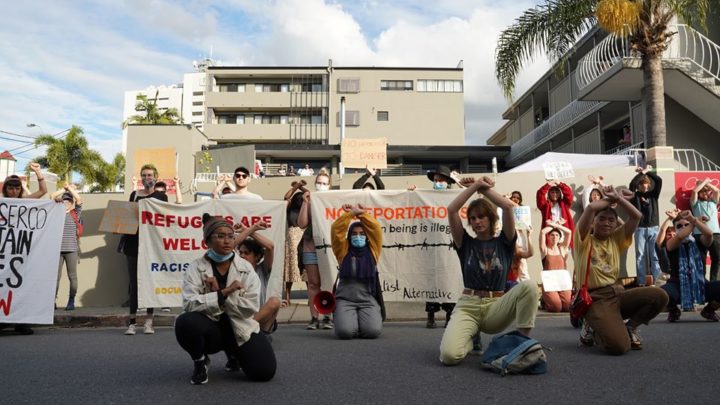 On Wednesday, 17 June 2020, the 24/7 Community Blockade stationed out the front of the Kangaroo Point Central Hotel situated in inner city Brisbane was into its sixth day of operation.
The protesters making up the action are demonstrating against the continued detention of the men inside.
Around 120 formerly offshore asylum-seeking detainees are currently confined to the hotel premises, after having been transferred from Manus and Nauru, under the now-revoked Medevac laws, as at least two doctors had agreed that their medical conditions warrant urgent treatment.
The blockade became necessary after Queensland authorities removed several detainees last week, transferring them to the Brisbane Immigration Transit Accommodation (BITA) detention centre, which is situated away from public attention: out near Brisbane airport.
Protesters successfully blocked the removal of Farhad Rahmati last Thursday evening, but the long-term detainee was transferred early morning the following day.
The removals are seen as an effort to silence the voices of these men, who've been conducting daily balcony protests for the last ten weeks.
Protections don't apply
In a bizarre twist to the government's ongoing criminalisation and slow torture of asylum seekers project, the Morrison gang have been confining former offshore detainees in Australian hotels, which are now classed as alternative places of detention or APODs.
After spending seven years in the government's concentration camps on Manus and Nauru, the detainees were flown here due to their medical conditions and then dumped in these hotels, which have now morphed into prisons, with the men receiving no real treatment.
The detainees at Brisbane's Kangaroo Point, as well as those at Melbourne's Mantra Hotel, have been conducting daily protests over the last two and a half months, because during the pandemic the government has done nothing to allow them to protect themselves from COVID-19.
Under the Australian government's duty of care, the chronically ill immigration detainees have been left in the cramped confines of the hotels, being watched over by Serco guards that haven't been wearing facemasks or practicing distancing but come and go from the community on a daily basis.
Effecting change
The blockade is being organised by a number of local refugee advocacy groups, including Refugee Solidarity Brisbane/Meanjin. And they're determined not to budge until the three demands they've set out have been met.
Last Saturday, around 1,000 demonstrators turned up to show their support of the blockade and to call for the release of the long-term detainees into the community. And organisers are calling for another mass rally out the front of the Kangaroo Point Central Hotel at 2 pm this coming Saturday.
Sydney Criminal Lawyers spoke to Dane De Leon, a spokesperson for Refugee Solidarity Brisbane/Meanjin, about the demands blockaders have issued, her arrest on Monday night and the way Queensland Police Service (QPS) officers have been conducting themselves.
Firstly, the community blockade outside Kangaroo Point Hotel in Brisbane has been underway since late last week. Dane, what's its aim? And how's it operating?
We've been quite clear with our strategy, which is we're unwilling to move and we're going to continue the blockade until we've reached our three demands.
The first one is that we want free movement in and out of the detention centre during the day, so they are able to exercise and interact with the community. It's a very reasonable and actionable ask.
The second one is that we want to stop further forced transfers to higher security. We've had a few men that were taken last week. We started the blockade, when they were taken to the Brisbane Immigration Transit Accommodation.
We've been told from the men's side that they didn't want to go there. There's no privacy. It's further from the community. It's really a step back from what they should be doing.
The last demand is that all processing begins, and all detainees are in the community by Christmas time.
These demands are quite possible, and we're not moving until they're all met.
Does that mean you're blocking traffic in and out of the hotel?
No. We've managed to come to an agreement with them. So, we're able to check every vehicle leaving, to make sure that they're not taking men out.
But, food and any property that arrives is fine. We don't turn any vehicles away. We just check those leaving.
Why were these men transferred to higher security detention?
Last week, Farhad was taken. He was the one who had been quite vocal with refugee advocacy on the outside.
We tried to stop his transfer. The first time it was successful, but the second wasn't. It became quite violent. The police were quite happy to aggressively take him, even though people were trying to stop the vehicle from leaving.
So, the men being held inside the hotel, which is now referred to as an alternative place of detention, are holding daily balcony demonstrations.
On Saturday, around 1,000 members of the public showed up to support them. What happened then?
On that day, which was the national day of action, we managed to get notices to be able to block the main street and those surrounding the detention centre.
We had a lot of community members show up in solidarity with the men on the balcony. It was a very moving event. There were a lot of moments that you really can't manufacture.
Particularly, when Saif, who was on the balcony, got to speak. His wife and child, who are already in the community, were outside.
You were arrested last night. How did you come to fall short of the law?
Yesterday, we had Brisbane City Council try to move people and break the blockade. They were questioning the legitimacy of allowing the public to be in front of the detention centre.
I was standing right at the very back filming the interactions, and I had a few cops turn around to me and issue a move on order.
I questioned on what basis, and they told me that my presence was causing anxiety to the workers inside.
I wasn't officially given a move on order, but they took me and arrested me. And once I got to the station, they wouldn't allow me a phone call.
These men were brought to Australia after spending years in offshore detention under the Medevac laws.
However, they're not receiving the medical treatment they need, and further they've been left inside without any way of protecting themselves during the COVID-19 pandemic.
How would you describe the way the detainees have been treated, and the conditions they're facing?
The way that the detainees have been treated has been absolutely inhumane and cruel.
Aside from the risk we're all facing during COVID, the workers in the hotel haven't had any facemasks or been practicing any distancing. It really concerns us how COVID protection doesn't apply to these men.
Further than that, there is the mental health and anxiety. The conditions have been so dire inside.
A lot of the men came under Medevac, because they have mental health issues, and just in the last months we've seen at least four attempted suicides between Melbourne and Brisbane detention centres.
It's an urgent situation. Each day is difficult for them.
There's been a lot of focus on police over recent weeks. You've already touched upon it, but how would you describe the way the QPS has been policing the protest?
The way the QPS has been policing the protest has been aggressive and unnecessary. When there were food trucks here the other day, they had about 60 cops just to bring a food van in.
Also, the way they've physically handled protesters has been inexcusable. One cop stood on a girl's neck and she had a seizure.
We're all young people, and nowhere near as big as them. It has been absolutely brutal.
Particularly with targeting protesters of colour. We've noticed that two people of colour – organisers – have been arrested. So, it's been racist and violent.
The movement to free the refugees has been reinvigorated over recent months, and received extra media attention, due to the COVID-19 crisis.
Are there concerns that as the restrictions are being lifted, the focus will shift?
I don't have concerns that the focus will shift after the COVID restrictions ease up. If anything, it will encourage people to feel more confident in supporting the blockade.
From what I'm hearing, a lot of people are too concerned about their health to show up, which is valid. So, it should be quite positive once the restrictions are eased.
And lastly, Dane, how should these detainees, and the other 1,300-odd people still being held in onshore Australian immigration detention centres at present, be dealt with by the government?
The Australian government should be adhering to international laws, which other countries have been following.
These men are legitimate asylum seekers. In any other country, they're to be let into the community.
There's a real lack of transparency and accountability in this whole immigration policy system. It shouldn't take us days or weeks to find out that something is happening or to find out how much it costs to keep refugees detained.
A lot of conversations I've had, have always involved constantly fact-checking each other because the government doesn't have a system where it's being held accountable and showing transparency.
Main photo of the 24/7 Community Blockade was supplied by Refugee Solidarity Brisbane/Meanjin
Receive all of our articles weekly