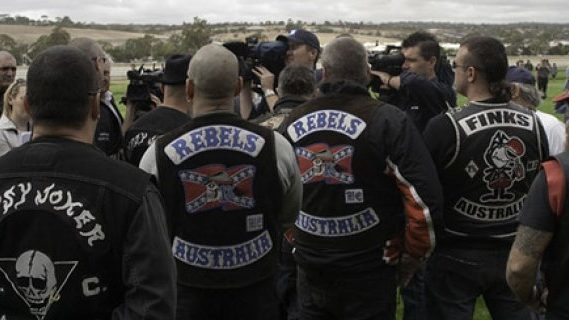 In the nation's capital territory, motorcycle club-related crime is reportedly on the rise. Recent incidents have included a large brawl in a bar between rival club members, a targeted shooting and the fire-bombing of a house.
In response, ACT attorney general Gordon Ramsay introduced the Crimes (Disrupting Criminal Gangs) Legislation Amendment Bill 2019 into the territory's Legislative Assembly on 24 October.
The tough on crime legislation introduces a "serious affray" offence, heavier penalties for fighting, along with bans on entering licensed premises. However, the bill doesn't introduce any anti-consorting measures like those in force over the border in NSW.
Liberal shadow attorney general Jeremy Hanson has said that while his party is likely to support any laws that targeted organised crime, he claims that without anti-consorting measures, the problems the territory is facing won't be solved.
However, Mr Ramsay is certain that Labor won't be introducing consorting laws, as he states that it's "very clear" that those types of laws "do not work". And his assertion is certainly backed by the evidence in regard to how the NSW anti-consorting regime has been operating.
Consorting in NSW
The O'Farrell government introduced the Crimes Amendment (Consorting and Organised Crime) Bill 2012 (NSW), as part of a crackdown on outlaw motorcycle clubs, sparked by a spate of drive by shootings in southwestern Sydney.
The bill inserted section 93X into the Crimes Act 1900 (NSW). It contains the offence of consorting, which makes a person of 14 years or older – who "habitually consorts with convicted offenders after being warned not to by police – liable to 3 years imprisonment and/or a fine of $16,500.
The offending relates to communicating with a least two convicted criminals. This can be done in person – both privately or publicly – or over the phone or internet. This consorting must be done on at least two occasions. And this restriction can be applied to an individual with no criminal record.
Police officers can give the official warning either verbally or in written form. And for a person under the age of 18, it expires after a 6 months period, while a warning given to someone over 18 years of age holds for 24 months.
Misdirected application
During the second reading speech on the bill, Liberal MLC David Clarke told parliament in 2012, that "the goal of the offence is not to criminalise individual relationships but to deter people from associating with a criminal milieu."
Although, rather than target an outlaw motorcycle club member with these laws following their enactment, NSW police officers choose to take aim at Charlie Foster, a 21-year-old man living in the northern NSW town of Inverell, who has an intellectual disability.
The acts of consorting that Foster was convicted of occurred in mid-2012. They involved bumping into three convicted criminals on three separate occasions and speaking to them on the roadside, as well as being seen by police sitting outside a hotel with a group of men, which included all three.
For this crime, Foster was sentenced to 12 months imprisonment. It's been reported that when he was initially detained, he was actually placed in a cell with the three other men that he was charged with consorting over.
A subsequent NSW Supreme Court challenge saw Foster's conviction thrown out in April 2017. Justice Lucy McCallum found that to rule that a casual encounter amounts to consorting was an "extremely narrow" application of the law.
Targeted minorities
Along with two Nomad bikie club members – Simon Tajjour and Justin Hawthorne – Mr Foster mounted an unsuccessful 2014 High Court challenge of the NSW consorting laws on the grounds that they infringe upon the implied right of political communication in the Australian Constitution.
In his review of the first three years of state consorting laws, the NSW Ombudsman found that while authorities had been applying these laws to criminals and bikies, they were also being used to a large extent to target marginalised and disadvantaged sectors of the community.
This includes First Nations people, people experiencing homelessness and youths. NSW police general duties officers were found to have used anti-consorting measures upon Aboriginal people 44 percent of the time that the laws had been imposed.
NSW Greens MLC David Shoebridge obtained consorting law statistics in mid-2016 under freedom of information laws. And what they showed was over their first four years of operation, police had issued 8,556 warnings to 2,412 individuals.
Of those, 54 percent were eventually charged with consorting. However, only 42 of those charged were related to biker club activities. And five people had subsequently been sentenced to prison time, after being convicted.
"They can effectively target the homeless, young people, Indigenous people and motorcycle people because we all look a certain way and they're often working on prejudices and stereotypes," Brotherhood Christian Motorcycle Club member Greg Hirst told the ABC at the time.
Back in the capital
The proposed Disrupting Criminal Gang Bill that's currently before ACT parliament involves a number of amendments to the Crimes Act 1900 (ACT). It ups the maximum penalty for the offences of fighting and offensive behaviour from a $1,000 fine to $3,200.
And it amends section 35A of the Crimes Act so that affray becomes a tiered offence, with the 2 year maximum jumping to 5 years if two or more people are involved in the violent conduct, while a maximum penalty of 10 years applies to incidents of five or more people.
The legislation also adds new division 8.10 to the Liquor Act 2010 (ACT), which sets up an exclusion order regime. These orders allow for an individual to be prohibited from entering a licensed premise or remaining in one.
The ACT chief police officer can apply to a magistrate for an exclusion order to be issued. And these can be imposed upon a person who – in company – has engaged in violent conduct in the immediate vicinity of a licensed premises at least once in the last 12 months.
If the subject of such an order breaches it, they're liable to up to 12 months imprisonment and/or a fine of $3,200.
The ACT attorney general has explained that these laws don't breach human rights like anti-consorting laws in other states, such as NSW, do. And he added that the consorting measures operating in other jurisdictions are clearly ineffective.
Receive all of our articles weekly