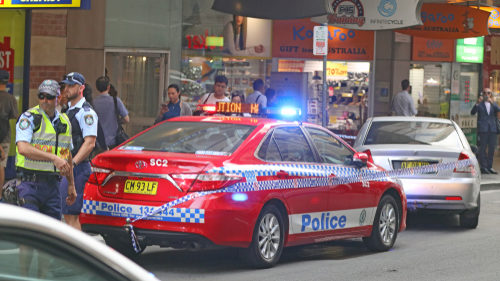 A man will face Gosford Local Court today after allegedly leading police on a chase before ramming a police car and causing injuries to two officers.
It has been reported that at around 8.45am yesterday, highway patrol officers detected a Subaru travelling above the speed limit on Matcham Road in Matcham.
A pursuit commenced and the Subaru crashed into an embankment at the intersection of Coachwood Drive, before the three occupants fled.
It is alleged the driver then stole a Mitsubishi Triton from a nearby property before driving through a police perimeter.
Police gave chase and the Mitsubishi came to a halt on Carlton Road in Holgate.
It is alleged the driver then reversed at high speed, hitting a police car with two officers inside.
The pursuit continued through Erina before being terminated due to safety concerns.
PolAir observed the Mitsubishi park behind a home on Erina Street in Gosford, before police arrested the suspect as he walked away.
The 39-year old was charged with three counts of police pursuit, two counts of driving whilst disqualified, speeding, reckless driving and taking and driving a conveyance without the owner's consent.
Two officers were taken to Gosford Hospital for assessment and treatment for back and neck injuries.
The offence of police pursuit in New South Wales
Police Pursuit is also known as 'Skye's Law', and is an offence under section 51B of the Crime Act 1900 (NSW).
To establish the offence, the prosecution must prove beyond reasonable doubt that a driver:
Was being pursued by police,
Knew or ought reasonably have known or suspected that police were in pursuit and he or she was required to stop,
Did not stop, and
Drove recklessly, or in a manner or at a speed dangerous to others.
A person must be found not guilty if the prosecution is unable to prove each of those elements.
The applicable penalties depend on whether it is the driver's first or subsequent major traffic offence within the previous five years.
Major traffic offences are:
Wounding, grievous bodily harm, manslaughter or murder caused by or arising from the use of a motor vehicle
Furious driving
Predatory driving
Police pursuit (Skye's law)
Drink driving
Drug driving (driving with an illicit substance present)
Driving under the influence of drugs or alcohol (DUI)
Negligent driving occasioning death or grievous bodily harm
Driving recklessly, furiously or in a manner or at a speed dangerous
Menacing driving
Failing to stop after an impact causing injury
Refusing or failing to submit to a breath test, analysis or assessment
Refusing or failing to provide oral fluid, urine or blood
Wilfully introducing or altering alcohol or drugs in system
It is also a major offence to aid, abet, counsel, procure or be an accessory before the fact to any of the above.
If it is the driver's first major traffic offence in the past 5 years, maximum penalty is:
3 years in prison, and
An 'automatic' licence disqualification of 3 years which the court can reduce to a 'minimum' of 12 months.
The maximum penalty for a second or subsequent offence is:
5 years in prison, and
An automatic licence disqualification of 5 years which the court can reduce to a 'minimum' of 2 years
However, there will be no criminal record, licence disqualification or fine where the court deals with the driver by way of a section 10(1)(a) dismissal or a conditional release order without a conviction
Those who wish to plead guilty can increase their likelihood of achieving a lenient outcome by:
Obtaining character references
Writing a letter of apology to the court, and
Completing a traffic offender program
Defences to the charge include:
Honest and reasonable mistake of fact,
Duress, and
Necessity
Where some but not all of the ingredients of the offence are established, a criminal defence lawyer may be able to write to police seeking that the charge be withdrawn or downgraded to a less serious offence, such as reckless driving or speeding.
Receive all of our articles weekly