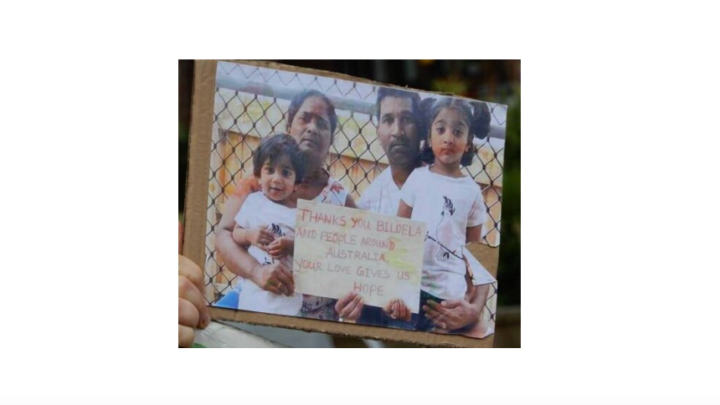 Official announcements have confirmed what the rumour mill has been predicting for days: Scott Morrison's latest federal cabinet reshuffle has moved Home Affairs Minister Peter Dutton into the portfolio of Defence, replacing Linda Reynolds who is on medical leave.
Michaela Cash has stepped into the role of Attorney General, replacing Christian Porter.
In the reshuffle, former Minister for Industry Science and Technology, Karen Andrews will step into Mr Dutton's previous role as the chief of Home Affairs.
So, the question many are now pondering is whether Ms Andrews will finally send the Tamil family with two Australian-born infants who are being detained Christmas Island at great expense to taxpayers back to their home in Biloela.
The Australian Government has been condemned far and wide for its heartless treatment of the family, and severely criticised for spending more than $50 million of taxpayer funds to keep them in detention, particularly when their community wants them to be returned to their adopted home of Biloela in Queensland.
The minister's power to set the family free
Karen Andrews and Alex Hawke, who was recently promoted to immigration minister, have the power to grant the family protection visas and remove them from Christmas Island.
Under section 195A of the Migration Act 1958, the Minister may grant detainee visa, whether or not on application.
Ms Andrews, who is from Queensland, has avoided making public comments on the family's case, except to say she is yet to receive a detailed briefing on their situation and that she understands there are a range of legal issues to be addressed.
In terms of the law, it is a complex case, made more so by the various, expensive court challenges the Government has mounted – all of which have been decided the family's favour.
But the extraordinary thing is that various ministers have always had the power to let the family stay within their adopted community while these cases were being determined by the courts, yet none chose to do so.
Instead, the family has spent more than 1,000 days in detention on Christmas Island, where they can only leave their accommodation to go to school, or to attend the recreation centre.
These trips must be authorised by Australian Border Force at least two days in advance, and they are accompanied by security guards at all times.
Last year, Justice Mark Moshinsky ruled that the youngest daughter, three-year old Tharunicaa had been denied procedural fairness while seeking a protection visa and ordered the federal government to pay $200,000 in costs.
The Federal Government then appealed the decision. Despite the fact that the decision was upheld in the Federal Court earlier this year, the family remains in detention.
$6 million legal challenge
So far, the Federal Government has reportedly spent $6 million on its legal battle to challenge the family's right to stay in Australia, while the compassionate, humanitarian decision would cost very little financially, It could even perhaps result in a positive swing for the Morrison Government in its current flagging opinion polls and approval ratings.
There have been four immigration ministers during the family's time in detention, and the family's lawyers are again putting the pressure on to have them released.
On 5 March 2021, the tight-knit community of Biloela gathered at 5am in candlelight to mark the three-year anniversary of the family's departure in 2018, when Priya and Nades Murugappan and their daughters, were removed from their Biloela home and taken to a Melbourne detention centre by immigration officials.
Later on the same day, vigils were held in more than 15 locations across the country, including Brisbane, Sydney, Melbourne, Canberra, Adelaide, Perth, Hobart, Darwin, Bundaberg, Newcastle, Port Macquarie, Armidale, Warrnambool, Moruya and Christmas Island.
But to date, the Home Affairs Department has simply reiterated policy, stating that "no-one who attempts illegal maritime travel to Australia will be permanently settled here".
Both Priya and Nades arrived in Australia by boat, met here, married and had two daughters, both of whom are Australian born, although despite this, they inherit their parents visa status. Until 2018, both parents had bridging Visas, until their application for refugee status was rejected, beginning a long and very public battle with the Australian Government.
However, with a change of ministers there is renewed hope that the family can be returned to the Biloela community while their legal challenge continues.
Receive all of our articles weekly