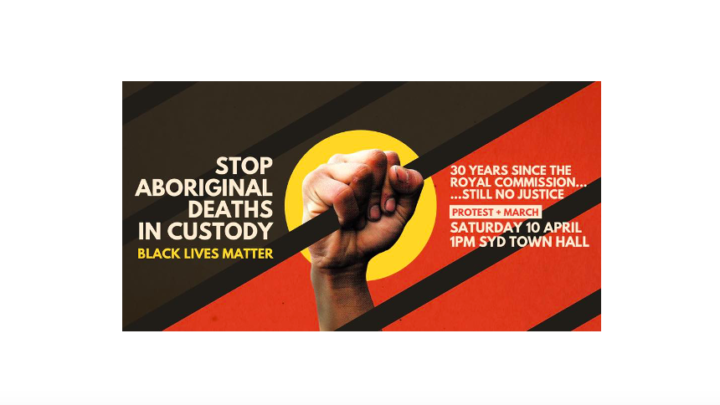 Tens of thousands of people got out on the Sydney streets last June calling for an end to First Nations deaths in custody.
At the time, there had been 433 Aboriginal and Torres Strait Islander custody deaths since 1991. Today, the toll has risen to 459 custodial deaths.
Just over the month of March, four Aboriginal deaths in custody happened in little over two weeks. Three people died whilst detained in the Australian prison system, and the fourth died being pursued by NSW police in Broken Hill.
Released on 11 March, the coronial findings into the death of Anaiwan and Dunghutti man Nathan Reynolds found that he may well have survived his acute asthma attack if the response from staff wasn't so "confused, unreasonably delayed and uncoordinated" – read, neglect of duty of care.
While two weeks back, the final day of the inquest into the drowning deaths of two First Nations youths who'd attempted to cross Perth's Swan River as they were chased by police, raised questions around the relationship law enforcement has with Aboriginal and Torres Strait Islander children.
Black Lives Matter
The death of David Dungay Junior has been central to the rising Black Lives Matter movement in NSW. The 26-year-old Dunghutti man was held facedown by guards on a prison bed, as he called out that he couldn't breathe, until he stopped – similar to the killing of George Floyd in the US.
The initial BLM rally took place on 6 June last year. NSW police had attempted to have it shut down. The force petitioned the courts and won. But demonstrators turned up to Sydney Town Hall in droves anyway. And the court reversed its decision minutes prior to the rally's commencement.
Just days after the event, NSW parliament agreed to hold an inquiry into First Nations deaths in custody. NSW Greens MLC David Shoebridge told the Invasion Day protest 2021 that he couldn't have gotten the inquiry over the line without the massive outpouring of sentiment.
On the 30th anniversary of the handing down of the Royal Commission into Aboriginal Deaths in Custody, the NSW inquiry will release its findings.
And First Nations people are calling on the wider community to rally in support on 10 April to stop these deaths that are quietly allowed to continue.
The power of the people
Elizabeth Jarrett is a well-respected figure at Sydney First Nations social justice rallies. She often MCs demonstrations. The Gumbaynggirr Dunghutti Bundjalung woman is also the cousin of David Dungay Junior.
Elizabeth is tireless in her support of the families who've lost a loved one to the NSW criminal justice system. She always makes the journey out to the Coroner's Court in Lidcombe to attend inquests into Aboriginal deaths in custody.
Sydney Criminal Lawyers spoke to Justice for David Dungay Junior spokesperson Elizabeth Jarrett about the multiple custody deaths that have just occurred, the need for those involved to be held accountable, and how people power is the "only way forward".
Early this month, three Aboriginal deaths in custody occurred in Australian prisons within the course of a week. Then, last week, a First Nations man died whilst being pursued by police in Broken Hill.
Elizabeth, how do we account for four deaths in just weeks, especially after there's been so much attention given to Aboriginal custodial deaths of late?
There have been four lives taken within a matter of 16 days. This falls upon the thirtieth year of the Royal Commission into Aboriginal Deaths in Custody with 339 recommendations handed down to stop this from happening. It's atrocious.
How do we address it? All we can do, as First Nations people, is keep going out to the streets and making a noise.
You can turn on Channel 7 – 10 – 9 News and you don't hear a peep about one of these deaths, let alone the audacity of not reporting that four happened in only 16 days.
This is a pandemic against our people.
On 10 April, Justice for David Dungay and other social justice groups are organising a Stop Black Deaths in Custody rally, marking the 30th anniversary of the Royal Commission.
As you mentioned, the commissioners made 339 recommendations, of which most have been ignored.
In your opinion, was the tabling of the Royal Commission's report an opportunity for change that was neglected? And if so, why was it?
It was definitely an opportunity knowing that there were 339 recommendations. I don't believe I've seen another Royal Commission that handed down so many recommendations, only to then be ignored and never implemented?
The reason why we see this is the systemic racism in the Australian system that treats First Nations people as lesser humans.
We are totally overincarcerated. Our children can be sent to gaol at the innocent age of 10. What 10-year-old knows they're breaking the law?
Our babies are still being ripped from hospital beds. And once you're taken into a prison system there's no chance of rehabilitation, especially at 10 years old.
When you go back outside, then you're a red flag on a FACS calendar – a DOCS calendar. You're automatically labelled a reoffender by the system. You never get out of that institutionalised life.
And sadly, as we just discussed, there's a big chance that you're going to end up being another death in custody.
The rally organisers have pointed out that at the time the Royal Commission report was handed down in 1991, on any given night there was an average of 2,140 First Nations people incarcerated in the Australian prison system.
However, by last year, this figure had risen to more than 13,000 individuals.
As a First Nations woman – as a Gumbaynggirr Dunghutti Bundjalung woman – what does this tell you about the system that you're living under?
This just tells us that the genocide is still rampant. There is no self-determination for us. There is nothing. All that there is for us in this system is bars or a cage.
We have no support from the government to have a healthy way of life.
This month saw the NSW coroner release the coronial findings into the death in custody of Nathan Reynolds. He died of an asthma attack that could have been prevented if the response from corrections officers hadn't been so delayed.
Many First Nations deaths in custody are put down to neglect of duty of care, yet no one is directly held accountable. Does this need to change?
This definitely needs to change, especially when we're coming to the case of young Nathan Reynolds. Asthma took his life. All he needed was medicine. That young boy now would still be here with his family.
I've sat through many a coronial inquest where you've seen it's been medical neglect that's allowing these young boys and girls to pass away in the system.
They're being treated or labelled a drug user, coming down off drugs, having a violent temperament – all these red flags.
Then you get Justice Health and Corrective Services coming to the Coroner's Court and all they do is throw each other under the bus in blaming each other.
Mind you, there's also the poor family left with no one. All they get to do is listen to a coroner dictate policy and protocol failures that they then go and recommend for review.
Review is not helping these young boys and girls inside. There needs to be true accountability to understand that.
Justice Health and Corrective Services are just like anybody else in the community. If they commit a crime or fail to do their job with duty of care, then they should be held accountable just like the rest of us.
You've been campaigning against deaths in custody for many years now. Since June last year, there has been a marked increase in attention to this issue.
What sort of shift would you say this has brought about in the community?
That beautiful man overseas who, unfortunately, died in parallel circumstances to David Dungay Junior – Mr George Floyd – made Australia wake up.
For many years, my family and many other families had been rallying in the streets to stop these black deaths in custody, but Australia's wider and whiter population were not hearing us.
All of a sudden, they watched the news and saw that poor innocent man, George Floyd, killed in the most horrible circumstances and we, as a family, had no choice but to start campaigning to the wider community to look at the parallel and see what happens right here in their country.
We said, "Open your eyes. It's not just in the USA."
We've now had a NSW parliamentary inquiry. Many families went forward to speak to a committee. They got to sit inside NSW parliament, put their stories across and put submissions into the government asking for real change.
In a way, it's hopeful. On 15 April, we will see the findings of the inquiry. Obviously, as a First Nations woman, I don't really have a lot of hope. But it's better than nothing.
We can't close the door, after parliament actually opened the door for once. But what's going to come out of it? Honestly, I can only hope for change. We can only really hope.
Thirty years ago, there was a whole Royal Commission, and over this last fortnight, there's been four deaths in custody. That really shows you what change we can expect.
And finally, Elizabeth, what would you say to people who are out there supporting, but perhaps are still questioning whether to attend the rally.
Why is it important to get out there on the streets and be present?
Protest is the only choice for change that we have. It was the massive protest back in June supporting the alliance with America – that mass of people – that helped get the parliamentary inquiry going.
It was a mass of people that helped sign David Dungay Junior's petition. There were over 100,000 signatures, calling for an inquiry.
There have been so many signatures for TJ Hickey to try and reopen his case.
The only way forward is people power. We need the people behind us. Please come out on 10 April with us.
We will make sure it's a peaceful protest, as we always have done.
We ask supporters to come out and help make this change.
How can you be proud to live in a country that continues to give us corruption, lies and sweep away the truth, which is the genocide against First Nations people?
Receive all of our articles weekly