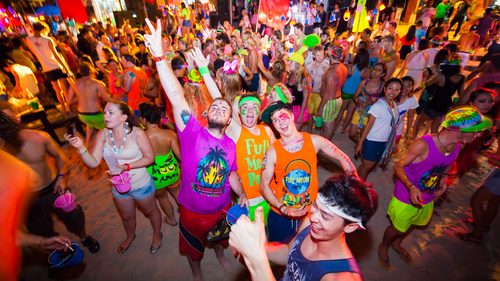 Australians like to travel – nearly 9 million of us take overseas trips every year whether for business, family or pleasure.
For most of us, the trip goes as planned and we arrive back home safely on Australian soil. But for others, it can be a very different story.
Each year, the Department of Foreign Affairs and Trade (DFAT) releases data on the travelling habits of Australians, included those who needed DFAT assistance while away.
The data is contained in a report called Consular State of Play. In the 2016-17 financial year, New Zealand was our most popular destination. Fewer Aussies visited Europe than in previous years, and many more travelled to Asian destinations.
Of all those who went overseas, nearly 12,500 Australians needed assistance.
Top five countries where Aussies get into trouble
Consular officials took a total of 66,060 emergency calls in 2016-2017 financial year. The countries where they were called upon to manage the most cases were:
Thailand:                     893
USA:                               855
Indonesia:                   717
The Philippines:        520
China:                            395
Calls for help can range from lost passports and requiring medical treatment, to being on the wrong side of the law.
The statistics suggest that in 2016-17, DFAT provided help in 1,641 cases where Australians were arrested or detained overseas, an increase of almost 6% on the previous year.
Immigration detention — including the denial of entry or breached visas – accounted for 404 of these cases.
DFAT also managed 370 cases involving Australians serving a sentence of imprisonment, a slight decrease from the previous year (down 5.4%, or 21 fewer cases) but an increase when looked at over the longer term (5 years) – up 8% or 27 more cases.
The top five countries where Australians were arrested or detained were:
USA:                       285
China:                    101
UAE:                        104
Thailand:              100
The Philippines:   68
The USA recorded the highest number of Australians arrested for drug offences, a total of 16, followed by Thailand and the UAE with 13 each, and China and the Philippines with 12 each.
Of the 50 Australians imprisoned in China, many were there over allegations of fraud offences. A total of 34 ended up behind bars in Vietnam and 25 were locked up in New Zealand.
Consular staff also helped find more than 1,800 Australians who were reported missing in countries including Turkey, South Sudan, France and Britain.
And they handled 1,653 cases involving the deaths of Australians overseas. Of these, illness was the leading cause of death, followed by natural causes.
68 Australians took their own lives overseas and a further 49 were murdered.
Reasons why people need help
The most common reason people seek consular assistance is 'welfare' – including help with legal matters such as being victims of scams, illness, accidents and family matters.
The second most common reason is "whereabouts", such as trying to find loved ones. These enquiries peak during times of emergency, such as the recent Las Vega Shooting.
In third place was hospitalisation, with 1701 Australians requiring emergency treatment.
A total of 2108 Australians reported having their passport stolen overseas. This happened most frequently in Italy, followed by the USA, Indonesia and France.
Inform yourself about the local laws
The figures are a good reminder that when you travel overseas, you must abide by the laws of the country you're in, and take all precautions to look after yourself and your belongings.
While consulate assistance is available to all Australians travelling overseas, there is a limit to the kind of help the staff can provide, especially if you end up in a situation where you're accused of a criminal offence.
So it pays to do your research. Earlier this year, a British man was sent to prison for inadvertently touching a man's hip in Dubai, and an American woman is currently facing charges in Zimbabwe over allegations she tweeted that President Robert Mugabe is 'selfish and sick'.
Australia has numerous high-profile examples of people banged up abroad: Schapelle Corby, the Bali 9, and New South Wales woman Sara Connor who is in prison for murdering an Indonesian policeman. And let's not forget the fiasco that found the 60 Minutes television crew detained in Lebanon last year.
To inform Australians about overseas travel, the federal government set up the Smart traveller website which is updated frequently and provides information about visas and other immigration policies, recommended vaccines, religious sensitives, and any general concerns about security for Australian travellers.
The site urges all travellers to register their travel plans before leaving Australia, so it is easier for the consulate to find you in case of emergency.
Receive all of our articles weekly