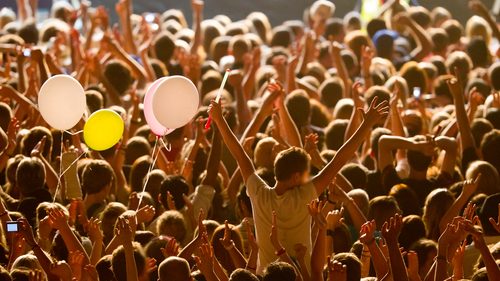 Tragically, this year's music festival season has begun with two suspected drug-related deaths at a festival in southwestern Sydney. And this incident is all the more appalling as these deaths could have potentially been prevented if the NSW government was more forward-thinking.
At around 9 pm on Saturday night, 23-year-old Joseph Pham from Edensor Park and a 21-year-old woman from Melbourne collapsed at the Defqon.1 festival. The pair were airlifted to the nearby Nepean Hospital, but they both died soon after arrival.
A 28-year-old woman from Jamisontown, who was also taken to the Nepean, remains in a critical condition, while a 19-year-old Artarmon man is in a serious but stable condition at Westmead hospital.
NSW police said a further 18 people went to hospitals for drug-related issues and 700 festivalgoers sought assistance from medical staff at the event.
The Defqon.1 website states that organisers took a zero-tolerance approach to illegal drugs. And NSW police had a multi-faceted operation underway on the night, which included its much-maligned sniffer dogs. So, it's clear this heavy-handed war on drugs approach didn't working.
NSW premier Gladys Berejiklian has responded by stating that she's going to ban the Defqon.1 festival. However, one of the nation's leading harm reduction experts warns that this approach could lead to greater loss of life. And he states that pill testing is the obvious solution.
Two lives were saved in April
"This is a tragic loss of life, particularly in the case that we are not doing in Australia everything that we can be doing to stop young people dying," said Dr David Caldicott clinical lead at the Australian Drug Observatory.
Dr Caldicott was the emergency doctor present in the pill testing tent at Australia's first government-sanctioned trial of the internationally-lauded harm minimisation approach that took place at the Groovin the Moo festival in Canberra on 29 April this year.
At that event, 128 punters had their drugs tested. Five people tossed their drugs into amnesty bins provided after receiving their results. And the drugs of two festivalgoers were found to contain a substance that can be lethal, meaning the service potentially saved both their lives.
"If we can turn around and say, we've done everything that we can to stop this happening, then that is a tragedy," Dr Caldicott told Sydney Criminal Lawyers®. "But, we can't say that in this case. And that's even more tragic."
Pushing it into the shadows
The approach to prevent further loss of life that premier Berejiklian said she'd be taking is to shut down the Defqon.1 festival. "I never want to see this event held in Sydney or NSW ever again," she told reporters on Sunday. "Young lives were lost for no reason."
But, Dr Caldicott doesn't think this is a well-thought-out strategy. "If you were to consider this rationally, closing any given music festival is not going to reduce the number of people going to music festivals or change their attitudes towards drugs," he said.
The emergency physician explained that there are very stringent requirements around healthcare that must be provided at official festivals. And at the one held at the Sydney International Regatta Centre on Saturday night, 700 people were able to access medical help.
According to Dr Caldicott, closing a music festival will lead people to attend alternative venues that aren't as tightly medically controlled. "So, shutting music festivals is probably a way to guarantee increased numbers of casualties in any given jurisdiction," he stressed.
Sticking their heads in the sand
The NSW premier also completely ruled out pill testing and reaffirmed that her government takes a zero-tolerance approach to illicit substances. "Anyone who is advocating pill testing is giving the green light to drugs" she said, "that is absolutely unacceptable."
This has been the official party line of the NSW Coalition government since the current push for pill testing trials began. Former premier Mike Baird ruled out the option back in 2016, while soon-to-be-gone NSW police minister Troy Grant has continually opposed the life-saving initiative.
NSW police acting assistant commissioner Allan Sicard said on Sunday that it would be a "bad look for the government" and police to support pill testing, making clear that keeping up appearances is more important to authorities than preventing the deaths of young people.
The acting assistant commissioner went onto say that officers had done all that they could in policing the event and taking drugs is the personal decision of those who do. He further added that "the quality of these drugs cannot be ascertained."
In all due respect Mr Sicard, this is exactly the point harm reduction experts are making in advocating pill testing trials to be rolled out nationwide.
An evidence-based approach
A 2016 UN Office on Drugs and Crime report found that per capita Australian adults are leading the world in MDMA consumption. And at present, these citizens have no way of knowing whether what they're going to ingest on their next night out could prove fatal.
The party drugs people are taking are black market supplied, so there are no quality controls in relation to what they contain. And while drug taking practices are so thoroughly ingrained in our culture, the need for services that offer information about the risks of taking specific drugs are dire.
Pill testing has been shown to save lives in European nations – such as the Netherlands, Switzerland and Germany – where they've been in operation since the 1990s. Indeed, the European Union has actually produced official pill testing best practice guidelines.
These services allow for the on the spot testing of illicit substances using laboratory-grade equipment. A punter can then make an informed decision about whether they should take their drugs, and they can also speak with the medical staff present about their drug taking practices.
Watch this space
Dr Caldicott said there are moves underway in the ACT to get that jurisdiction's second pill testing trial up and running. The Safety Testing Advisory Service at Festivals and Events (STA-SAFE), which ran the first trial, will be in charge of the next.
The doctor has just returned from Vienna, where he was the Australian representative at a large conference of groups from around the globe that offer pill testing services. And he said that in the ACT, they'll be starting to utilise standards that are close to those found overseas.
"We're very early days in Australia, but with the help, support and generosity of older groups who want to help us, we think we can get to a sophisticated program very quickly," Dr Caldicott concluded, "particularly with the support of the ACT government."
Receive all of our articles weekly