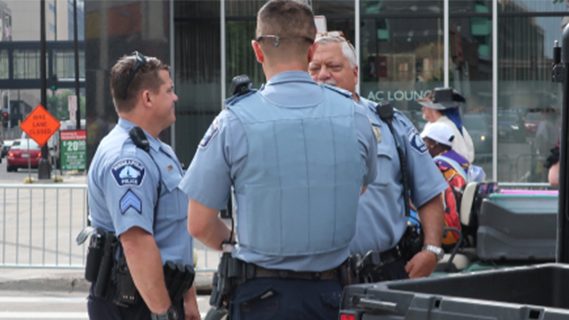 Prosecutors in Minneapolis are seeking to upgrade the primary charge against a policeman who killed 40-year old Australian woman Justine Damond Ruszczyk.
Officer Mohamed Noor was initially was charged with third-degree murder and second-degree manslaughter, after he shot dead former Sydney woman Damond Ruszczyk in an alley behind her Minneapolis home just before midnight on 15 July last year.
Prosecutors have how asked a judge to approve an upgrade of the main charge to second-degree murder.
Probable cause
A document filed by prosecutors in court states: "There is probable cause to believe the defendant committed second degree intentional murder and the State respectfully requests that the court grant the State's motion to amend the complaint."
Prosecutors allege Mr Noor "knew exactly what he was doing and that he intended to do it" when he shot Ms Ruszczyk, and that "circumstances surrounding the crime show that the defendant acted with the intent to kill."
A lengthy eight-month investigation after the shooting found that the officer was less than 2 metres away from Ms Ruszczyk when he fired his gun. The bullet went across his partner's body and through an open window, into the victim's torso.
Many questions remain unanswered – including why police had their body cameras turned off when they were supposed to have them activated.
However, it is clear Ms Ruszczyk called 911 twice on the Saturday night before she was shot, to report what she thought was an assault taking place behind her home.
During her second call, she was assured police were on their way.
Mr Noor and his partner Matthew Harrity were the responding officers.
While Noor has exercised his right to silence, his partner told investigators he was startled by a loud sound near the squad vehicle immediately before Ms Ruszczyk approached a car on his side.
Mr Noor's trial is scheduled to take place in April 2019.
He has not formally entered a plea, but his criminal defence lawyers have indicated that their client will maintain his plea of not guilty.
Degrees of murder
Under Minneapolis law, third-degree murder is where a person does not have the intent to kill. Legal experts explain that it can arise, for example, when a person fires a gun into a crowd without intending to kill anyone, or even where they sell a batch of drugs they know could be harmful. The maximum penalty for the offence is up to 25 years in prison.
Second-degree murder is an intentional but not premeditated intentional killing, and comes with a maximum penalty of 40 years' imprisonment.
First degree murder is intentional and premeditated, and carries a maximum prison sentence of life behind bars. It arises where a person intentionally kills another human being but the murder is not premediated.
There are no such degrees of murder in Australia – only murder and conduct which amounts to involuntary or voluntary manslaughter.
Civil proceedings
The deceased's father, John Ruszczyk, has filed a $US50 million ($68 million) civil rights lawsuit against Mr Noor, the city of Minneapolis and others for the wrongful death of his daughter.
Mr Ruszczyk also claims officers conspired to cover up the facts surrounding the shooting, and made a conscious decision not to activate their body cameras.
Both the City of Minneapolis and Mr Noor both want the civil case to be delayed until after the finalisation of the criminal case
Mr Ruszczyk's lawyers are asking for a protective order to ensure there is no harassment of, or interference, with their client, while conceding Mr Noor's fifth amendment right against self-incrimination is preserved through the delay in the hearing of the civil case.
Receive all of our articles weekly