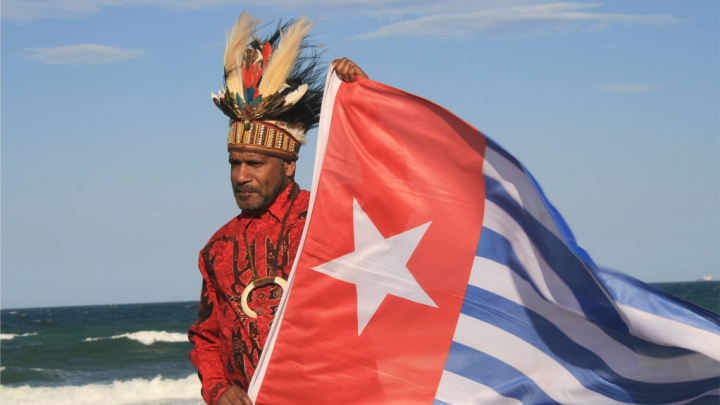 Right now, the Indonesian military are carrying out a violent crackdown in the Nduga regency of occupied West Papua. Reports have been emerging about the ongoing assault, which is a reprisal over an incident involving the deaths of a number of Indonesian construction workers.
The Indonesian Armed Forces have been reportedly bombing the highland region. While Indonesian security affairs minister Wiranto has denied that explosives were used, he confirmed grenade launchers have been.
West Papuan people are reporting having been shot and wounded. The Indonesian military have been evacuating villages. And there are reports that white phosphorous – a weapon that causes severe burns to the skin – is being utilised despite an international prohibition.
The crackdown commenced after around 19 construction workers were killed on 2 December whilst working on the Trans-Papua Road project in the remote Nduga regency. The attack took place not far from the controversial Freeport mine.
The West Papuan Liberation Army has claimed responsibility for the attack. Although there are conflicting opinions about whether this is the case.
Military rule
The liberation army formed soon after Indonesia began its occupation of West Papua in 1963. After former coloniser the Netherlands left, the UN allowed Indonesia to take control on the proviso that a referendum on whether West Papuans wanted independence was held.
In 1969, the United Nations brokered Act of Free Choice referendum took place. It involved the Indonesian army selecting 1,026 West Papuan representatives to vote. And under threat of duress, all of them voted to remain with Indonesian governance.
Since that time, the Indonesian government has been carrying out a transmigration program, resettling people from densely populated areas, like Java, into the region. In 1971, West Papuans made up 96 percent of the local population, but now they only account for 49 percent.
Today, West Papua is one of the most militarised regions in the Pacific. Tens of thousands of Indonesian troops police the area. And an estimated 500,000 West Papuans have lost their lives under harsh military rule.
Calls for a vote on independence
But, cries for West Papuan independence are getting stronger and the Indonesian government is well aware of this. On 1 December, West Papuan Independence Day, Indonesian authorities arrested 530 peaceful protesters across Indonesia and West Papua.
Last year, 1.8 million West Papuans risked imprisonment to sign a petition calling for an internationally-supervised vote on West Papuan self-determination. The signatures accounted for 70 percent of the Indigenous population.
And support from the outside world is also growing. In October, at the 73rd UN General Assembly, the heads of Vanuatu, the Marshall Islands and Tuvalu called for action on West Papua. And this is not the first time foreign nations have raised the issue at the UN over recent years.
Sydney Criminal Lawyers® spoke with the United Liberation Movement for West Papua spokesperson Benny Wenda about the escalating violence in Nduga regency, his thoughts on the incident that led to the reprisal and rising international awareness around the plight of the West Papuans.
Firstly, on 2 December, a number of construction workers were killed in Nduga Regency. There are conflicting reports about who carried out this attack. Some say it was members of the West Papuan Liberation Army.
Mr Wenda, what do you understand happened on that day?
This is complicated. And sadly, Indonesia is present in Nduga and all of West Papua illegally. That's my view.
What happened in Nduga was the people of West Papua are fighting for their independence. They are not asking for development. And they're not asking for infrastructure.
What we're asking for after 57 years is that a referendum is held for the people of West Papua to choose their own destiny.
But, Indonesia through migration and bringing workers to West Papua, they've turned it into a dumping ground. That's why this situation happened in Nduga and elsewhere. Indonesia is illegally occupying the region. And they're dumping all these people in West Papua.
The West Papuan military claim that they carried out the attack. Over the years, it has been the Indonesian military, who have been building the roads across West Papua. And they have been targeting the military, not civilians. That's what has been happening.
But, at the same time, I gather that workers are included among them. But, most of the time it is the military who are building the roads, because this is an illegal occupation and illegal building of infrastructure in West Papua.
Since, that incident occurred there are reports emerging about an Indonesian military crackdown in Nduga Regency. What's happening there at present?
This is an emergency situation. In fact, the president and the generals announced that there is a military operation being carried out. They're using guns and you cannot fight them using bows and arrows. This is modern war.
And that's why I'm concerned about the situation in Nduga. They've burnt the churches. People have fled from three districts. Seven people have already been killed. But, we're not sure how many have been killed as they don't allow any independent investigation or journalists.
I myself have witnessed this in 1977. Most of my family were killed. This is the same thing that is happening in Nduga.
This military operation is underway. And I urgently call on the Indonesian president to withdraw his military from West Papua. Now it is time for us to hold a referendum in West Papua. And I request that international peacekeeping is sent to West Papua.
There are also claims the Indonesian Armed Forces are using white phosphorus, which is a weapon that's illegal under international laws. Can you tell us about what's been happening with that?
We don't know what the model is. But, we know this is a weapon that has been used in Iraq. I saw the picture of it. We don't have any expert information on this. But, the picture shows it's very similar to what is used in the Middle East.
Indonesia claims there are no chemical weapons. But, we have seen this. And they're killing tribal people with this. How can they defend their use of these weapons?
Do you expect the violence in Nduga Regency to continue?
We're not sure. The military are already surrounding the area. I'm not sure of their next move. But, in West Papua, it doesn't just happen in Nduga, it happens everywhere.
While I am speaking there are students across Indonesia and West Papua on the street calling for an end to the illegal operation conducted by the Indonesian military.
West Papua is a time bomb. It's like what happened in East Timor. The Dili Massacre happened. And the world found out. And the world is beginning to watch the situation in West Papua.
On West Papuan Independence Day, 530 peaceful protesters were arrested for demonstrating over the occupation your homeland. Why do you think there were so many arrests this year?
This is not only happening in West Papua. It is happening across the Indonesian archipelago: from Jakarta to Bali and Ambon to Surabaya.
Indonesia is beginning to feel threatened, because they're own people are coming out and starting to show solidarity with the people of West Papua.
That's why Indonesia are worried, and they cracked down on the peaceful demonstrations. It's also what happened on the 10 December, Human Rights Day, when people came out on the streets to express their political views.
Indonesia calls itself a democracy. But, in West Papua, it is not.
In September last year, you presented the UN Special Committee on Decolonisation with a petition calling for an internationally-supervised vote on West Papuan self-determination.
The petition was signed by 1.8 million West Papuan people. Although, the committee said it was beyond its mandate to accept it.
Mr Wenda, what would you say the message was that this petition sent out to the world?
We handed this over independently. It was not state-sponsored. We are isolated in West Papua. And we want the world to notice that this is the people's decision.
This is genuine. The people of West Papua are saying that they don't agree with what happened in 1969. Indonesia based the referendum on 1,020 people. It is a fraud. But, this is 1.8 million.
Indonesia claims 1,020 is right. I claim 1.8 million is. That's the argument behind this.
On Tuesday, the governor of Papua New Guinea's capital Port Moresby Powes Parkop called on his government to push Indonesia to hold an independence referendum for West Papua. What do you think about this development?
The governor Powes Parkop is right. West Papuans and Papua New Guineans are the same people. We have the same ancestors and language. And our borders are the same.
They have an obligation to tell Indonesia that we are watching you and we're witnessing this. So, it's time for the Papua New Guinean government to change its foreign policy: to look at the situation on the other side.
There are 12,000 refugees living in Papua New Guinea. That's why Melanesian leaders are talking about the situation in West Papua. This West Papuan issue is never going to go away, in the eyes of Australia, New Zealand or across the Pacific. This issue is still there.
And lastly, in October last year, Australia won a seat on the UN Human Rights Council. And the government said it would have a particular focus on human rights in the Pacific.
Mr Wenda, what do you think the Australian government should do about the unfolding violence in Nduga Regency, as well as the ongoing human rights abuses that are happening in West Papua?
The Australian government knows the issue of West Papua inside out. There's no doubt about that. They are witnessing what's happening in West Papua. They see it directly.
It's time for Australia to change its view on West Papua. Just like East Timor. Ordinary Australian people are pushing for this. Ordinary Australians are with us and they are witnessing what is going on.
So, that's why Australia needs to look at the situation in Nduga very seriously.
Receive all of our articles weekly