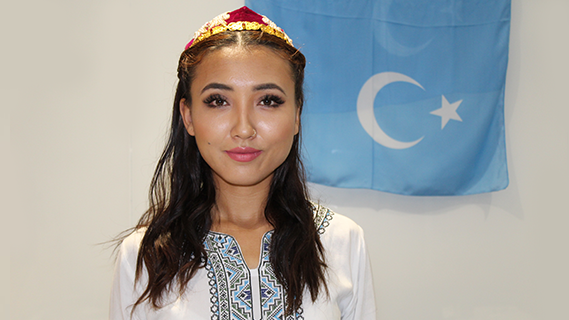 Right now, the Chinese government is carrying out a coordinated and intensified assault upon the Uyghurs: a mainly Muslim Turkic people, who live in a Central Asian region they recognise as East Turkistan, and which under China's occupation is referred to as Xinjiang.
This ongoing assimilation program hit a peak in April last year, when the Chinese Communist Party (CCP) began detaining Uyghurs and other Turkic peoples in political indoctrination camps. Today, credible estimates put the number of locals being held in indefinite detention at around one million.
Uyghurs who are deemed to be holding "strong religious views" or having "politically incorrect" ideas are forcibly disappeared and locked up in these internment camps. The detainees are then held in indefinite detention, without charge or trial.
Outgoing US ambassador to the UN Nikki Haley last week described the camp system in the remote region as Orwellian. "It is the largest internment of civilians in the world today," Ms Haley said at a conference in Washington. "It may be the largest since World War Two."
Legalising oppression
For the most part the world has remained silent on the mass incarceration, however, this is beginning to change. And due to rising international concerns about the camps, China recently passed laws to retroactively legalise them.
Published on 9 October, the laws outline that the camps are established to "transform people influenced by extremism through education". These centres are instructed to teach Mandarin, as well as provide "ideological education, psychological rehabilitation and behaviour correction".
These laws are only the latest in a long line of discriminatory laws that Chinese authorities have enacted in the region in order to repress Uyghur culture. Laws have been passed to restrict the growing of beards, the wearing headscarves in public and celebrating Ramadan.
Close to seventy years of occupation
The Uyghur people have been subjected to oppressive rule since 1949, when the CCP began its occupation of their homeland. And from the mid-50s, the region has been run by the Xinjiang Production and Construction Corps – or bingtuan – an economic and paramilitary organisation.
The current crackdown on the Uyghur people, the Strike Hard campaign was launched in January 2014. It began with a series of raids throughout the region with Chinese authorities confiscating electronic devices and other items in order to locate unapproved religious materials.
The campaign was escalated early last year, when Beijing launched an all-out offensive, deploying thousands of military personnel across the occupied territory. This came on the back of the appointment of Chen Quanguo to CCP secretary of Xinjiang province in August 2016.
The CCP strongman is notorious for the repression he imposed in Tibet, whilst he was in control of that region. And since he's taken the reins in East Turkistan, it's now one of the most heavily policed and surveilled areas on the planet.
Sydney Criminal Lawyers® spoke to World Uyghur Congress (WUC) project assistant Shahrezad Ghayrat about the conditions in the re-education camps, the growing international condemnation of the mass incarceration and her thoughts on how much-needed change can be brought about.
Firstly, the Chinese government is detaining around one million Uyghur people in political indoctrination camps in East Turkistan/Xinjiang.
Ms Ghayrat, what's actually happening to the detainees while they're in the camps? What sort of conditions are they facing? And how long are they spending in these camps before being released?
Uyghurs and other ethnic Turkic people are being arbitrarily detained in the camps. They are being subjected to political indoctrination aimed at eroding their ties to their Uyghur ethnic identity. Everything that makes us unique is being targeted: our language, culture and religion.
Detainees are forced to disavow Islam, learn Mandarin Chinese and about Chinese culture and take classes aimed at fostering loyalty to Xi Jinping and the CCP.
The camps are the most insidious expression of China's campaign to socially reengineer and totally culturally assimilate the Uyghur people.
The camps operate essentially as open-air prisons. And detainees are held in cramped, overcrowded and miserable conditions.
Omer Bekali and the few other detainees who have been lucky enough to escape from the camps have said torture and other cruel forms of punishment are used against detainees who do not cooperate with the indoctrination classes.
Detainees are given very little food and water, held in solitary confinement, forced to stand in uncomfortable conditions for hours, and are shackled and restrained in the "tiger chair": an instrument designed to inflict pain.
At least three people have committed suicide due to the conditions and there have been at least 36 confirmed deaths in the camps so far.
Very few people have been released from the camps. We have heard testimony that detainees are divided into groups depending on their political activism, if they have family abroad and their political beliefs. And they are detained for periods of 3, 7 and 10 years.
This is impossible to verify as almost nobody has been released so far. Without further evidence for the moment, it seems that detainees are being held indefinitely.
As you've stated, this is an all-out attack on Uyghur culture. But, this is not just happening inside the camps. It's happening via new policies and laws that the Chinese government has been putting into place in the region over a number of years.
Can you describe some of the cultural repressions that Uyghur people face in their own homeland on a day-to-day basis?
As previously stated, the Chinese government has been trying to forcibly assimilate the Uyghur people by targeting everything that makes us unique: our religion, culture, language, history and our very identity. The younger generation of Uyghurs is being targeted in particular.
For decades, the Chinese government has implemented a "bilingual" education program, which really intends to transition Uyghur students from speaking and learning in Uyghur to Mandarin Chinese.
This was escalated last year, as teaching or speaking in the Uyghur language was banned at all levels of education in the Hotan prefecture at the start of the fall semester in September 2017. We are concerned that this will soon apply to the whole region. And Uyghur speakers are also discriminated in employment and closely monitored.
Children are also not allowed to enter mosques before they turn 18 and parents are not allowed to teach their children about religion, or risk severe punishment.
Now orphanages are also overflowing with the children of those who are being held in the camps and they are also being subjected to indoctrination.
The CCP has established absolute control over every facet of religion. All mosques must be government approved, all Imams are approved by the CCP based on their loyalty to the Chinese government and Uyghurs are not allowed to hold religious events outside the approved mosques, which have security checkpoints, CCTV cameras and metal detectors.
Parents have also been banned from naming their children over 20 Uyghur names of religious or cultural importance.
I should also note, places of historical, cultural or religious importance to the Uyghur people have been destroyed, especially old Kashgar. Nearly 85 percent of the old town of Kashgar – a 2000-year-old city – was largely demolished by the Chinese government between 2009 and 2017.
Uyghurs are often essentialised and portrayed to the international community through stereotypes leading to patronising and discriminatory characterisations – either portrayed as an exotic novelty through representations of dancing and music, or as extremists and terrorists.
Uyghur dance and music has been promoted in domestic and international media. But, Uyghurs are given no agency or autonomy in this and it is done while repressing other aspects of Uyghur culture and identity, such as the Uyghur language and religion.
These representations emphasise ostensible freedom of cultural expression, while at the same time erode more fundamental tenets of the Uyghur identity.
For example, after over 200 Uyghur students were rounded-up by Egyptian authorities because of Chinese pressure, the Chinese government sent a troupe of Uyghur dancers and musicians to Egypt shortly afterwards to deflect attention.
This crackdown on the Uyghur population has intensified over the last decade. But, since CCP secretary Chen Quanguo took control of the region in August 2016, East Turkistan has become one of the most heavily surveilled and policed areas on earth.
What are some of the methods and technologies that Chinese authorities are deploying in order to maintain an all-pervasive watch over the Uyghur community?
East Turkistan is now essentially an open-air prison. Uyghurs are ethnically profiled and constantly monitored by the dense network of security cameras, police stations and roadblocks, through online surveillance and even through CCP cadres being sent to live in the homes of Uyghurs.
Facial recognition is used to constantly monitor the Uyghur people and all mosques have security checkpoints and security cameras monitoring all attendees. Every aspect of life is controlled and there is essentially no respect for human rights: no freedom of religion, expression or assembly.
The Chinese government has also collected the DNA of Uyghurs and it is being held in a large database.
Data gathered from the above mentioned sources are aggregated and used in criminal justice to punish innocent people deemed likely to commit crimes in a system of "predictive policing".
You've already touched upon the Chinese policy of taking the children of Uyghur detainees and putting them into orphanages. But, this policy of removing Uyghur children without parents from their local communities and placing them in these institutions was already operating before the camps.
Can you explain what's actually happening to these children? And what the implications are of removing them from their communities and holding them in these institutions?
Children are targeted in particular for indoctrination. They are removed from their parents as part of China's larger campaign of cultural assimilation against the Uyghur people in order to severe the ties of younger generations of Uyghurs to their unique ethnic identity.
They are taught Mandarin Chinese, Xi Jinping Thought and Chinese culture to foster loyalty to the CCP and to make them conform to Xi Jinping's Han-centric view of China.
The last couple of years have seen the CCP cracking down even more than it has in the past. In your understanding, why is the Chinese government taking matters to these extremes at this point in time?
While the Uyghur people in East Turkistan have been persecuted for decades by the Chinese government, we have seen a dramatic escalation in repressive and assimilatory policies in the last 5 to 6 years.
This coincided with Xi Jinping becoming president and his appointment of Chen Quaguo as party secretary in the region, who is infamous for successfully stamping out dissent in Tibet while party secretary there.
Since this development, there has been a massive increase in security and surveillance in East Turkistan.
The purpose for this increased repression is two-fold. China has long had a policy of cultural assimilation towards the Uyghurs, Tibetans, etc.
As Uyghurs, Tibetans and Southern Mongolians are large ethnic groups with a unique culture, religion, language and identity, and a historically defined territory, the Chinese government sees our very existence as a threat to their absolute authority.
Our existence is a direct challenge to the Han-centric vision of China. And the policies of the Chinese government are trying to eliminate this difference by targeting everything that makes us unique: our language, culture, religion and ethnic identity.
We should also mention that the Belt and Road Initiative (BRI) is an important factor in why the Uyghurs have faced such intense persecution. East Turkistan is the gateway to the west for China and is essential for the success of the BRI – which Xi Jinping's legitimacy relies on to a large degree.
Whereas East Turkistan has been on the periphery of Chinese attention in the past, because of the BRI it is now the focal point of the Chinese government and they are pursuing "stability" at all costs in the region to ensure the BRI's success. The Uyghur people are the casualties of this approach.
Since the internment camps have been operating, the outside world has remained silent for the most part. But, as you've pointed out, the world is starting to pay attention, and governments and institutions are beginning to speak out about what's happening.
Can you outline some of the more positive developments that have occurred of late on the international scene?
There have been a number of positive developments recently as the international community has become increasingly aware of the situation and has started to speak out – although no concrete action has yet been taken. Here's a summary of recent positive developments:
United Nations treaty bodies and special procedures:
The political indoctrination camps were raised by the UN Committee on the Elimination of Racial Discrimination (CERD) committee members during China's review by co-rapporteur Gay McDougall – amongst other Uyghur-related issues raised.
Paragraphs 40 and 41 of the concluding observations of the UN CERD's review of China referenced the political indoctrination camps. And it called on the Chinese government to release all those held in arbitrary detention in the Xinjiang Uyghur Autonomous Region, immediately cease the practice of extra-legal detentions and reveal the conditions and whereabouts of all those in extra-legal detention, amongst other recommendations.
The UN Working Group on Enforced or Involuntary Disappearances expressed their deep concern about the trend of Uyghurs being subjected to enforced disappearances by the Chinese government that escalated dramatically in April 2017 with the introduction of the political indoctrination camps in a letter of general allegation sent to the Chinese government in May this year and made public on 30 August.
The UN High Commissioner for Human Rights Michelle Bachelet referenced the CERD committee's findings and expressed concern at the arbitrary detention of Uyghurs in camps in China in her inaugural address to the Human Rights Council. She also called for China to allow independent investigators into the region to assess the situation.
The United States:
The joint letter sent to US secretary of state Mike Pompeo by a bipartisan group of 17 US senators and congressmen urged immediate action to be taken on this issue, especially by employing targeted sanctions against individuals and entities in China responsible for the conception and implementation of the camps through the Global Magnitsky Act.
There was a hearing on the political indoctrination camps held by the US Congressional Executive Committee on China.
The camps were mentioned in US vice president Mike Pence's address to the State Department Ministerial on Religious Freedom. And there was a hearing held in the Foreign Affairs Committee on the camps.
Remarks were also made by officials in the US administration on 10 September this year in which they stated they are considering using targeted sanctions against Chinese officials and entities responsible for the "re-education camps".
EU and other states:
The European Union made an Item 4 statement in the 38th session of the UN Human Rights Council expressing concern at the "expansion of political re-education camps in China", along with separate statements on the topic by four states, including Germany, the United Kingdom, Switzerland and France.
There were EU Item 4 oral statements made at the 39th session of the UN Human Rights Council on 18 September this year. And the Item 4 statements of the United Kingdom, Germany, France, Finland and Canada expressed concern at the arbitrary detention of Uyghurs in "re-education" camps in Xinjiang.
Five MEPs from the European Parliament tabled a written question to Federica Mogherini, asking what specific measures the EU is taking to address the arbitrary detention of Uyghurs in the camps.
An AFET report on the state of EU-China relations passed by the European Parliament on 12 September 2018 mentions the camps, especially in paragraph 55.
Remarks were made in the European External Action Service press release on 10 July this year. And remarks were also made by the vice president of the European Commission and the high representative of the Union for Foreign Affairs and Security Policy Federica Mogherini at the EP plenary session on 11 September. She cited the system of "re-education" camps in Xinjiang as an issue of particular concern.
A strong urgency resolution from the European Parliament on the mass arbitrary detention of Uyghurs and Kazakhs in internment camps was passed on 4 October.
And Switzerland's Federal Department of Foreign Affairs has also stressed "the issue of the worsening human rights situation in Xinjiang and the serious human rights violations in 're-education camps' where hundreds of thousands of Uyghurs are detained" in their bilateral human rights dialogue with the Chinese government.
Additionally, the horrific nature of what is happening in East Turkistan has mobilised the Uyghur community. We are all concerned for our families and our people.
Uyghurs in the diaspora are overcoming their fear to speak vocally and are becoming increasingly organised and politically active.
The World Uyghur Congress has just announced that on 6 November the Uyghur community will be demonstrating outside the United Nations office in Geneva. What will be taking place on that day?
Thousands of Uyghurs, Tibetans and Chinese human rights defenders will gather in Geneva, Switzerland for a large-scale march and demonstration at the start of the UN's Universal Periodic Review of China's human rights record.
The protest aims to highlight the abhorrent human rights situation in China, especially the mass arbitrary detention of an estimated one million Uyghurs, Kazakhs and other ethnicities in internment camps by the Chinese authorities in East Turkistan.
The protest will be held on 6 November. Those participating will meet outside Palais Wilson at 9 am in the morning. At 10 am, participants will march from Palais Wilson to the Palais des Nations at the Broken Chair.
From 11 am to 1 pm, we will hold a static demonstration at the Broken Chair and will hear speeches from a number of individuals representing civil society, national governments, the institutions of the European Union and Chinese human rights defenders.
And lastly, Ms Ghayrat, the largest mass incarceration of a minority community is taking place in East Turkistan right now. Few nations dare to challenge the Chinese government. But, as you've said, things are beginning to turn around.
How do you foresee this playing out from here? What do you believe has to happen in order to see the end of these re-education camps and a pulling back on the repressions in the region?
The situation of the Uyghurs in East Turkistan is indicative of a larger attack on the very concept of human rights.
In March 2018, China and other authoritarian governments attempted to pass a resolution in the UN Human Rights Council, which would have completely undermined human rights and instead focused on economic development and made it impossible for countries to meaningfully criticise each other's human rights record.
The Chinese government has also tried to influence and put pressure on foreign governments to label Uyghurs as "terrorists" and to prevent their free movement, even after they have become citizens of other countries.
As China builds closer security relationships with countries around the world – including in Central and South Asia and the Middle East – these countries have used their own security forces to attempt to shut down political activities among Uyghurs in their nations, or even detain and deport Uyghurs living legally in their territory.
As you are aware, the CCP have officially legalised the camps after denying such centres existed.
It is a mistake to think that staying silent on human rights in China is a neutral act. I believe in order to see the end of these re-education camps and a pulling back on the repressions in the region all governments must take a firm position on the situation in East Turkistan consistent with the values they espouse.
Beijing still cares about its international reputation, meaning both public and diplomatic pressure can be effective tools in encouraging change.
This can be achieved by clearly communicating the issue of the camps both publicly and privately for example. And like-minded countries can coordinate as a group, as have the US, Germany and Sweden. These countries have decided to halt deportation of Uyghurs back to East Turkistan.
International bodies need to leverage all available mechanisms to put pressure on China. The Congressional Executive Commission on China held a hearing in July. And it urged the current US administration to consider the application of Global Magnitsky sanctions against senior government and party officials in East Turkistan responsible for these rights violations, including party secretary Chen Quanguo.
Pressure can be placed on companies doing business that may directly or indirectly be supporting abuses. The US Senator Marco Rubio pressed the US Commerce Department on how they could prevent companies, like Thermo Fisher Scientific, from selling technology like DNA sequencers that directly correspond to human rights violations against Uyghurs.
The UN Human Rights System must move to press for independent, neutral observers to have access.
We need to press for an urgent fact-finding visit to the Uyghur region, and other cities where Uyghur detainees are being transported. This request must be announced publicly. And every UN member who visits China should request access to the Uyghur region, and specifically the detention centres.
At the beginning of this month, the European Parliament adopted an urgency resolution calling on the subject of the mass arbitrary detention of Uyghurs in internment camps.
While progress is being made in raising awareness of the situation and pushing the international community to take action, the situation sadly continues to deteriorate.
The passing of the urgency resolution in the European Parliament was a very important step to hold China accountable for its human rights violations and to spur on the EU to take meaningful action.
The issue continues to gain increased awareness and attention around the world, but concrete action has yet to be taken and the situation for Uyghurs in East Turkistan continues to deteriorate.
Stronger action from the EU, the US, the UN and the international community as a whole is needed, and we are optimistic that the international community will raise this issue in a stronger manner in the near future.
Receive all of our articles weekly