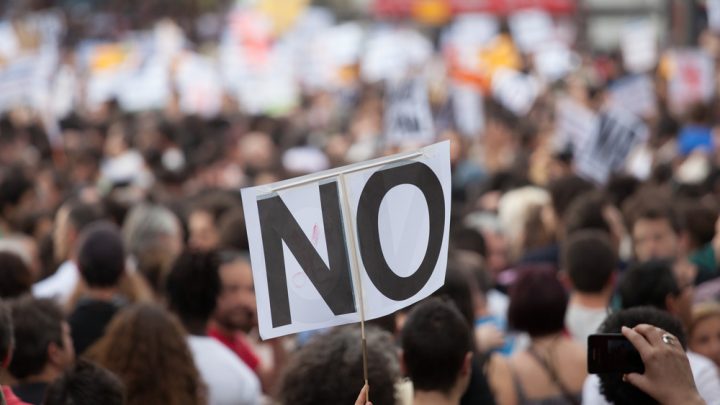 Not one, not two, but three United Nations Special Rapporteurs have raised concerns about the Western Australian Government's new laws targeting protesters, which are scheduled for debate in parliament tomorrow. The UN has sent a letter urging MPs to vote it down in the Lower House, arguing it poses a threat to legitimate protest and peaceful assembly.
Under the proposed changes, it would become a crime for protesters to possess a "thing" that may be used "for the purpose of preventing a lawful activity."
What type of "thing?"
Any "thing."
In other words, "thing" is not defined.
The maximum penalty for possessing such a "thing" is two years in prison and/or a $24,000 fine.
The proposed Criminal Code Amendment (Prevention of Lawful Activity) Bill 2015 says:
"A person must not, with the intention of preventing a lawful activity that is being, or is about to be, carried on by another person, physically prevent that activity."
and
"A person must not make, adapt or knowingly possess a thing for the purpose of using it, or enabling it to be used, in the commission of [an offence]"
The new law would effectively see the presumption of innocence reversed, with the person who possesses the "thing" being required to prove they did not intend to use it to prevent 'lawful activity.'
Under the proposed law:
A person is presumed to have the intention [to prevent a lawful act] if —
(a) the person prevents a lawful activity in circumstances that give reasonable grounds for suspecting that the person had that intention; and
(b) the contrary is not proved.
It is feared the vagueness of what constitutes a "thing", along with the reversed burden of proof, will undermine what many see as legitimate acts of civil disobedience and non-violent protest, allowing police to arrest, detain and charge people for relatively common items; such as bottle openers on keychains and the like.
The legislation was originally tabled in 2015, but it has taken several months for the Government to shore up support. On Thursday night, the State's Upper House voted the bill through, sending it to the Legislative Assembly where it will be debated tomorrow, on Tuesday 23 February.
Many Groups Express Concerns
The three UN Special Rapporteurs – David Kaye, on freedom of expression; Maina Kiai, on freedom of peaceful assembly and association; and Michel Forst, on human rights defenders – are urging members of the lower house to reject the bill, claiming it poses an unnecessary threat to civil and political rights.
According to the Special Rapporteurs:
"The Bill would criminalise a wide range of legitimate conduct by creating criminal offenses for the acts of physically preventing a lawful activity and possessing an object for the purpose of preventing a lawful activity.
For example, peaceful civil disobedience and any non-violent direct action could be characterised as "physically preventing a lawful activity."
Mr Kaye added that the legislation could have "the chilling effect of silencing dissenters and punishing expression protected by international human rights law. Instead of having a necessary legitimate aim, the bill's offense provisions disproportionately criminalise legitimate protest actions."
Environmental groups, who have a long history of using objects such as 'thumb locks', 'arm-locks', and 'tree-sits' to disrupt mining and logging activities, are concerned the changes will shut down legitimate protests by concerned citizens, turning them into criminals in the process.
Union members are also worried, as the broad definition of "thing" could be used to target picket lines and many other forms of industrial action that involve creating a physical barrier to prevent a lawful activity.
The Law Society of Western Australia has also urged the Government to drop the bill, fearing it will give police too much discretionary power, with too little oversight.
Law Society President Elizabeth Needham issued a statement last year asking for clarification on the types of "things" and events covered by the legislation. She believes all laws should be clear to the public, the police and the courts, and that unclear laws can unfairly cause people to be criminalised.
"The community needs to understand the laws in order to abide by them," Ms Needham said.
"These laws will place too much discretion in the hands of the police and prosecutors, especially combined with the reversal of the onus proof. […] It's not fair on anybody when the public have to second-guess how the police may enforce such very broad criminal laws."
Legislation Likely to Pass
In spite of these objections, Colin Barnett, the State's Premier, has stuck by the legislation, dismissing concerns that the new laws will target protesters.
"What we are proposing is to have some measure that will prevent people from putting themselves in danger or others in danger in terms of having to rescue them," he said.
"I will always allow protests to take place, but they need to be peaceful and they do not need to be of a nature that endangers individuals."
With the Barnett Government holding a majority in the Lower House, it is likely the bill will pass tomorrow. Western Australia is just one of several states to target protestors. In January, two healthcare workers became the first people charged under Tasmania's equally controversial anti-protester laws – facing fines of up to $10,000 for occupying a logging site.
In NSW, courts have been loath to impose heavy penalties on those who are guilty of our anti-protest laws, tending to impose small fines or a section 10 dismissal.
According to experts, such laws are vulnerable to challenge in the High Court on the ground that they contravene our implied freedom of political communication, but only time will tell whether any such challenge will be mounted.
Receive all of our articles weekly