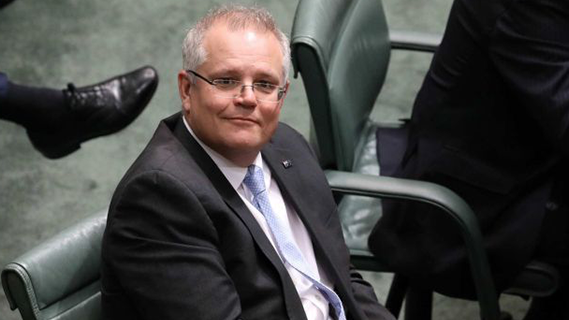 There's currently a meme doing the rounds of the internet that depicts Jesus feeding the multitude. At the front of the crowd stands prime minister Scott Morrison with outstretched arms, beseeching Jesus as to what he should do. And Jesus tells the PM, "Only feed the ones who pass the drug test."
Which is about right. Not only has the Liberal Nationals government been persistently denying Newstart recipients a rise in their weekly payments – which are way below the poverty line – but now it wants to subject them to the humiliation and associated punishments of random drug testing.
A media release from social services minister Anne Ruston last Friday, explains that drug testing is designed to "help" new welfare recipients find employment. This is despite the fact that ACOSS pointed out in July that there's "only one job available for every eight people looking".
As treasurer, Scott Morrison first spruiked the welfare drug testing idea during his May 2017 budget speech. But, due to widespread condemnation, it was dropped later that year from an omnibus welfare bill. And a second attempt last year saw that legislation simply lapse in parliament.
So, it's hard to gauge why the government is back flogging this dead horse, except for the fact that it seems hellbent on further punishing a growing underclass of unemployed people that its ensuring have to survive on a measly $40 a day, whilst disparaging them for not having a "fair go".
Method to his madness?
"With a poor rationale and disappointing results from previous similar trials, I see no reason to expect this trial to be at all helpful," said veteran drug law reformist Dr Alex Wodak. "I can only assume that the government has a political, rather than a policy, reason for pursuing this trial."
"The proposed trial has been severely criticised by an impressive array of experts, who argue that previous similar trials have been expensive and unhelpful," he told Sydney Criminal Lawyers. "The government has not explained why the views of these experts have been ignored."
The president of the Australian Drug Law Reform Foundation further pointed out that the government has given no indication as to why – if this trial is sincerely being implemented to help people – it's not aimed at all those supported by the taxpayer purse and not just "the poorest".
Selective screening
So far, what's been released on the trial is much the same as what was proposed in 2017. It's a two year trial involving 5,000 new recipients on Newstart or Youth Allowance. And participants will be tested for cannabis, MDMA, methamphetamine, cocaine and heroin.
The trial will take place at three locations, which were decided upon back in August 2017. These are Canterbury-Bankstown in NSW, Logan in Queensland, and Mandurah in Western Australia. The locations were based on their high levels of unemployment and drug use.
A Department of Social Security 2017 Factsheet explained recipients "will be selected for the trial on a random basis". To do this, Centrelink will use "a data-driven profiling tool developed for the trial to identify relevant characteristics that indicate a higher risk of substance abuse issues".
This doublespeak means that the government's random selection process is comprised of pinpointing areas where drug taking is most prevalent, then using a tool to locate those people most likely use them and finally, "randomly" choosing these individuals to test for illicit substance use.
If these purposefully selected individuals then fail the drug test, they'll be placed on income management for 24 months, meaning 80 percent of their payments will be quarantined, so as to only be spent via a cashless debit card with restrictions as to what can be purchased.
Following an initial failed test, a recipient will have 25 days to take a second one. And if they fail again, they'll be assessed as to whether they need treatment. The government will be investing $10 million on this. And while the community is crying out for drug treatment, it's not in this way.
The experts opposed
Back in 2017, major medical representative bodies raised their concerns about the proposal, including the Royal Australian College of General Practitioners (RACGP) and the Australian Medical Association (AMA). And they're all starting to stand in opposition again.
Welfare drug testing has been carried out in New Zealand and several US states. In NZ, the $1 million program tested around 8,000 people and resulted in a mere 22 positive tests. While in the States, it was ruled the testing was unconstitutional.
And as Dr Wodak points out, this sort of testing is flawed as it relies on punishing people for "personal drug use and possession, even though drug dependence is defined – at least in part – by continuing drug use despite severe adverse consequences".
The failing drug war
Indeed, the war on drugs has been proclaimed a failure, as it's widely acknowledged that the most appropriate way to deal with illicit drug use is as a health issue, and not a crime. But, despite this, the government is aiming to utilise this drug war tactic to punish people who don't have jobs.
"Drug prohibition was not adopted following a careful review of the scientific evidence," Dr Wodak made clear. "It has been continued for decades despite dreadful outcomes, severe unintended negative consequences and very high financial costs."
The doctor added that these days, there's a long list of both retired and serving political and police leaders who are stepping up to declare "the failure and futility of drug prohibition", whilst calling for a major overhaul of outdated drug laws.
Lambs to the slaughter
Senator Jacquie Lambie is now seen as the key crossbencher that the government has to get on side to enable it to get its welfare drug testing legislation – set to be introduced this week – over the line in the upper house.
However, the Tasmanian politician has suggested she won't support the legislation unless mandatory drug testing is rolled out for politicians. Scott Morrison has said he'd support this idea as well. Although, it's rather doubtful either of them will go in for wage quarantining for federal MPs.
"The proposed welfare drug testing trial is yet another in a long list of cruel, expensive and extremist extensions of drug prohibition," Dr Wodak concluded. "The government may be hoping for a political benefit from this trial by throwing red meat to their supporters?"
Receive all of our articles weekly