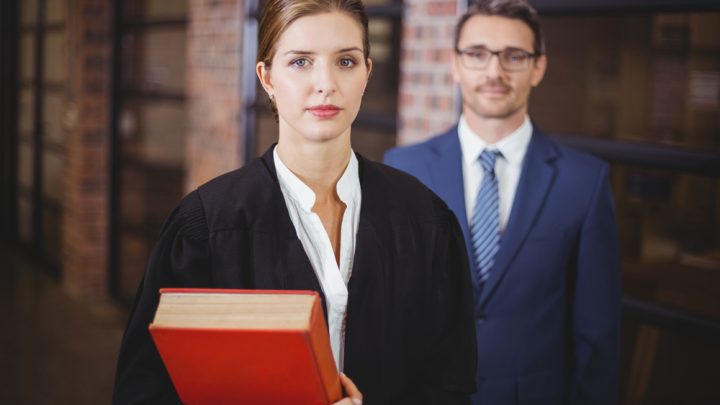 The legal field is full of complex and often baffling terminology.
The term 'lawyer' is often used interchangeably to describe the role of criminal barristers, solicitors, magistrates and judges, but there are differences between these professions.
Many years ago, only barristers who were trained at the 'bar' could represent clients in difficult or complex court cases.
Solicitors would take information and advise the client, then refer the case to a criminal barrister that would run the hearing or trial in court if necessary.
Nowadays, the situation is significantly different.
In fact, the legal profession is now far more merged and 'solicitor advocates' undertake very complex court cases.
The profession is now more like in the United States, where the term 'attorney' is used instead of barrister or solicitor.
In that country, there are many different types of attorneys including 'trial attorneys' who are the equivalent of traditional barristers in Australia.
Confusing?
We think so.
To make things even more confusing, every 'solicitor' in NSW gets a card from the Law Society of NSW stating that he or she is 'entitled to practice as a solicitor and barrister'.
In practice, 'solicitor advocates' can run many more cases and be far more familiar with the law than traditional 'barristers' who wear a wig and gown.
This is especially true for Local Court cases such as drink driving, assault, AVOs, small drug cases etc.
The trick is to look into whether your criminal lawyer is experienced in a particular area of criminal or traffic law.
One of the best indications of a good lawyer is that they are an 'Accredited Specialist' in a particular field.
So, for example, an Accredited Family Law Specialist would be a good person to see for a family law matter.
Equally, if you have a criminal or traffic matter you should see an Accredited Criminal Law Specialist.
Accredited Specialists are experienced lawyers that are certified by the Law Society as experts, so its a very good sign that they are competent in their particular field of specialisation.
Traditional Criminal barristers
Barristers who wear a 'wig and gown' generally act for people after their serious criminal cases are listed for a trial before a judge and jury.
Unless your case is listed for a District or Supreme Court jury trial, its best to engage an Accredited Criminal Law Specialist to advise you, represent you in court and fight to have your charges dropped.
Barristers work independently as sole practitioners, and will normally be 'instructed' by solicitors, although several barristers may group together and share office space known as chambers for convenience.
Traditional Criminal Solicitors
If you require legal advice or you aren't sure whether or not a barrister is necessary for your situation, a solicitor is the first person you need to see.
Solicitors are legal practitioners who undertake a wide range of legal duties, either working directly with clients or as employees of organisations or businesses.
Again, solicitor advocates undertake a great deal of Local Court in-court work, and frequently undertake District Court Appeals, District and Supreme Court Sentencing Hearings and other advocacy work in the higher courts.
Solicitors generally specialise in a certain area of the law, such as property law or family law.
If your case is heading towards a jury trial, your criminal solicitor may refer you to a criminal barrister, and you may or may not deal directly with them depending on the nature of your case.
No matter what your legal issue, is it is essential that you find a lawyer who is experienced in the matter you are dealing with.
An experienced solicitor or criminal barrister can give you the most up to date and knowledgeable advice to help ensure the best possible outcome for you.
Receive all of our articles weekly