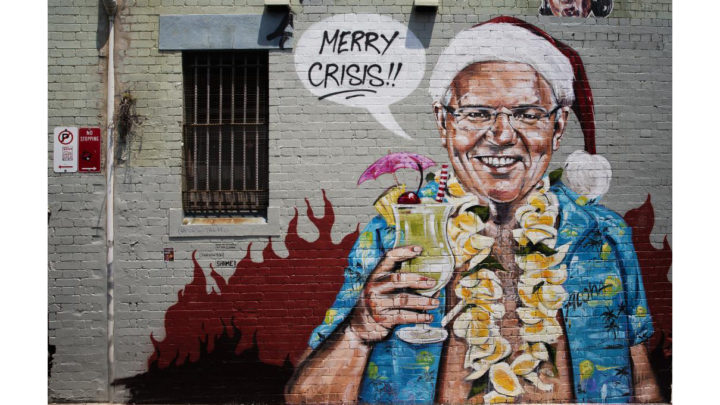 The year 2019 will be forever remembered as the year Australia burned.
In the worst fire season for many years, fires have torn across the country for several months.
Climate change debates have raged, and fingers pointed at our leaders as thick, dangerous smoke engulfed the skies of the east coast for days on end.
In the midst of the crisis, our Prime Minister Scott Morrison left for his Hawaiian holiday rather than standing at the helm and captaining the ship.
Indeed, while numerous former Australian leaders, including Gough Whitlam, have cut their overseas trips short and returned home to act as a source of strength, unity and support for the nation in times of need, Mr Morrison 'upped and left', smiling while donning Hawaiian garb.
The tragedy of lost lives
But in amongst all the headlines and political posturing, we must not forget the tragedy of lost lives.
Thirty two people have died in the fires since September 2019. Twelve of them were firefighters, including three from the United States who died when their water tanker crashed near the Snowy Mountains in New South Wales.
The US sent more than 200 trained fire fighters to assist with the Australian bushfires over the Christmas-New Year period. They were part of a large international contingent that has travelled here to help our nation in our time of need. Our friends Canada, New Zealand, Singapore, Papua New Guinea and Japan have also sent dozens of volunteers, helicopters and troops.
More than two thousand homes and buildings have been lost along with countless numbers of wildlife. Eighteen million acres of land has been burned to the ground – an area far greater than Brazil's 2019 Amazon fires and 2018's California wildfires combined. There are are grave fears for various species of vulnerable Indigenous flora and fauna caught in the fire path. Some experts have estimated that the land and some of the animal species will take about 100 years to fully recover.
And while there are more than 100 fires still burning across the nation, many seem to have abated thanks to recent downpours of much needed rain. Although with hot, windy conditions still forecast and the summer season only half-way through, there are fears some fires could re-ignite, and that others could gain dangerous momentum.
The fire service is warning that there is still no time for complacency, and the danger has not yet subsided.
Politicians to mourn victims and honour emergency services
In the meantime, Prime Minister Scott Morrison has announced that the first day of Federal Parliament for 2020 will be devoted to mourning those who died during this summer's bushfire emergency, as well as paying tribute to the work of the nation's emergency services and volunteers. He says there will be a special event for the families of those who have lost loved ones.
The Prime Minister will move a motion of condolence in Parliament – but given his conduct during the crisis, many consider the move to be a gesture that is "too little, too late."
Loss of credibility
Many Australians will not easily forget that Mr Morrison decided to go on holiday at the peak of the bushfire crisis.
Then, earlier this month he sanctioned the release of Liberal Party advertising to various social media channels showing himself in the field – which conveniently edited out the footage of angry locals refusing to shake his hand. The polished marketing video speaks of the Federal Government's contributions to the disaster in on-screen text along with a large DONATE button at the top, which many have pointed out calls for donations to the Liberal Party – not bushfire funds.
It was another serious political gaff that has angered many Australians who consider it poorly timed and much too self-congratulatory, considering this was a man who in the eyes of many failed to act decisively, and show true leadership, when his country needed him the most.
He stands accused of acting too late in response to the fires, blaming the states, refusing to acknowledge that the issue of climate change action is important to most Australians, and then seeking to grab political gain out of the crisis.
In recent weeks his decision to call out Defence Force reserves, and to deploy more equipment to assist with the fire fighting has been welcomed, along with his decision to postpone his visit to Japan and stay at home until the crisis is under control.
But his credibility is seriously in question, and after a tumultuous 2019, when thousands of Australians signed a petition to remove him from government, he has a long way to go regain the faith of a large proportion of the voting public.
Receive all of our articles weekly