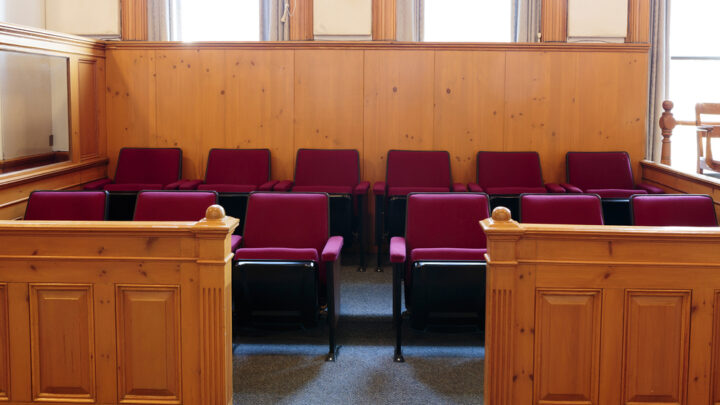 The trial of a 22 year old Sydney swimming instructor will now be forced to restart, after the jury was discharged by NSW District Court Judge Kara Shead, on the second day of trial.
The jury had been assembled this week ahead of a five-week trial but a new jury will now be selected in its place and the trial is expected to resume later this week.
It's a rare occurrence, and the reasons for the jury's dismissal in this particular trial cannot be disclosed for legal reasons.
Sydney swimming teacher on trial
Twenty-two year old Kyle Daniels is accused of inappropriately touching young female swim students. He has pleaded not guilty to 26 charges relating to nine complainants who say they were sexually abused at the Mosman Swim Centre between 2018 and 2019 where he was a part-time swimming coach.
He was arrested in 2019 and charged with multiple offences relating to child sex abuse including sexual intercourse with a child under the age of 10, indecent assault and sexual touching a child.
The case began in the NSW District Court on 26 October 2020 with opening addresses. But just a day later, the jury panel was brought into the courtroom and formally discharged.
Judge Kara Shead's explained to the court that something had occurred overnight, seeking to put the jurors at ease by remarking that they should not individually be concerned or worried.
Her Honour stated that in 'fairness to everyone', the trial needed to begin again at a later time with a new jury.
Her Honour's full reasons for the discharge are yet to be published.
When can a jury be discharged in NSW?
Part 7A of the Jury Act 1977 (NSW) sets out the circumstances whereby a judge must discharge a juror or jury, and the situations where judges can use their discretion to decide whether it is be appropriate to do so.
Under section 53A of the Jury Act, a judge must discharge a juror or jury if it becomes apparent during the trial that:
A juror was mistakenly or irregularly empanelled;
A juror has become excluded from jury service, or;
A juror has engaged in misconduct in relation to the trial or coronial inquest.
Under section 53B of the Act, a judge may choose to discharge an individual juror if:
The juror has become so ill, infirm or incapacitated as to be likely to become unable to serve as a juror before the jury delivers their verdict, or has become so ill as to be a health risk to the other jurors or persons present at the trial;
The juror may not be able to give impartial consideration to the case because of the juror's familiarity with the witnesses, parties or legal representatives in the trial, any reasonable apprehension of bias or conflict or interest on the part of the juror, or any similar reason;
A juror refuses to take part in the jury's deliberations, or;
It appears to the court or coroner that, for any other reason affecting the juror's ability to perform the functions of a juror, the juror should not continue to act as a juror.
Who can apply for the discharge of a juror or jury?
Either the defence or the prosecution can apply for the discharge of a juror, or the jury as a whole.
In doing so, they will need to provide reasons, and each side will be given the opportunity to make submissions in support of their position.
Alternatively, the judge may decide to discharge a juror or jury of his or her own accord.
Judges can be reluctant to discharge jurors or juries due to the inconvenience it would cause – especially if the trial is already well underway, because it means a mistrial must be declared and that trial begins again which can be a burden on everyone involved, and the court system as a whole.
If an individual juror is discharged, the judge may allow the trial to continue with the remaining jurors, unless doing so would 'give rise to the risk of a substantial miscarriage of justice' – in which case the judge is bound to discharge the jury as a whole.
The role of juries in criminal trials
Juries play a critical role in the criminal justice system.
In criminal trials, a jury hears evidence, applies the law as directed by the judge, and makes decisions regarding the fact to determine whether a person is guilty or not guilty of an offence.
Juries exist so that there is community representation in the judicial process, and to allow for everyday perspectives to be incorporated into judging those accused of serious crimes.
In New South Wales, 12 people are selected for a jury, although 15 can be selected and empaneled where trials are expected to last longer than three months.
The decision of a jury normally has to be unanimous, although our state has provisions for what are known as 'majority verdicts' – whereby if all jurors are unable to agree one way or another, a sole dissenting voice will not stand in the way of a verdict.
Going to a jury trial?
If you have been accused of a serious criminal offence and heading towards a District or Supreme Court jury trial, it is important to seek representation from experienced, specialist criminal defence lawyers with an outstanding track record of achieving dismissals.
The profession-leading criminal defence team at Sydney Criminal Lawyers has an exceptional track record of having cases withdrawn through putting pressure on prosecutorial bodies, as well as thrown out of court through the implementation of effective defence strategies.
Our specialist lawyers will be able to advise of the strengths and weaknesses of the prosecution case, thoroughly dissect the police brief of evidence to identify inconsistencies, deficiencies and other flaws, and bolster the position of the defence by building evidence that can – and frequently does – make all the difference when it comes to the end result; including taking advantage of our vast network of experts in a range of medical and forensic fields.
So, if you or a loved-one are heading towards a jury trial, call us on (02) 9261 8881 and let our defence team fight for your freedom and your future.
Receive all of our articles weekly