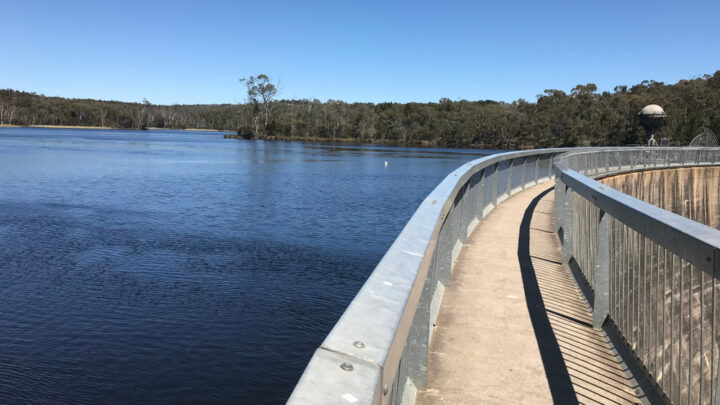 Media reports have emerged recently about the tragic incident at the popular tourist spot Whispering Wall in the Barossa Valley, where a man and a baby died. Witnesses, including children, watched them fall, and at first it seemed like a horrific accident.
But as the story unfolded, police began to suspect a murder/suicide.
The man, Henry Shepherdson, died on impact, his 9-month old baby girl died shortly after, despite the best efforts of paramedics to save her.
Unfortunately, it is just the latest story about family violence and a broken system.
This time, a little girl dead before her first birthday.
Alleged history of domestic violence
South Australian Police assert there was a history of domestic violence between Mr Shepherdson and Kobi's mother.
On the day he jumped 36 metres from Whispering Wall with his baby in a carrier strapped to his body, Mr Shepherdson had been in court attempting to have an intervention order varied. He had been banned from contacting or being within 200 metres of his family, and posting about them online.
The order did not forbid him from having access to his baby daughter and she was legally in his custody at Whispering Wall.
But court documents show that in December 2020, Mr Shepherdson was charged again with domestic violence offences including two aggravated counts of threatening to kill or endanger life, and two aggravated counts of assaulting a child or spouse. He was also charged with false imprisonment. The documents alleged that Kobi and her mother were the victims of the offences.
Bail refused
Police prosecutors applied for Mr Stepherdson's bail to be refused due to the seriousness of the alleged offences and the concern he may engage in further ones. Part of their opposition to bail was that he has 'penchant for firearms', thereby potentially posing a significant threat to the complainants.
Charges withdrawn
Stepherdson was refused bail spent time in custody from December through until March this year when the charges against him were withdrawn.
While SA Police did not explain the reason for the withdrawal, they did state that Stepherdson had a history of violent offending and breaching bail conditions in Western Australia.
The Whispering Wall has been closed for several days while police undertake an investigation to determine exactly what happened in the moments before Mr Shepherdson and baby Kobi fell to their deaths.
It's important that we hear these stories and that we all take a moment to reflect and remind ourselves that family violence affects us all.
Kelly Wilkinson
The media also recently reported the death of Kelly Wilkinson, whose burned body was found in the backyard of a suburban home on the Gold Coast. She was allegedly murdered by her ex-husband, reportedly in front of their three children. Friends and family say that in the weeks prior to her death Kelly repeatedly reached out to authorities for help.
Queensland Police are currently conducting an internal investigation into Ms Wilkinson's interaction with Assistant Commissioner Brian Codd admitting there had been 'failures'.
"A woman has died … somewhere along the line, she had engaged with the system, with us, and we were unable to prevent this from occurring."
Police have often been criticised for the way they handle domestic violence complaints and a new trial is set to begin in New South Wales which will see specialist domestic violence staff working with police at five stations across the state.
The programme is intended to better support victims who report to police, and in turn, better educate police how to better detect the warning signs of domestic violence.
Those working the front line say that last year was the worst on record for domestic violence.
What the statistics say about family and domestic violence
Crime Statistics from the Australian Bureau of Statistics show that in 2019–20, there were 66,498 defendants finalised with at least one Family Domestic Violence related offence. The majority of these (83%) were male.
Of all FDV defendants finalised in 2019–20:
79% (52,594 defendants) had matter(s) resulting in a guilty outcome
13% (8,440 defendants) had their matter(s) withdrawn by the prosecution
5% (3,305 defendants) were acquitted
3% (1,968 defendants) were transferred to another court level
Most FDV defendants were finalised in the Magistrates' Courts of Australia (93% or 61,673).
A further 4% (2,453 defendants) were finalised in the Higher Courts, and 4% (2,372 defendants) in the Children's Courts.
The majority of FDV defendants were made up of two principal offences:
Acts intended to cause injury – 51% (32,970), which was most commonly Assault (28,295 defendants)
Breach of violence order – 37% (23,558 defendants)
Of the 52,594 defendants with a guilty outcome in 2019–20:
70% (36,842 defendants) were sentenced to a non-custodial order including community supervision/work (11,107 defendants), monetary orders (11,838 defendants) and other non-custodial orders (13,897 defendants)
30% (15,747 defendants) were sentenced to a custodial order, most commonly custody in a correctional institution (11,722 defendants)
Receive all of our articles weekly