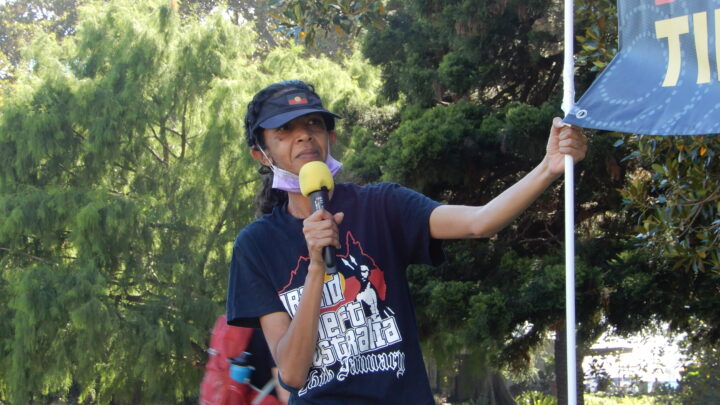 Around 10,000 protesters gathered on Gadigal land at Djarrbarrgalli-Sydney Domain on 26 January, making clear that celebrating the nation on a day that marks the dispossession of and genocide against the First Nations peoples of this continent is not only divisive but, frankly, abhorrent.
The first eleven ships of British boat arrivals landed 233 years ago. And as Aboriginal speakers at the rally pointed out, in 1788, the sovereign peoples made up 100 percent of the population, whereas today, they now account for less than 3 percent of the overall populace in their own lands.
To justify the taking of Warrang-Sydney by force, the colonising power claimed, under international law, that this continent was terra nullius: meaning there were no inhabitants or owners. This was despite there being over 500 nations existing across the entire landmass.
In the lead up to 26 January this year, there was a marked difference in attitude towards celebrating the day within the wider community. And while using the term Invasion Day in the mainstream might still receive a rebuke, there were those in the media ready to do so just the same.
Against the tide
In a sure sign that the message around not celebrating a day that marks the attempted destruction of part of the population's culture and ways of being, Cricket Australia recently announced that it would drop any reference to "Australia Day" from material promoting 26 January games.
And in yet another sign that our PM is not the right politician for the maturing nation he's supposed to be representing, Scott Morrison came out with some tired old disapproval of the sporting body's progressive move, as he likened the pain of colonisers to those of the colonised.
Then NSW premier Gladys Berejiklian came out suggesting that it wasn't too late for Cricket Australia to reconsider its position, before her government – and the state's second governing body: NSW police – decided they were going to attempt to close down the Invasion Day rally.
The 500 person COVID restriction on protests had conveniently been left in place for the occasion. Police minister David Elliott warned ralliers the day prior that if too many turned up, they'd risk steep fines.
And in the end, the compromise reached was that the rally could go ahead without a march.
Sovereign peoples rising
As she addressed the crowd at Djarrbarrgalli, Gomeroi woman Gwenda Stanley recalled that she'd attended a meeting at the Aboriginal Tent Embassy in Canberra back in 2012, where those gathered had been told to go back out into their communities and commence mobilising.
And as the FISTT (Fighting in Solidarity Toward Treaties) spokesperson stood before the huge turnout in the centre of the nation's most populated city, Stanley could see that those seeds planted nine years ago had certainly borne fruit.
Sydney Criminal Lawyers spoke to Stanley about the prime minister's reaction to the Cricket Australia decision, the 2012 mandate that was delivered in Canberra, and the First Nations political party that's about to be established in NSW.
Gwenda, the Invasion Day 2021 rally has just taken place without a hitch, despite threats of fines and arrests. It was a huge turnout, with thousands gathered. So, how are you feeling?
Great. I'm a bit pissed off that we couldn't march because that's a big thing. A lot of kids came along today. A lot of people want to be a part of the history of taking it to the streets.
But, as you've seen, we've had the biggest turnout. They didn't turn us down in the end. But they threatened to smash us if we did leave.
As a Gomeroi woman, what does it mean for the broader community to be celebrating 26 January as Australia Day?
Don't celebrate genocide. Who celebrates genocide? How ridiculous is that: celebrating the genocide of other people?
Today, you mentioned the mandate that you and others were given at the 40th anniversary of the Aboriginal Tent Embassy in Canberra in 2012. Can you tell us a bit about that?
What an epic week that was. In 2012, at the 40th anniversary, a mandate was made.
Our elders – Uncle Paul Coe, Aunty Jenny Munro, Uncle Lyall Munro and all the radicals from that era – gave us younger ones a mandate to go back to our communities and start talking sovereignty, start taking it back and bringing the issue to the forefront.
So, we took that back from Canberra. We set up an embassy in Musgrave Park with the Brisbane Blacks. We also had the Aboriginal embassy in Western Australia.
If you have a look today around Australia, every street is red, black and yellow. We're not just talking about cities. We're talking about little towns and regional areas. They're all out there on the streets.
It's a day of coming together and unification. It's our time to be able to stand on the streets and tell our story.
Part of that mandate was to reinvigorate…
We want a black parliament. We want our own political party. Not those appointed by government, like those advisory councils, Ken Wyatt and all the rest of them.
I respect politicians in other parties that want to join. But at the end of the day, they're not our representatives. They're Indigenous people who are part of other parties.
We're looking at our own First Nations political party, and we're starting here in NSW.
So, that's what has come out of the Aboriginal Tent Embassy. It's what you see happening at all these rallies across the country.
We took that fire and lit it up. Brisbane has been one of the successful ones as well, with Wayne Wharton, the Brisbane Blacks and the Brisbane Aboriginal Sovereign Embassy.
Our group, FISTT, Fighting Together Towards Treaties, has been working with other organisers to put on these rallies to ensure that they're safe, enjoyable and bringing it back to the grassroots.
Years ago, up until '92, we used to have our Survival Day rallies out at La Perouse, until they commercialised it and made it Yabun. Our mob used to have big events with concerts next to the ocean.
Unfortunately, they've taken that away from the La Perouse community, and maybe they should be bringing it back out there, because that's where they came in on 18 January. It wasn't 26 January.
January 26 was when they took succession. You see pictures of that flag, well, that was at Loftus Street. It wasn't until 7 February 1788 that Phillip became the governor.
There's a lot of confusion about the 26 January, because they didn't arrive on that date. They arrived on 18 January. The 26th was when they put up the flag. And it wasn't until 7 February that British law came in.
Cricket Australia came out and said that it will no longer be calling this day Australia Day. It's nine years since the mandate was set at the Aboriginal Tent Embassy.
Do you see a direct link between these two events?
Yes. It was funny when I saw that happening. A couple of days before that, we were negotiating with the police, and they didn't even want us in the Domain.
So, we told them we were putting on a cricket match – Moree versus the West Indies – as a joke. But we do have some of the best cricket players in Moree.
I put that out on Facebook, and then the next couple of days, Cricket Australia came out and said that.
You know, maybe we could have a game of cricket here. We had two Aboriginal teams that went over to England to play.
One of our best players was Eddie Gilbert, who bowled out Don Bradman. But they don't tell that in the history.
What did you think about the prime minister's response to Cricket Australia, when he said that those on the First Fleet ships were having a bad day as well?
Scomo is an idiot. He's more concerned with what Trump is doing, than he is about what's happening in his own backyard. And he fails to address the issues. Liberal or Labor – it doesn't matter – they're still arseholes.
At the end of the day, why beg for a seat at their table, when we can have the whole house: they're the words of Lynda Coe.
And last one, Gwenda, you've already touched on this, but it's eight years on, progress with the campaign has been made, where to from here?
Next year is the 50th anniversary of the Aboriginal Tent Embassy. Watch our FISTT space on Facebook, because we haven't finished.
This is starting a revolution. And judging from the last couple of months, we're going to see a change. This support is coming from non-Indigenous people as well.
There will be a First Nations political party coming.
Receive all of our articles weekly