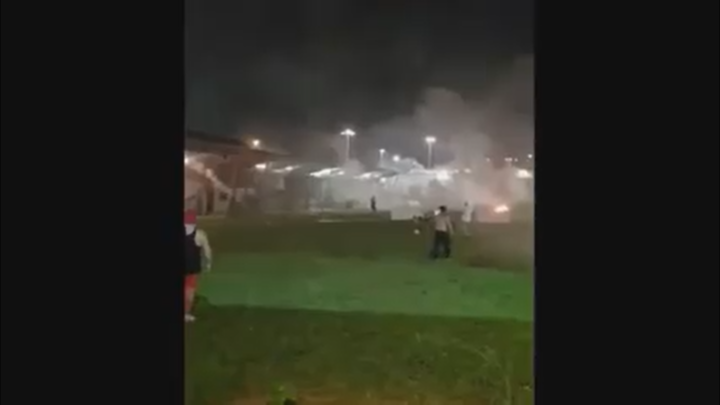 "This is no surprise what's happened," says Les Reilly in footage captured within Christmas Island immigration detention centre following last Saturday night's riot. It was the second major incident to happen at the facility that week.
Breaking out on the 6th and 9th of January, the two demonstrations involved buildings being set ablaze and left the centre resembling a "warzone".
New Zealand-born Reilly is the facility's Blue Compound spokesperson. He meets to discuss the welfare of detainees with the Australian Border Force and Serco: the organisations running the island's North West Point Immigration Detention Centre.
"They've been told about this for the last few months. All we wanted was to get out – more time free. We are locked up 22 hours a day. And two hours is not enough to get out. There's no socialising. There's no nothing," Reilly makes clear. "It's driving people insane."
The Morrison government currently has around 245 detainees locked up at the remote island location. Canberra classes these people – who are majority former long-term residents of Australia – as "unlawful noncitizens". And it's deporting them based on "character grounds".
"People have been pushed to the limit. They are at breaking point over here," relates Reilly, who was previously held in mainland facilities. He states that unlike them, there is nothing on Christmas Island – no activities or access to supports – and nothing works.
Reilly has been in detention for 14 months. He's what they call a 501er: which is a type of detainee that began multiplying in early 2015 after Abbott government immigration minister Scott Morrison unleashed a cruel deportation regime upon unsuspecting residents.
Route 501
"The first riot broke out, as they were denied permission to have a peaceful protest," said cofounder of support group Route 501 Filipa Payne. "This is something they have every right to do and would give them an outlet for the frustration and anguish they're suffering whilst in the detention centre."
"The refusal came through very harshly and disrespectfully from an officer," she told Sydney Criminal Lawyers. "And people reacted to that situation and decided if they weren't allowed to protest then they would just do it."
Route 501 runs a Facebook page that's been documenting the plight of the 501ers since 2016. Residing in New Zealand, Payne is also the cofounder of Iwi n Aus, which is an advocacy group for New Zealanders impacted by Australian laws that discriminate against them.
As he was having a dummy spit over Medevac, Morrison reopened Christmas Island in 2019. Then home affairs minister Peter Dutton decided last August to start transferring 501ers to the facility because no deportations can happen while international borders are closed for the pandemic.
"They're cut off from the outside world," said Payne, regarding the conditions on the island that she's visited twice. "They struggle to get contact with legal and support services. There is limited contact with family and children."
Five years, no sentence
"I've been in detention for five years," says John Pews in footage captured the day prior to the second riot breaking out at the facility. "All I went to prison for was drink driving. I did four and a half months gaol, and I'm stuck in a detention centre for five years."
"I've got a mental problem, and a back problem. These officers in the detention centre won't supply me with my medication. Now, four days I don't have my medication," he continued. "My mental issue is going crazy. I hear voices. I ask the officers if I can get my medication, they keep denying it."
Pews pleads for help as he stews in North West Point without his medication. The 501er has absolutely no idea of how long he's expected to remain at the installation – which is known as the harshest in the Australian onshore immigration regime – as borders are closed indefinitely.
The detainee also debunks the claims of politicians like Morrison, Dutton and Alan Tudge, who make out that all deportees held in the centres are murders, rapists and bikies. Pews added that in painting this picture, people judge those in these facilities based on crimes they've never committed.
"I've been in Australia for 30 years. Yes, I did a mistake for four and a half months gaol. But I don't deserve five years in a detention centre," Pews stressed. "I've got four kids out there."
An inhumane regime
Introduced by Morrison in September 2014, the Migration Amendment (Character and General Visa Cancellation) Bill 2014 altered the Migration Act 1958 (Cth) in a number of ways. This included making it easier to turf out residents, who were born in other countries based on their "character".
Specifically, section 501 of the Migration Act was amended to provide that noncitizens staying or residing in Australia should be deported after being sentenced to 12 months or more prison time. This was a drop from 24 months, which was a deportation system already condemned by the UN.
The 12 months sentence limit doesn't relate to just one year-long sentences. It can be made up of multiple sentences for minor crimes, as well as sentences that are served concurrently. If a person is acquitted due to insanity, or is unfit to stand trial, they can get the boot as well.
What this has meant is that between June 2014 and the same month last year, the government has deported over 5,700 noncitizens. Often these people have spent most of their lives here and have no supports or connection to the nation they're being sent to.
Denied freedom and voice
"I'm stuck here on Christmas Island. I'm a Kiwi," says 501 detainee Shane Forester. "We are fighting for our rights. We have one main concern about medication. I've now been three days without medication. I have a heart problem."
Forester isn't the only New Zealander to have fallen short of the character grounds deportation regime. As Payne advises, the number of Kiwis deported since late 2014 is up to around 2,300 individuals so far.
Indeed, New Zealanders constitute the largest cohort of deportees under the Morrison-instigated character grounds regime.
"My family is worried about me," Forester concludes. "It's just not right, you know. No medication. We are asking for a peaceful protest. And this is what they are doing to us."
Receive all of our articles weekly