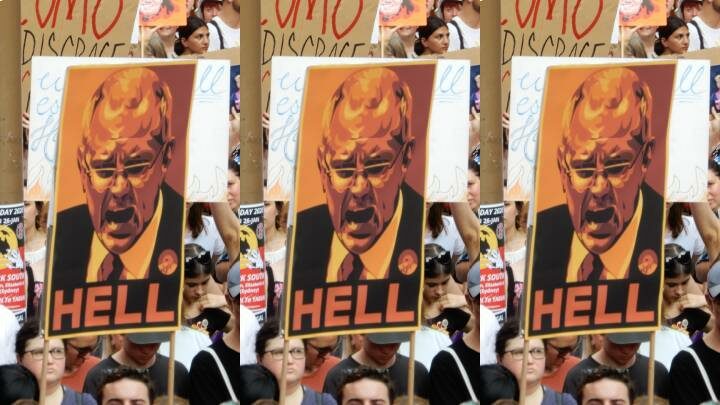 Prime minister Scott Morrison appeared before a press conference in New York City on Wednesday, with foreign affairs minister Payne and defence minister Dutton in tow. This was following having met with the Biden administration to discuss the AUKUS pact and other matters.
The main issue on the agenda was the recently announced trilateral defence pact, which includes the US and the UK and is basically an agreement to gear up for war with China. Our PM mentioned meetings had involved "European partners" on issues they "share in common" with AUKUS.
But as soon as he opened up for questions, Morrison was hit with inquiries about Australia's action, or lack thereof, on climate.
The PM assured US journalists that our nation has reduced emissions by 20 percent since 2005 – a claim already debunked – adding it is doing much better than the US, the UK and New Zealand in this regard.
Morrison then reiterated his bizarre noncommittal logic from August, when he spoke after the IPCC announced the climate crisis is "at code red".
Our leader said that he cannot commit to net zero emissions by 2050, "because in Australia it's not enough to have a commitment to something, you've got to have a plan to achieve it".
Commitment issues
US president Joe Biden said on Tuesday that his country and Australia are in "lockstep" in terms of addressing the climate crisis. And when a reporter asked Morrison about this the following day, the PM stated it was true, yet he tried to shirk around the issue of taking a net zero commitment to COP26.
The 2021 UN Climate Change Conference (COP26) is set to take place in Glasgow in early November. The annual conferences bring nations together to discuss progress and set targets on dealing with the climate crisis. Both the US and the UK are taking net zero targets to COP26.
However, Morrison again refused to commit to net zero when pressed by US reporters on Wednesday. He instead said our nation would be taking an "Australian path to achieve that goal", which "we'll be outlining… between now and COP26".
A global pariah
Of course, this is the same prime minister who announced in September last year that our nation will be taking a gas-fired recovery out of the pandemic economic downturn, which will see five gas fields opened up around the country and new pipeline infrastructure built.
In scrutinising 193 member countries in its 2021 Sustainable Development report, the UN ranked Australia dead last in terms of taking climate action, based on emission levels, embedded emissions on imports and exports, as well as setting a policy price on greenhouse gas emissions.
UN High-Level Climate Action Champion Nigel Topping – who is set to host COP26 – said during a webinar hosted by the UK High Commission in Canberra this week that "Australia and its companies stand to lose both reputationally and economically" if they continue their current trajectory.
"There is no room whatsoever for any further investment in fossil fuels," Topping insisted. "And coal power must be phased out by 2030. Full stop."
Meanwhile, our PM addressed another press conference on Thursday, this time in Washington, where he yet again outlined his true blue customary way of doing things that many of us down under may not be privy to.
"Our commitments are always backed up by plans. And I said that's an important thing about Australia," Morrison said.
"In Australia, if you make a commitment, you've got to have a plan of how you are going to achieve it. And that's what I will always do."
Receive all of our articles weekly