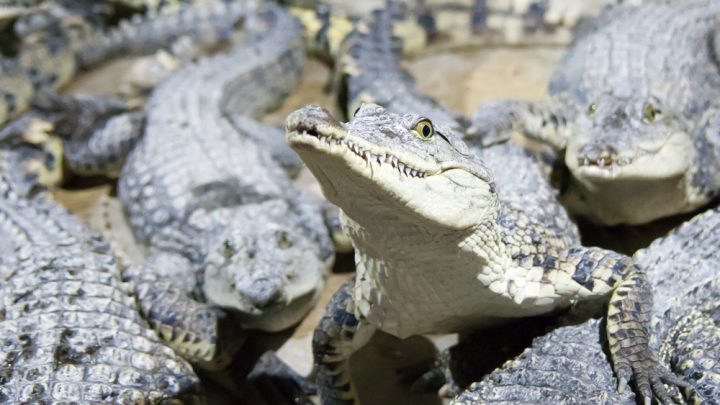 The last few months have seen a number of high-profile inmates escape from NSW prisons.
In August, for example, Stephen Jamieson escaped from the maximum security Goulburn Correctional Centre where he was serving time for armed robbery. He was arrested 10 hours later after an extensive search.
Then, on 30 September, 25-year-old Beau Wiles escaped from the same Correctional Centre where he was being held for shoplifting and driving whilst disqualified. He was picked up by police 31 hours later while travelling in Unanderra with his girlfriend and another woman.
But the Indonesian government appears to have come up with a unique, and seemingly foolproof, solution against potential prison escapes.
Crocodile Prison Island
The head of Indonesia's anti-drug agency has proposed a special maximum-security prison for death row inmates convicted of serious drug crimes – located on an island guarded by crocodiles.
The proposal, it has been submitted, would overcome the issue of corrupt officials accepting bribes to overlook or even assist with prison escapes, with Budi Waseso saying, 'You can't bribe crocodiles. You can't convince them to let inmates escape.'
According to media reports, Waseso is determined to ensure that inmates stay exactly where they are, promising that 'We will place as many crocodiles as we can there. I will search for the most ferocious type of crocodile.' He has reportedly already made plans to visit an Indonesian crocodile farm to source particularly dangerous specimens.
Waseso has proposed to let inmates fend for themselves in the harsh prison environment, saying that while the government would continue to send them daily food supplies, 'they [will] have to survive on their own.'
But the proposal has not yet been signed off by the Ministry of Justice and Human Rights – although Waseso claims to have notified the Ministry of his plans.
Indonesia is known for its hardline approach to drug trafficking, with Bali Nine ringleaders Andrew Chan and Myuran Sukumaran executed earlier this year, alongside six other drug traffickers.
Other Prison Islands
This is certainly not the first time an island prison has been used to hold inmates.
The famous Alcatraz prison in San Francisco Bay operated as a military facility from 1868 onwards, before becoming a Federal prison in 1933. The prison's stated aim was to house particularly dangerous inmates who had already caused havoc in mainland prisons. During its operation, the facility housed some of the most notorious criminals in the United States, including gangster Al Capone.
Capone is widely believed to have ordered the Valentine's Day Massacre on February 14, 1929, where seven members of a rival mob were slaughtered.
Alcatraz stands as a testament to the effectiveness of island prisons: during its 29 years of operation, not a single person escaped; despite 36 inmates executing 14 escape attempts. Five inmates were reported as being missing and presumed drowned – but because their bodies were never located, some believe that they may have made it to the mainland.
Robben Island is another famous island prison, located near Cape Town in South Africa. Between 1961 and 1996, it housed political and medium security inmates; the most famous of them being Nelson Mandela, who was held there between 1964 and 1982 before being transferred to Pollsmoor Prison.
Finally, Bastøy Prison is a minimum security facility located on Bastøy Island in Norway, housing 115 inmates. But far from being a place of despair, the conditions on the Island are fairly luxurious: with inmates having access to a beach, a sauna and horses, and cells being appointed with televisions and computers. Inmates also have access to education and training programs – and the complex boasts the lowest reoffending rate in Europe.
Receive all of our articles weekly