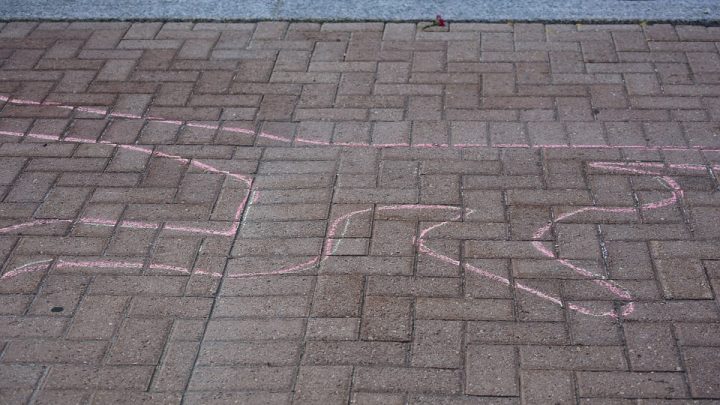 If you're a fan of Channel Nine's reality show The Block, you may have heard the grisly rumours about the latest property to be developed.
It has emerged that the former hotel, located in South Yarra in Victoria, was the scene of a horrific sexual assault and mutilation which was perpetrated by 28-year-old Shane Chartres-Abbott, a male prostitute who described himself as a '200 year old vampire who drank blood to stay young.'
Chartres-Abbott was alleged to have sexually assaulted a young woman at the hotel on the July 16 2002, before 'partially amputating' her tongue and burning parts of her body. She was found in a bathroom by the hotel's manager the following morning.
While the woman was lucky to escape with her life, Chartres-Abbott was shot dead outside his home several months later while awaiting trial.
The dilapidated property is widely considered an eyesore by Melbournians, but it is expected to receive a full makeover in the current season of The Block, in which five teams will transform the hotel into a block of luxury apartments.
Channel Nine is rumoured to have paid $6.25 million for the property last October, and expects to reap a profit once the block is transformed into high-end apartments. But some property investors are speculating that the hotel's gruesome past may deter buyers and lower prices.
Here we look at other 'crime scene' properties and discuss whether a house can ever escape the stigma of a dark past.
1. Simon Gittany's Apartment, Sydney CBD
41-year-old Simon Gittany was convicted last year of murdering his girlfriend Lisa Harnum by throwing her off the balcony of their luxury apartment in Sydney's CBD.
One year after the horrific incident, the apartment, located on level 15 of 'The Hyde' apartment block on Liverpool Street, was listed for auction with an expected sale price of over $2 million.
NSW property laws require a vendor to disclose whether a property has been the scene of a crime under 'material fact' law. The contract reportedly stated that 'The vendor discloses a criminal homicide occurred from the balcony of the property in July 2011 when a previous tenant occupied the property.'
Despite the property boasting scenic views of Hyde Park, Sydney Harbour and St Mary's Cathedral – and similar apartments in the building fetching over $2 million – the apartment was passed in at auction in March this year, indicating that the incident may have had an impact on potential buyers.
2. The Snowtown Bank Building, Snowtown, SA
The sleepy town of Snowtown has been widely known as one of Australia's homicide hotspots after eight dismembered bodies were discovered inside six barrels which were dumped outside the Snowtown Bank Building in 1999.
The horrific discovery sent shockwaves through the small township, with many asking for the building to be demolished. But despite these requests, the property managed to find itself a new owner – several in fact – with the most recent purchasers buying the former bank last year for $185,000.
The couple, who originally hail from Melbourne, said that they were 'looking for a country change and a bit of quiet.' Although they are aware of the property's less than pleasant past, they said that it didn't bother them, and they were considering installing a plaque or memorial for the victims.
3. Sef Gonzales' House, North Ryde, NSW
The two-storey residence in Collins Street, North Ryde, was the scene of one of the most brutal murders in Australian history.
On July 10, 2001, 20-year-old Sef Gonzales murdered his parents and sister by bludgeoning them with a baseball bat and two kitchen knives. He then disposed of the weapons and his clothing, and spray-painted 'Fuck off Asians KKK' on a wall in the house.
Police later arrested Sef and, following a lengthy trial, he was found guilty of three counts of murder and one count of threatening product contamination. He received three life sentences.
The house was initially purchased by a Buddhist couple for $800,000 in 2004 – but the real estate agents did not disclose its past and were fined $20,900. The house was relisted and sold in 2005 for $770,000, after two years on the market– which was still an attractive sale price given that similar properties in the area were selling for $690,000 to $790,000.
4. Easey Street Murder House, Collingwood, VIC
On January 10, 1977, Suzanne Armstrong and Susan Bartlett were brutally stabbed to death at their home on 147 Easey Street, Collingwood. Police found their bodies inside the house after neighbours reported hearing Suzanne's baby son crying.
Although the murders occurred over 35 years ago, police are still none the wiser as to who may have committed such a heinous crime. The property's horrible history deterred prospective buyers, with the Victorian terrace remaining vacant for six years before it was finally snapped up by a buyer in 1983.
The property last changed hands in 2011 – but despite more than 30 years passing since the killings, it remained difficult to sell. It ended up being sold at a discounted rate of $571,000 – with other similar properties selling for over $600,000.
5. The Lin Family Home, North Epping
In 2009, local newsagent Min Lin, his wife Yun Lin, his sister in law and their two children were brutally beaten to death in their sleep by a blunt object at their North Epping home.
Their bodies were discovered by Mr Lin's sister, who went round to check on the family's welfare after they failed to open their newsagent on 18 July 2009. The only surviving member of the family was 15-year-old Brenda Lin, who was overseas on a school trip at the time. Her uncle, Robert Xie, was later charged with the murders. He is currently on trial before the Supreme Court of New South Wales.
The family home was put up for sale in 2012 under instruction from the NSW Trustee and Guardian, three years after the murders took place. The house had been 'tidied up' following the attacks, with new flooring being laid prior to the auction. It sold for $766,000 – far below the average house price for the suburb of $985,000.
As the above cases illustrate, properties with a sinister past will often sell at a significantly lower price than other similar properties in the area, if at all.
And with house prices around the nation skyrocketing, prospective home buyers may find themselves enticed to snap up properties with dark histories – if they so dare.
Last updated on
Receive all of our articles weekly