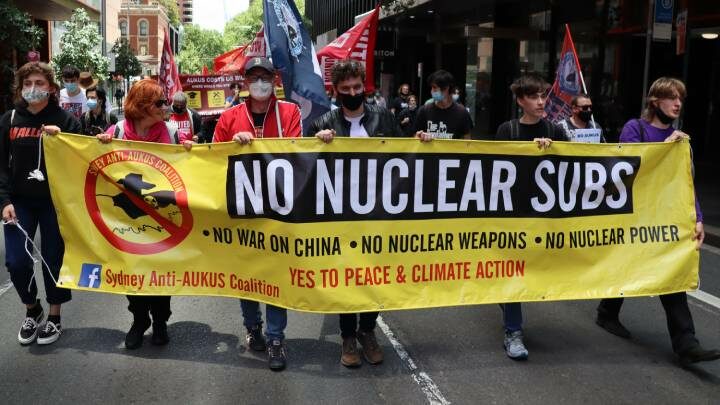 "We hope to see the biggest coalition of trade unions come together to oppose this drive to war".
"We hope to see the biggest coalition of trade unions come together to oppose this drive to war, and the MUA is committed to building that," Maritime Union of Australia (MUA) assistant national secretary Warren Smith told a Sydney rally opposing the push for war on China last Saturday.
The union leader outlined that the MUA has stood against multiple past wars based on falsehoods and added that the "next big lie is about China's aggression", with the "mastering of doublespeak" coming from those in power, who appear to oppose hostility, while they deliver on conflict.
Comprised of peace activists, anti-nuclear advocates, climate campaigners and trade unionists, the rally, organised by the Sydney Anti-AUKUS Coalition, had as its focus the recent nuclear submarine deal Australia has entered into with the US, which is predicated upon the rising "China threat".
Prime minister Scott Morrison announced on 16 September that our nation will be building eight nuclear-powered submarines in South Australia using technology shared by Washington, as part of a broader alliance with the US and the UK, known as AUKUS.
Smith added that "putting nuclear reactors" into the sea in the form of submarines is environmental madness.
Eroding safeguards
The AUKUS has raised alarm as it places Australia at the centre of the US campaign to wage war on China, while the arrangement is also seen as a backdoor means for our nation to go nuclear, especially as all six nations that own such subs also have their nuclear powerplants and weapons.
International Campaign to Abolish Nuclear Weapons (ICAN) campaigner Lachlan Good told the rally that "the idea that you can acquire nuclear-powered submarines and see off the threat that highly-enriched uranium presents is absurd".
Good pointed to a "loophole" the Morrison government is exploiting, contained in article 14 of the 1974 Comprehensive Safeguards Agreement with the International Atomic Energy Agency, which allows for the use of "nuclear material" in relation to peaceful "non-proscribed military activity".
The anti-nuclear campaigner suggests that in attempting to avoid safety mechanisms by claiming that propelling militarised submarines is a peaceful use of nuclear energy will erode international non-proliferation safeguards, which will open the way for other countries to do the same.
Destruction on stolen land
Wangkangurru man Raymond Finn likened the plan to build nuclear-powered submarines in South Australia to the destruction of First Nations peoples and their lands caused by the multiple nuclear tests carried out by the British in Maralinga over an eight year period beginning in 1956.
Finn recalled having met an older man from Maralinga who'd been blinded by the nuclear dust caused by the tests in remote SA that were never consented to by local Aboriginal communities, as well as a photo that showed a woman emerging from a bomb crater covered in radioactive sores.
"That's a testimony of what's going to happen now if they go ahead and do nuclear waste on that country. It's a slow death" the Wangkangurru elder made clear. "If you've got nuclear waste, it's alive and it's deadly. If you bury it… it's still alive."
Receive all of our articles weekly