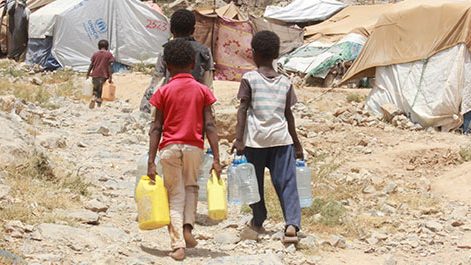 It may not often make the mainstream news headlines, but Yemen is a country in tremendous crisis, with the number of people facing starvation expected to rise to nearly 12 million in the coming weeks.
Yemen is a developing country and one of the world's poorest. For decades, it has been affected by conflict between Arab allies led by Saudi Arabia and Houthi rebels backed by Iran.
Background
Most of this conflict was traditionally in the North of the Country, but in 2014, the war intensified as the Houthis took control of Yemen's capital, Sanaa.
They proceeded to push southwards towards the country's second-biggest city, Aden. In response, a coalition of Arab states launched a military campaign in 2015 to defeat the Houthis and restore Yemen's government.
Since then, the country's crisis has intensified. Fighting has killed large numbers of civilians, damaged infrastructure, and has caused the economy to crumble. The restriction of supplies through the main ports has hindered the delivery of crucial commodities and caused major price hikes on food and fuel.
Earlier this year, the escalation in fighting around the vital port of Hodeida has led to vital supplies being unable to get through.
People have no food or water
The World Food Programme has estimated that 18 million people in Yemen do not know where their next meal is coming from and eight million of them are considered to be on the brink of famine. Millions of children are already malnourished.
But in recent months, humanitarian efforts have been thwarted by air strikes and ground troops, despite attempts to get waiting wheat stocks into the country. The stocks would feed more than three and half million people for about a month, and organisations are desperate to get it through.
Catastrophic consequences
The Norweigan Refugee Council (NRC) has labelled the situation a catastrophe, and the UN is leading a political process to intervene.
But since fighting has intensified in Port of Hodeida, the country's crisis has escalated – hundreds of thousands of men, women and children have fled their homes and have no access to clean water, food or basic services.
Urgent calls for a peace deal
There are now calls for the US, the UK, France and Iran to demand an immediate ceasefire and warring factions to come to the table to agree on a peace deal. If not, millions more civilians will die – from starvation.
The role of Oxfam
Oxfam has been providing humanitarian aid in Yemen for many years. The organisation's focus has primarily been to improve water and sanitation services, but it has also provided families with cash aid, health services and food vouchers.
Since July 2015, Oxfam has reached more than 3 million people. But there are millions more who need help.
Cholera epidemic
Oxfam has also managed to access hard-to-reach parts of the country to provide water, and repair water systems, as well as build toilet facilities in an attempt to keep disease in check.
In the past few years, Yemen has suffered the world's worst outbreak of cholera, which began to spread rapidly at the end of 2017, taking thousands of lives with it.
SCL donation
Sydney Criminal Lawyers® has donated $1,000 to Oxfam's Yemen Appeal, and is hoping greater attention by media outlets will result in an end to the crisis.
Our donation is made from the SCL Help Fund, a charity funded solely by the firm, with a charter that aims to help those in need, regardless of race, religion, gender or species (animals included).
Receive all of our articles weekly
Author
Sydney Criminal Lawyers
Sydney Criminal Lawyers®
is Australia's Leading Criminal Defence firm, Delivering Outstanding Results in all Criminal and Driving cases. Going to Court? Call (02) 9261 8881 for a Free Consultation.